Don't Hold Your Breath for Another Stimulus Package in the Coming Months
Few politicos on Capitol Hill are anticipating another coronavirus relief package will get approved over the next few months during Congress' lame-duck session.
Negotiations over more economic aid have stalled time and again between Democrats and the Trump administration in the months before the election. Many lawmakers blamed the failure to strike a deal on hyperpartisan tensions flaring before a major—and extremely polarizing—presidential contest.
But as the dust continues to settle a week after Election Day and Joe Biden prepares for his transition into the White House, few aides and lawmakers on both sides of the aisle have shown confidence that more relief will be doled out during President Donald Trump's final days in office.
"It seems to me that snag that hung us up for months is still there," Senate Majority Leader Mitch McConnell told reporters on Tuesday. "I don't think the current situation demands a multitrillion-dollar package. I think it should be highly targeted, very similar to what I put on the floor in October and September."
The stalemate between Republicans and Democrats over a total price tag has not magically dissipated simply because Congress is no longer in campaign mode. Democrats will continue to rebuff McConnell's "targeted" approach—or, "in other words, inadequate relief," as Senate Minority Leader Chuck Schumer put it. Democrats continue to advocate for something closer to the $2.2 trillion bill that House Democrats passed last month.
And with Trump losing the election, Democrats fear he has even less political rationale to reach an agreement before he leaves office on January 20.
"What will Trump even sign at this point?" a Democratic source, who requested anonymity to discuss internal deliberations, told Newsweek. "With an unreliable Trump, Congress would need a veto-proof majority.... Why are we expected to be the ones that give in? I'm a believer that the GOP was never going to do a bill."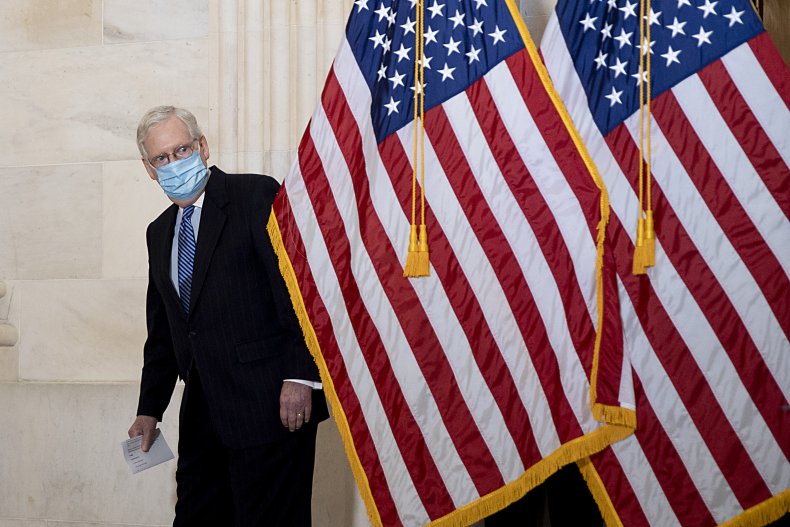 McConnell, a Kentucky Republican, originally signaled last month that he would not support another stimulus package until next year, but he walked that back days later and said one should come before year's end. Last month, Senate Democrats again rejected a $500 billion proposal pushed by the Republicans.
Trying to accomplish a bipartisan deal with the new Congress and a Biden administration will likely face the same sort of logjam. While two Senate runoff races in Georgia on January 5 will determine which party controls the upper chamber, it is likely that the Republicans will maintain their majority. Democrats would need to flip both seats for a tied Senate, with Vice President-elect Kamala Harris voting as a tiebreaker.
"Both sides are saying they want the [stimulus] they want. So we'll see," said Senator Roy Blunt (R-Mo.), a member of GOP leadership. "I'm maybe a little better than I would have thought before the election. But I still think the lame duck is hard."
One solution could be to roll some form of stimulus into the annual budget, which Congress must pass, and the president must sign, by December 11 to avoid a government shutdown.
"Might not be a bad idea, if we can agree on the standards," Senate Appropriations Committee Chairman Richard Shelby (R-Ala.) said. "I think it depends on what the Democrats want to do. If they don't cooperate, they won't. But if they want to get this out of the way, [Nancy] Pelosi has told me she wanted to get it out of the way and move on to the next Congress. We're ready and willing."
But that could be risky, to say the least. It would require putting the entire federal government's funding on the line as negotiators try to reach a deal that they have failed to make for months.
House Speaker Pelosi has been steadfast in her push for a comprehensive measure, despite recent strong third-quarter numbers for employment and an increase in the gross domestic product. Plus, there is the incoming Biden administration, which will be far more welcoming to a large relief bill.
"No, no, it doesn't appeal to me at all," the California Democrat told reporters last Friday, speaking about a smaller package. "That isn't anything we should be looking at; it wasn't the right thing to do before."
Republicans still insist that, despite their own internal divisions about the size and scope of aid that Congress should provide, a final deal centers on whether Pelosi is willing to come down even further in price.
"I was very disappointed in her comments the other day, where she says she's not budging on her proposal. I mean, frankly, I was appalled," Senator John Kennedy (R-La.) said. "That's her position, she needs to go to bed, she's drunk."
He added, "There's no way that that proposal was going to pass the United States Senate before, and it's certainly not going to pass now."