Don't Kid Yourself—Donald Trump is Winning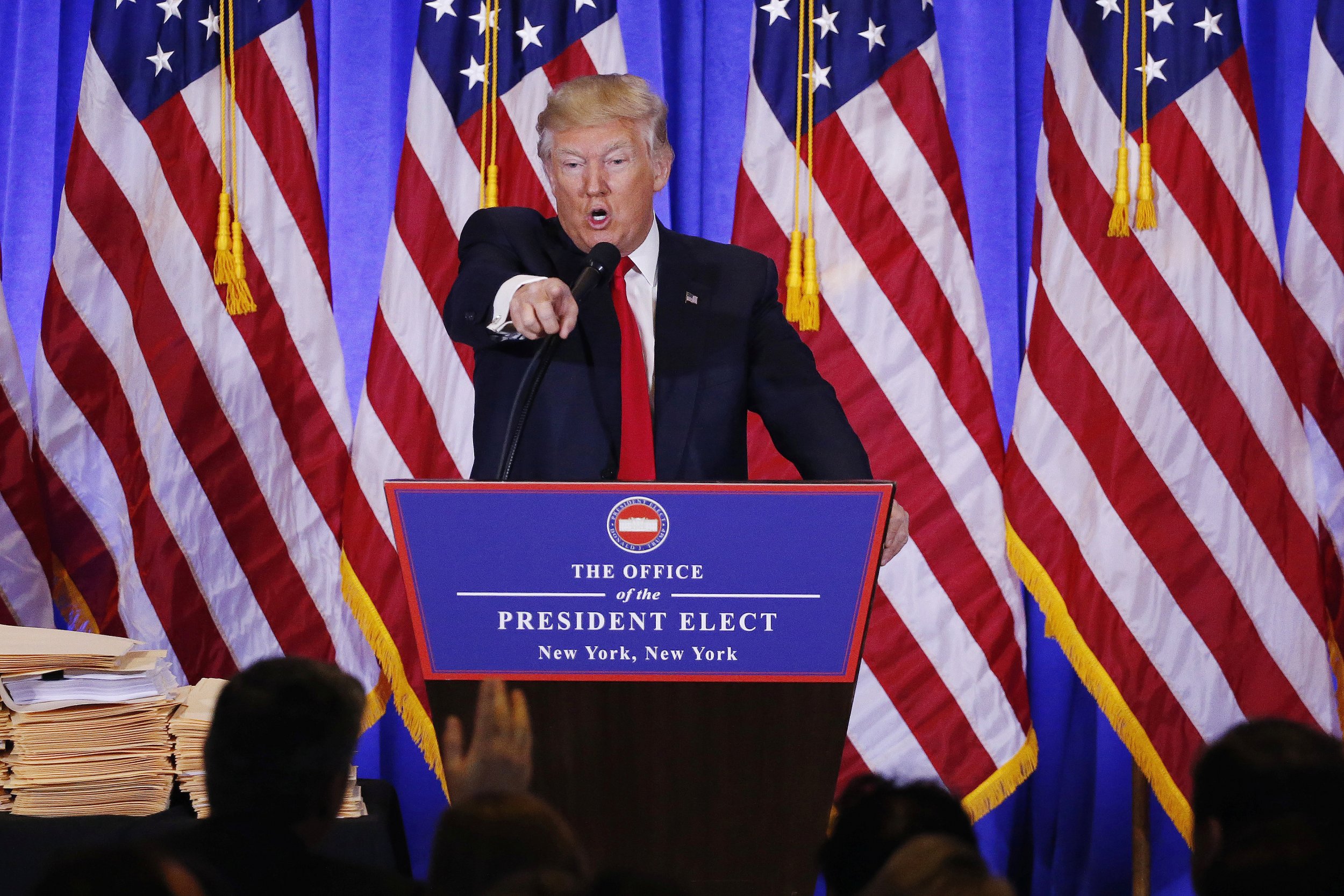 It would be easy to see the Trump-Obama transition as a mess for the president-elect. He continues to face criticism for his extraordinary breach of traditional financial disclosure norms, not only failing to release his taxes but making only the cursory moves toward separating himself from his businesses. Trump has had to contend with an imbroglio over an unconfirmed dossier assembled by his political opponents. His poll numbers are low for a president-elect, with only a minority Americans thinking his transition is going well. The mainstream media is shocked, shocked that many of Trump's cabinet nominees oppose some of his policies, like a return to waterboarding and building a wall with Mexico.
And yet...Trump is getting what he wants. It's unlikely any of his cabinet nominees will be rejected by the U.S. Senate. The most endangered among them, Rex Tillerson, the ExxonMobil CEO that Trump wants to be secretary of state, is more likely to prevail than not. Jeff Sessions, the Alabama senator who has been nominated to be attorney general, has no Republican opponents in the U.S. Senate, despite ferocious criticism from mainstream civil rights groups. Other nominees have had cordial hearings and avoided gaffes. Retired Gen James "Mad Dog" Mattis was well received by the Senate Armed Services Committee as was Retired Gen. John Kelly by the Committee on Homeland Security. They will easily become defense secretary and Homeland Security secretary, respectively. CIA Director nominee Mike Pompeo was well received.
Dr. Ben Carson had seemed like a weak link in the nomination process, what with his bringing zero policy experience to the job of secretary of Housing and Urban Development. But he was given a gracious reception by the senators grilling him. His toughest questioning from Elizabeth Warren, the Massachusetts senator, wasn't really that tough. She asked if he could assure the country that no HUD monies would go to any Trump-owned entity. He said he couldn't. She made a larger point that no one knows what a Trump-owned entity is since he hasn't released his taxes. Then they shared a moment: Each cheering the other for efforts to remove lead paint from public housing, a problem in thousands of units, especially older ones such as in Warren's home state. That's not exactly a rough ride.
The New York Times and The Washington Post noted that the nominees took issue with some of Trump's enunciated positions. But some of this was poorly reported. Trump has already backed away from his proposed ban on Muslims entering the country and has replaced it with "extreme vetting" of those from countries with a history of terrorism. So it was no surprise when Sessions and others didn't back the Muslim ban. Kelly expressed "high confidence" in the intelligence that Russia was behind the hacking of the Democratic National Committee but Trump himself, albeit weirdly and belatedly, now shares that opinion. In other words, the differences between what his nominees stated and what Trump has stated isn't as great as had been implied.
Besides, that matters only if you believe that Trump has a fixed, rigid set of beliefs. That's not at all clear. He's vowed not to touch Medicaid and Social Security repeatedly during the campaign but his Health and Human Services secretary nominee, Tom Price, has different notions about those entitlements. Trump's position on the Mexico wall, perhaps his best known plank, has always had a certain fluidity. The New Yorker has acknowledged that natural barriers from mountains to rivers protect much of the border. Trump never said every inch of the border would get a Great-Wall-of-China style brick-and-mortar wall. If he replaces fencing with a wall in some parts of the border he's going to claim victory.
More importantl than getting his nominees, Trump is on his way to getting what he wants. Much has been made about how the Affordable Care Act is hard to unwind. And that's true. Some 20 million Americans have gained insurance through the exchanges and Medicaid expansion. The rules barring denial of coverage for preexisting conditions and other popular measures would be hard to eliminate. Big Pharma and insurance companies have learned to live with and profit from Obamacare. But the ACA can be chipped away at and eventually made unrecognizable. The House will join the Senate in laying a path to repeal by making it filibuster proof. Any number of things can be done to weaken the act, from lowering the penalty for not buying health insurance to cutting the Medicaid subsidies and so on. Yes, suddenly pulling all benefits away is unworkable. But it's entirely likely that over the next couple of years, there will be significant changes. Plans which are considered too weak under the current law because they don't provide enough benefits may pass muster.
On any number of other issues, Trump is likely to get enough of what he wants to claim victory. There won't be an Obama-style plan for infrastructure but there will be more spending on it, as Trump promised during the campaign. He is making big changes to how the U.S. manages international trade. It may not be the hyper protectionism hinted at during the campaign but he's putting trade hawks in place at key positions and will pull the U.S. from the already moribund Trans-Pacific Partnership. Can Trump get tax cuts through a Republican Congress? Asked and answered.
Trump will have legislative defeats. His bluster will backfire at times. His Meryl Streep and Hillary Clinton tweets are petty but they're also discounted in the public mind. At some point he'll dis the equivalent of the Khans, the Gold Star family he sparred with over the summer. But he looks poised for a lot of victories, despite critics underestimating him, which, come to think of it, sounds pretty familiar.