Don't Let CAIR off the Hook for Its Role in the Colleyville Hostage Crisis | Opinion
As Saturday Shabbat services were about to start, a man showed up to a Colleyville, Texas synagogue with a gun. His name was Malik Faisal Akram, and his goal was to take those in Congregation Beth Israel—a rabbi and three other Jews—hostage. He believed this would put pressure on American authorities to free Aafia Siddiqui, a terrorist convicted of trying to kill American military officers.
Why did he choose a synagogue? First, Siddiqui openly blamed Jewish individuals and the State of Israel for her 86-year prison sentence. When she was put on trial for grabbing the M4 rifle of a U.S. Army officer and opening fire on the members of the U.S. Armed Forces interrogating her for her ties to al-Qaeda, she had one demand as to the nature of her interrogators: no Jews.
Siddiqui told the judge in her criminal case that she didn't want jurors "if they have a Zionist or Israeli background." But her call for discrimination wasn't simply on the basis of nationality—it was also on the basis of Jewish ethnicity, even if she sloppily conflated the two. "I have a feeling everyone here is them, subject to genetic testing," she said, requesting DNA results to prove her jurors were not Jewish.
After her conviction, Siddiqui blamed the Jewish state for her sentence. "This is a verdict coming from Israel and not from America," she said. "That's where the anger belongs."
That was the source of Akram's fury and antisemitic conspiracy theories, as he held a synagogue in Texas captive. At gunpoint, he demanded that the rabbi call another rabbi, New York City-based Angela Buchdahl, to lobby for Siddiqui's release. Not a senator, a cop, a jailer or the FBI, mind you. Akram thought a rabbi—who had no ties to the one he had taken hostage, who lived thousands of miles away in New York—had the power to release a convict of his choice.
These details give us some clarity about the horrific events of this past weekend. But one haunting reason why a synagogue was held hostage is that a major American institution targeted synagogues. The gunman was just aiming at the proverbial bullseye that the Council on American-Islamic Relations (CAIR) had set.
Last month, the executive director of CAIR in San Francisco, lawyer Zahra Billoo, told the annual conference of American Muslims for Palestine to monitor even "polite Zionists," including the Anti-Defamation League, Jewish Federation chapters, Hillel and "Zionist synagogues."
"They are not your friends," Billoo said, referring to Jewish houses of faiths as "enemies" of the Muslim community.
Jewish American leaders were immediately alarmed by this statement. They viewed Billoo's words as not merely a dog whistle, but a not-at-all-thinly-veiled attack upon the safety of American Jews. The progressive head of the Anti-Defamation League (ADL), Jonathan Greenblatt, described her speech as "textbook antisemitic conspiracy-laden garbage." The San Francisco-based office of the Jewish Community Relations Council called the speech "antisemitic and deplorable."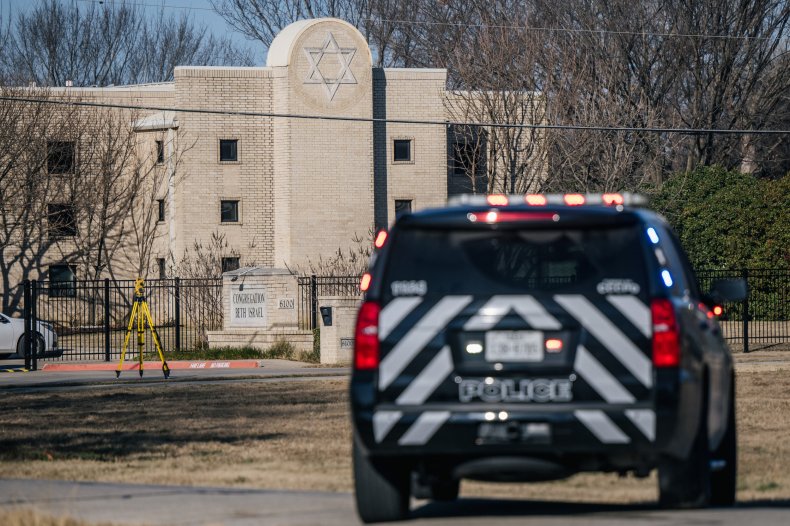 CAIR ardently supported Billoo's comments. CAIR did not heed the warnings from the American Jewish community that this rhetoric was dangerous and incendiary hate speech. CAIR went as far as accusing the ADL of using "false claims of antisemitism to smear Muslims."
Meanwhile, CAIR had come to the staunch defense of other notable antisemites, including the very bigot at the basis of this weekend's Texas synagogue attack. CAIR's Dallas-Fort Worth chapter had campaigned for Siddiqui's release, calling her conviction "one of the greatest examples of injustice in U.S. history."
The dots are not too difficult to connect. When you say Jewish institutions are evil because of an association with Israel, you put a target on all Jews; when you put a target on synagogues, your followers will go to synagogues with guns.
Putting American synagogues in the middle of the Israeli-Palestinain conflict puts them in the line of fire. American Jewish leadership called this out, after Zahra Billoo's noxious rant, because it was afraid of these exact consequences. When Jews warn that certain rhetoric is dangerous, non-Jews who care about our safety should listen.
In the midst of the attack, while hostages were still at gunpoint, Daily Beast columnist Wajahat Ali tweeted, "You're about to hear some ugly and vicious Islamophobia & anti-Muslim bigotry this weekend." He preached about how our priority should be keeping Muslims safe. I have a real problem with those who cannot even wait for the release of Jewish hostages before trying to make the story about others. (I do agree that we must be vigilant and not allow capricious anti-Muslim hate.)
But the wedge between the Jewish and Muslim communities in the U.S. is not caused only by those fanning the flames of Islamophobia in reaction to a terrorist attack. It is caused by organizations like CAIR and their affiliates putting targets on synagogues. When CAIR brazenly defended Zahra Billoo's description of places like Congregation Beth Israel as the enemies of Islam, it necessarily disregarded the lives of the four Jews taken hostage on Saturday. CAIR may not have held the gun on Saturday night, but its incendiary and reckless rhetoric, combined with its incomprehensible stance on Siddiqui, helped incite this attack.
We need some accountability from CAIR.
Hen Mazzig is a U.K.-based Israeli writer and a senior fellow at The Tel Aviv Institute. Follow him on Twitter: @henmazzig.
The views expressed in this article are the writer's own.