Don't Let Our New Defense Secretary Fool Himself: Trump's Bigoted Transgender Ban Has Torn Up Lives | Opinion
Two years after it was announced and three months after it took effect, President Donald Trump's ban on the military service of transgender people is finally creating the harm many of us feared it would. Transgender service members who have served with dignity and distinction are being torn from their careers. Young recruits report losing ROTC scholarships while being denied their dreams. And state National Guards are being forced to choose between the bigoted policy of the commander-in-chief or allowing their valued transgender troops to serve.
It's a choice made all the more difficult by conflicting signals from military brass, including the man who was confirmed this week as our nation's secretary of defense: Mark Esper.
Last year, Esper was one of dozens of current and former military leaders who contradicted the president's rationale for the ban. Asked during a Senate Armed Services Committee hearing in April 2018 if he had received any reports indicating that transgender service members were causing disruption in the military, he confirmed, "Nothing has percolated up to my level."
However, during his confirmation hearings this month to serve as secretary of defense, Esper tried to deny the impact of the ban. "Whoever can meet the standards without special accommodations can serve," he said. "Transgender individuals may serve so long as they can adhere to all military standards, including the standards associated with the biological sex."
What that means is that transgender individuals may serve only if they are willing to do so while hiding in the closet. Also, people who have been prescribed transition-related care by their doctors may not enlist, and service members must be discharged if given a diagnosis of gender dysphoria.
As the lives uprooted by this policy emphasize, Esper's new assertion matches the misleading attempts by the administration to justify this ban. The administration's false claims about the health and well-being of transgender people have been rejected by major medical organizations throughout the country and are contradicted by the open service of transgender people in militaries throughout the Western world.
In fact, the service of the estimated 13,000 transgender U.S. troops affected by this policy is perhaps the best evidence of all that the president and new defense secretary are purposefully misleading the American public. I've had the pleasure of meeting many of these brave individuals over the past few years, and each has served with a level of dignity, honor and dedication that would make our nation proud.
As five of them testified in front of the House Armed Services Committee in February, leaving the closet and living their truth made each more capable of fulfilling their duties, not less. "Based on my experience as a combat arms officer and medical provider," said Army Captain Alivia Stehlik, "the answer is unequivocally that my transition—and so many others—has dramatically increased the readiness and lethality of every branch of the armed forces."
Navy Petty Officer 3rd Class Akira Wyatt said the military had become like family. "For the entirety of my service, neither my sexuality nor my gender identity has led to any disruption among my comrades and peers," said Wyatt. "In fact, there's been nothing but positivity. Living our truths has made us all stronger and more devoted to our duty. And, with no secrets to hide behind, we can be fully engaged."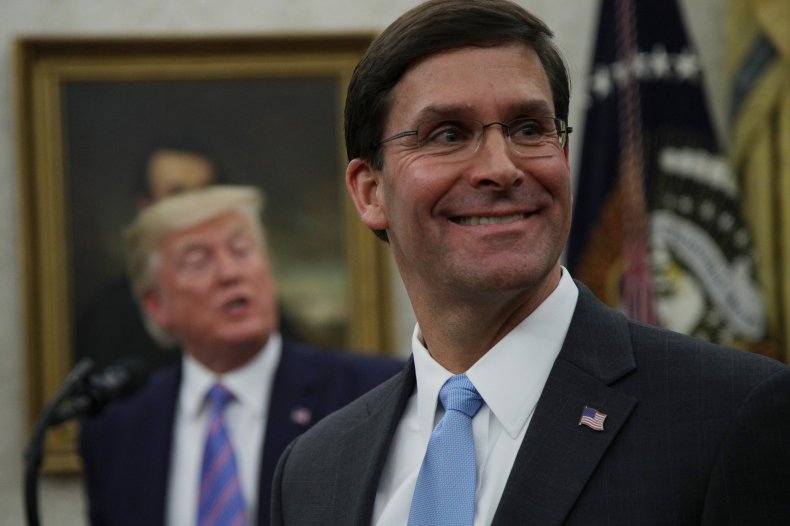 It should be of concern to every American that a president would so recklessly reject sound evidence and dedicated service members in favor of his own biases. The world's largest fighting force deserves leadership that will listen to service members, seek the council of generals, and act with care and respect for the millions of lives dedicated to serving their country. Instead, we have a president who believes he knows better than a military that wants and needs transgender people.
For the good of America, Esper must stand up to the president and his bigoted policy that actually endangers our troops.
As for the rest of us, there are two crucial opportunities for every American to right this wrong. One is by calling their senators and demanding they hold a vote on a bipartisan amendment passed in the House this month that would defund any attempt to enforce this ban. And the second is in November 2020, when Americans will be able to choose a president who rejects stigma and prejudice as the basis for any policy.
Trump's disgraceful ban degrades the service of people like Stehlik and Wyatt while sending a dangerous message to every employer—every American—that transgender people are less deserving of the same opportunities as anyone else. President Harry S. Truman knew the military must be a standard-bearer in moving the country forward on equality when he rejected his own past racism and desegregated the military along racial lines in 1948.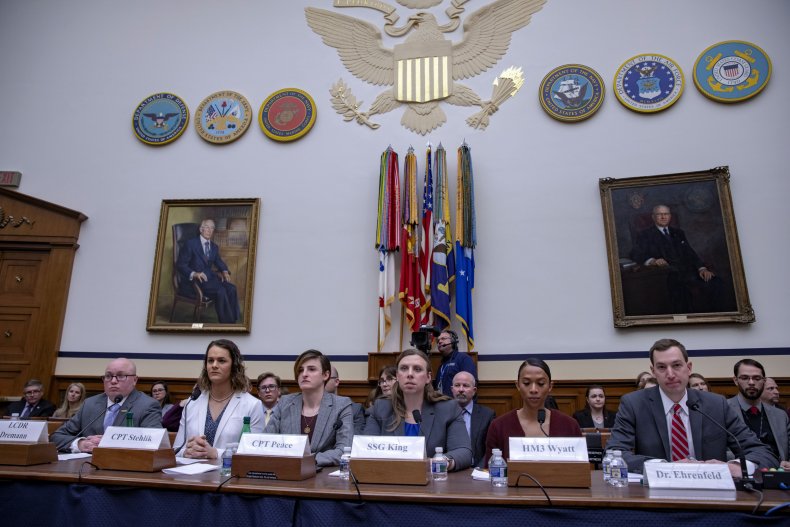 As Truman put it then, the nation must "believe that every man should be free to live his life as he wishes. He should be limited only by his responsibility to his fellow countrymen."
Trump feels no such responsibility and is rejecting the service of those who do. Worse, his lack of shame is clearly spreading to apparently good people like Esper. Congress has a moral duty to shield the American people from a president unhinged in his own prejudice. If they can't, then the American people must assuredly do so ourselves.
Mara Keisling is the founder and executive director of the National Center for Transgender Equality, the nation's leading social justice advocacy organization winning life-saving change for transgender people.
The views expressed in this article are the writer's own.