'Don't Look Up' Cast: All the A-Star Actors in the Netflix Movie and Who They Play
The highly-anticipated Don't Look Up from award-winning writer and director Adam Kay is coming to Netflix just in time for Christmas. The satirical sci-fi movie follows the story of two low-level astronomers who are on a mission to warn the entire world there is a huge comet heading for Earth that will destroy the entirety of mankind. Director Adam Kay has recruited an A-list cast for the film and even managed to get musicians Ariana Grande and Kid Cudi on board.
Newsweek has the full list of A-Star actors in the Netflix movie and who they play.
Meet The Don't Look Up Cast
Kate Dibiasky — Jennifer Lawrence
Hunger Games star Jennifer Lawrence plays the role of Kate Dibiasky, a low-level astronomer and Ph.D. student, who whilst studying late one night in the laboratory, uncovers an unusual comet heading for Earth.
Lawrence teased to Netflix: "Kate is a truth-teller. Kate Dibiasky is a truth-teller. So when she tries to tell this news to the rest of the world and is met with resistance or just, you know, complete and utter disbelief, it's really... it's really upsetting. And she... you... you can really see... Kate really gets a hard look at life and the public and social media."
Dr. Randall Mindy — Leonardo DiCaprio
Oscar-winning actor Leonardo DiCaprio stars as Dr. Randall Mindy, a Professor of Astronomy who calculates the trajectory of the asteroid and concludes the comet will hit earth in approximately six months, wiping out planet earth.
DiCaprio described his character to Netflix as: "It was a much different character than anything I have ever had the opportunity to play at. It really reminded me what it's like for climate scientists, scientists like you know, Michael Mann for example when they're put in the mainstream new circuit and told to talk about you know, the catastrophic events of the climate crisis. And here they are trying to be media-savvy and not politicize the issue but just try to articulate the facts the best they can."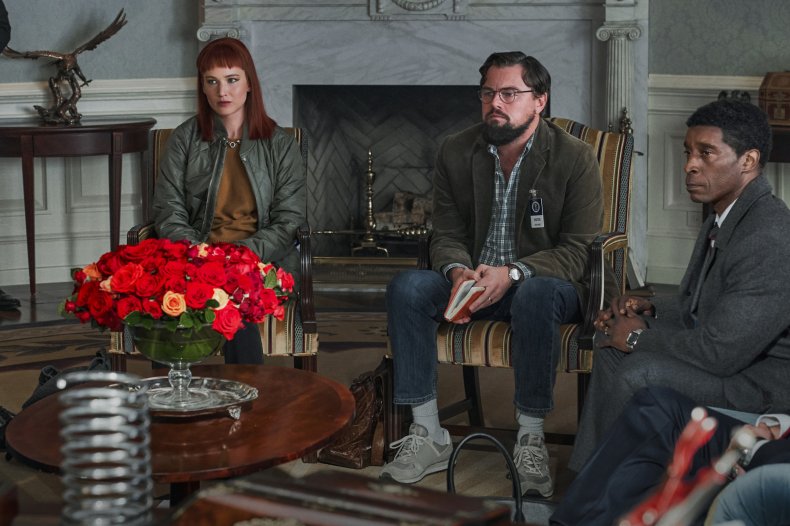 Dr. Teddy Oglethrope — Rob Morgan
Rob Morgan portrays Dr. Teddy Oglethrope, the head of planetary defense at NSA who assists Kate and Dr. Mindy with taking them to the White House and to raise publicity about the comet.
Morgan is best known for his role as Turk Barrett in the Netflix series Daredevil, Jessica Jones, Luke Cage, Iron Fist, The Defenders, and The Punisher.
Speaking to Netflix, Morgan described the cast as an "amazing stellar all-star cast" adding "it's like the Bulls in the '90s, championship rings all over the place."
President Janie Orlean — Meryl Streep
Oscar-winning actress Meryl Streep portrays President Janie Orlean in Don't Look Up, a Republican president who is, at first is dismissive of Dr. Mindy and Kate's findings. However, when she finds herself embroiled in a sex scandal, President Orlean decides to make their findings public, to divert attention from her own problems.
Speaking to Netflix about the impact of the role on her, Streep shared: "Well it made me wanna go home and figure out how we can make the world get back on track, get the right priorities, get ourselves—okay, there is one thing that we should be thinking about right now, all of the things flow from it, all of the questions of equity and justice and everything flows from our survival on the planet, and if we don't have that we don't have anything else, and so I, I went home and thought oh, I'm gonna have to change my life now, thanks Adam McKay."
Jason Orlean —Jonah Hill
Jonah Hill plays the role of President Janie Orlean's incompetent son, Jason Orlean.
Hill is best known for his roles in 21 Jump Street, 22 Jump Street, Sausage Party and Why Him?
He is also well known for writing and directing the critically-acclaimed film Mid90s.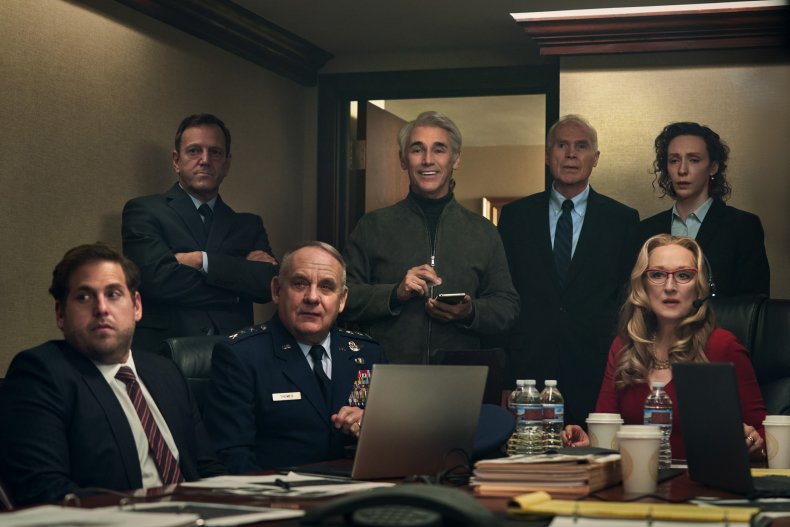 Peter Isherwell — Mark Rylance
Tony Award winner Mark Rylance stars as Peter Isherwell, an Elon-Musk type character, and founder and CEO of one of the biggest tech companies in the world.
Most recently, Rylance starred in Aaron Sorkin's Vietnam war drama, The Trial of the Chicago 7 as Defense Counsel William Kunstler.
Brie Evantee — Cate Blancett
Oscar, Golden Globe, and Bafta-winning actress Cate Blancett takes on the role of Brie Evantee, a Breakfast show presenter who becomes tied up in Dr. Mindy's case.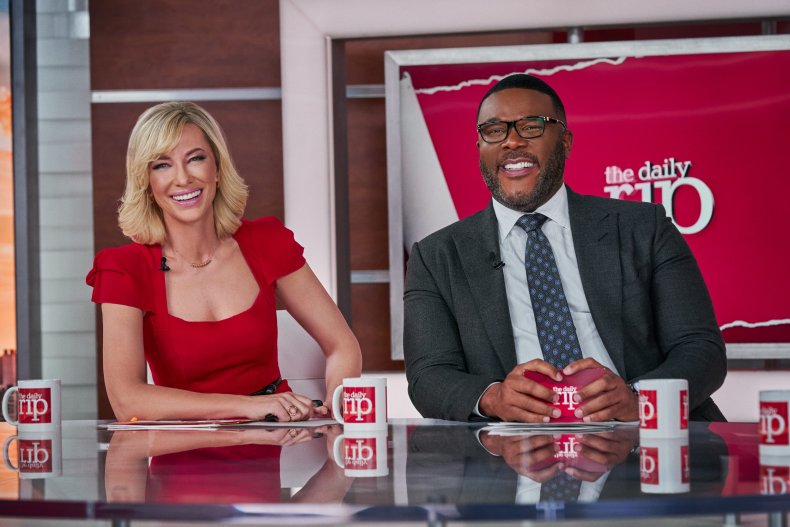 Yule —Timothée Chalamet
Timothée Chalamet plays the role of bad-boy Yule who becomes infatuated with Kate in Don't Look Up.
Chalamet is best known starring as Elio Perlman in Luca Guadagnino's coming-of-age romantic drama Call Me by Your Name, Nic Sheff in the autobiographical drama Beautiful Boy and Kyle in Lady Bird.
He is set to play a young Willy Wonka in the upcoming Charlie and the Chocolate Factory Prequel.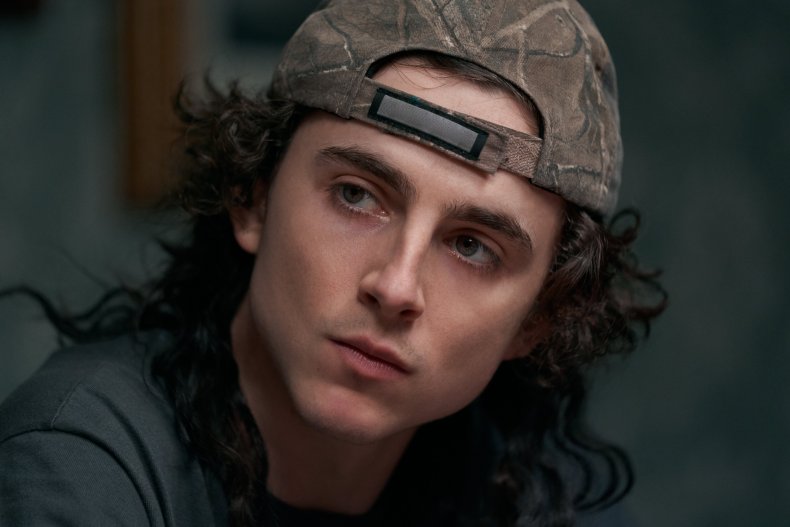 Riley Bina — Ariana Grande
Grammy Award winner Ariana Grande plays an exaggerated version of herself in Don't Look Up.
Known as Riley Bina, her character is a worldwide popstar who represents the influence of social media on our daily lives.
Grande even performed the song "Just Look Up" alongside Kid Cudi in the film, who plays the role of DJ Chello.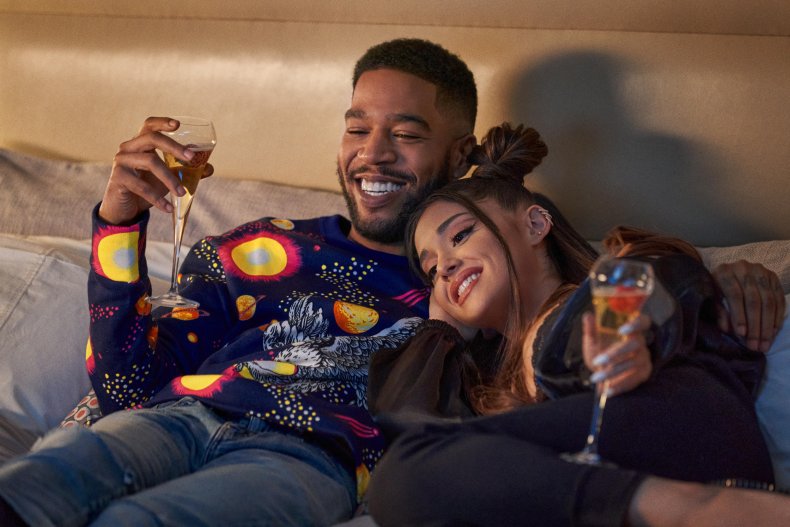 Other famous faces in the cast of Don't Look Up include:
Himesh Patel as Phillip
Melanie Lynskey as June Mindy
Michael Chiklis as Dan Pawketty
Tomer Sisley as Adul Grelio
Paul Guilfoyle as General Themes
Robert Joy as Congressman Tenant
Robert Radochia as Evan Mindy
Conor Sweeney as Marshall Mindy
Rafael Silva as NASA Scientist Mathew
Ross Partridge as Keith Ollens
Liev Schreiber as Bash Narrator
Sarah Silverman as Sarah Benterman
Jon Glaser as Meow Man
Chris Evans as Devin Peters
Don't Look Up will streaming on Netflix from Friday, December 24.