'Don't Look Up' Cast: Every Iconic Star in Netflix's New Comedy Movie
Netflix have released the first trailer for Adam McKay's upcoming Don't Look Up and it's filled with more A-listers than you could imagine.
The movie is described as a sci-fi black comedy and follows two low-level astronomers attempting to warn mankind about an approaching comet that will destroy Earth.
It's due out in December for a limited theatrical release before arriving on Netflix a little later. The cast list for the movie is filled with recognizable names and Oscar-winning talent. Here's a list of everyone seen in the new trailer, and everyone else scheduled to appear in the movie.
Stars seen in the Don't Look Up trailer
Leonardo DiCaprio and Jennifer Lawrence take top billing in this movie, starring as Dr. Randall Mindy and Dr. Kate Dibiasky, respectively. Their characters discover a comet is going to destroy Earth and these two astronomers are tasked with heading out on a media tour to warn everyone.
Meryl Streep plays President Janie Orlean, who wears a MAGA-style hat that reads "Don't Look Up," while Jonah Hill plays a member of her staff who also happens to be her son.
Scott Mescudi, aka Kid Cudi, and Ariana Grande also have roles small roles in the movie and are seen getting cozy with one another. Speaking of young stars, Timothée Chalamet also appears as Yule wearing his backwards baseball cap.
Oscar-winning British actor Mark Rylance (Bridge of Spies) appears wearing prosthetics, Ron Perlman is an astronaut, Cate Blanchett and Tyler Perry are news anchors, and Rob Morgan plays a scientist helping Lawrence and DiCaprio on their quest.
Adam McKay directs and co-wrote the story with David Sirota. McKay is most notable for his work on The Big Short and Vice, but as the trailer reminds us, he also brought us Anchorman and Step Brothers.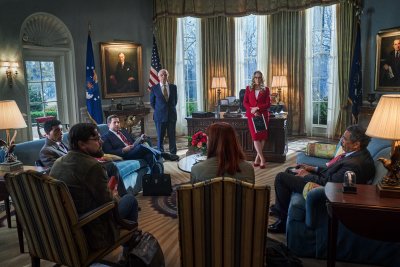 Who else stars in Don't Look Up?
While the trailer reveals a number of big names, many more recognizable faces are set to appear in the finished product when it launches on Netflix on December 24.
Matthew Perry, Himesh Patel (Yesterday), Tomer Sisley, Paul Guilfoyle (L.A. Confidential), Melanie Lynskey (Up In The Air) and Michael Chiklis (The Shield) have all been photographed on the set, implying they'll have roles in the movie as well.
McKay confirmed to Entertainment Weekly that Chris Evans also has a cameo in Don't Look Up, but stopped short of confirming who he plays.
Don't Look Up is due to get a limited theatrical release on Friday, December 10 before it arrives on Netflix two weeks later on Christmas Eve.