'Don't Look Up' Reviews: What the Critics Have Have Said About Adam McKay's Disaster Movie
Don't Look Up is the new black-comedy disaster movie by award-winning writer and director Adam McKay. Featuring a star-studded cast, including the likes of Leonardo DiCaprio, Jennifer Lawrence, Cate Blanchett, Meryl Streep, Timothée Chalamet, and Rob Morgan (the list could go on), Don't Look Up will have you thinking for days about the state of the world we live in and how to look after our planet.
The movie tells the story of low-level astronomer and professor Dr. Randall Mindy (played by Leonardo DiCaprio) and Ph.D. student Kate Dibiasky (Jennifer Lawrence) who discover a huge comet is heading directly to Earth, threatening to destroy the entire planet. With the help of scientist Dr. Teddy Oglethorpe (Rob Morgan), the trio attempt to make the world aware of its impending doom, but largely go unheard, before it's too late. With a reckless president, President Orlean (Meryl Streep), and Elon-Musk type figure Peter Isherwell (Mark Rylance) ruining all hopes of a rescue mission, the world is forced to face potential extinction.
The highly-anticipated movie is available to stream and download now on Netflix and it's fair to say, the critics are divided on whether Adam McKay's disaster movie is actually a total disaster or if it's a critically-acclaimed masterpiece. Newsweek has a recap of all of the reviews below.
What the Critics Have Have Said About Don't Look Up
Deadline
Writing for Deadline, Pete Hammond praises McKay for bringing humor to a serious subject and praises the movie's "killer cast."
He writes: "DiCaprio is excellent as a guy who has seen the dreary future but can't seem to get anyone to listen to him. Streep is a riot as a clueless President, while Hill steals every scene he is in as the object of her nepotism; you don't have to think long and hard where McKay got the idea for that. Blanchett is having a ball as your typical entertainment-oriented blond anchorwoman, and Perry nicely balances her."
The Hollywood Reporter
The Hollywood Reporter did not have such a positive take on Don't Look Up, describing Adam McKay's movie as "a cynical, insufferably smug satire".
Writer David Mooney also was not totally dazzled by the stars cast, penning in his review: "The squandering of a dizzying assembly of marquee talent alone is aggravation enough."
He added: "The film gets so cluttered with surplus characters and gratuitous star casting that any satirical heft is pretty much steamrolled."
However, Mooney does praise the character of Randall's wife June, played by Melanie Lynskey, and ponders if Don't Look Up was not "smothered" in "ha-di-ha-hah flippancy", her character may have grounded the film and brought it some "eleventh-hour poignancy."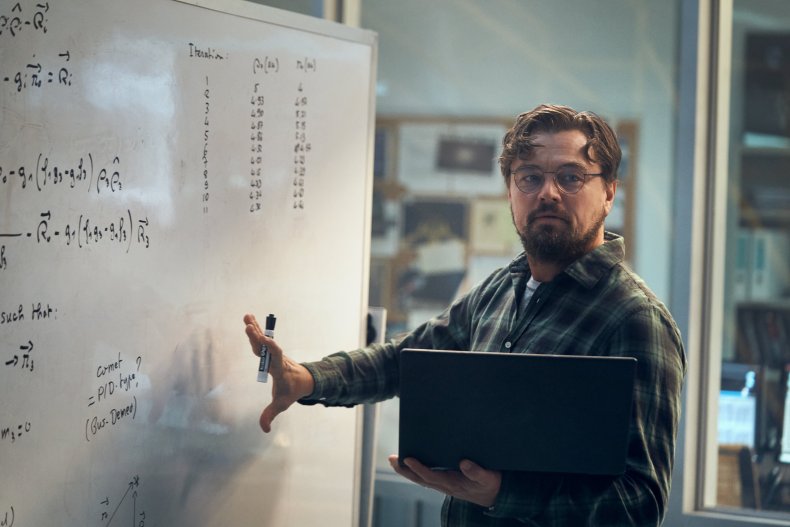 Digital Spy
Digital Spy awarded Don't Look Up, 3 stars out of 5.
Reviewer Ian Sandwell praised the relevance of the movie. Set against the backdrop of a very real climate crisis and an ongoing worldwide pandemic, Sandwell writes: "Don't Look Up might not all work as well as its final act, but it still makes an impact and maybe it'll even change some minds of those who watch it. Even if it doesn't, you'll still have a fun time hanging out with this cast at the end of the world."
He also praised the movie's cast, in particular Mark Rylance, describing his performance as "transformative."
Elsewhere, Sandwell was not such a huge fan of the movie's editing, believing some scenes end "abruptly" and overlap for "no obvious reason."
He adds: "There's a looseness to Don't Look Up though that means some jokes drag on far longer than they should, and large chunks of the middle section could be lost with little impact to the story."
Vulture
As for Vulture writer, Alison Willmore, took issue with the plot of the movie as a whole.
Willmore wrote: "It's hard to think about who, exactly, is going to be moved to make changes to how they live their lives by Don't Look Up, a climate-change allegory that acquired accidental COVID-19 relevance, but that doesn't really end up being about much at all, beyond that humanity sucks."
Willmore added the movie fails to consider the climate change crisis is not only caused by climate change deniers but by years of "industrialized existence."
She also criticizes Don't Look Up for failing to recognize the climate crisis outside of the U.S., writing "Don't Look Up may cut in flashes of B-roll showing the rest of the world, but that world is only seriously shown to be America's to fail to save, an unwieldy act of arrogance that misses the chance to engage with how long it has been since this country led the way."
However, Vulture did praise the latter half of the film, pin-pointing it is towards the movie's end Don't Look Up "start treating its characters as characters," and audiences can finally relate them, in particular to Randall's Wife June and Timothée Chalamet's Yule.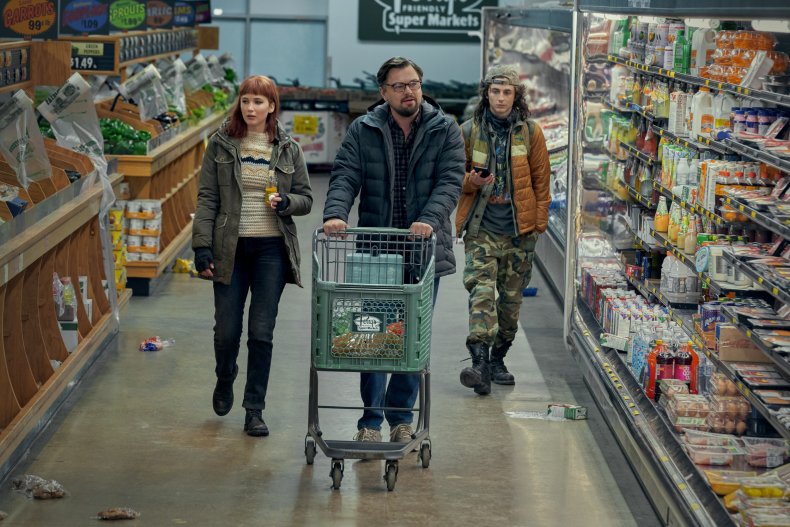 The Observer
Simran Hans writing for The Observer, described Don't Look Up as an "A-List apocalyptic mess."
She writes: "An ensemble cast stacked with A-listers is no guarantee of a good time. Neither is McKay's bombastic, shake-you-by-the-shoulders direction."
Hans also believes the film's attempts to raise awareness of the ongoing climate crisis falls flat, penning: "The smug asides plastered onscreen, and the hyperactive inserts of nature documentary footage do nothing to raise the film's real-life stakes."
Empire
Ian Freer, writing for Empire awarded Don't Look Up a high 4 stars out of 5.
Freer even believes casting director Francine Maisler would be a "shoo-in" for the 2022 Oscar for casting Adam McKay's latest project. It's just a shame the award doesn't exist.
As for the movie itself, Freer praises in particular McKay's ability to take aim at the Republican politicians in the form of President Orlean and her Chief of Staff, who happens to be son, Jason (Jonah Hill).
He writes: "In his political wheelhouse, McKay's satire feels both too funny to be true and spot-on." Freer also praises McKay's script for touching on how we all need to take personal reasonability for our actions, the danger of fake news, and the fragile nature of our planet.
Concluding his review, Freer penned: "There's perhaps too much going on and not all of it works. Still, McKay sticks the ending beautifully, adding a killer sting that hopefully, Netflix's end-credits-interrupting technology won't ruin — perhaps the only 21st-century evil Don't Look Up doesn't skewer."
Don't Look Up is streaming on Netflix now.