'Don't Look Up': How to Watch Leonardo DiCaprio and Jennifer Lawrence's New Movie Online
Viewers looking for Adam McKay's new movie Don't Look Up have plenty of options on how to watch.
Jennifer Lawrence and Leonardo DiCaprio star as scientists warning everyone about a comet heading directly towards earth. Unfortunately, the likes of Meryl Streep, Cate Blanchett and Jonah Hill play characters who struggle to believe it's going to happen.
The movie is one of the most anticipated blockbusters of the year, and is getting a dual cinematic and streaming release.
Here's how you can watch Don't Look Up in a movie theater or from home.
How to watch Don't Look Up
Don't Look Up is arriving in a limited number of movie theaters across the world on Friday December 10, 2021. This is the first stage of the movie's two-part release schedule.
Those hoping to watch the film from the comfort of their own home have a longer wait ahead of them.
Don't Look Up is a Netflix original movie and will land on the streaming service on Christmas Eve, Friday December 24, 2021.
It used to be that movies had to have a theatrical release to be eligible for the Academy Awards but for the second year in a row the Oscars have announced that all streaming movies can be considered. The cinematic release for streaming exclusives are now likely a marketing ploy to generate buzz ahead of its release online.
Don't Look Up was originally scheduled for a 2020 release but like many others was delayed due to the COVID-19 global pandemic.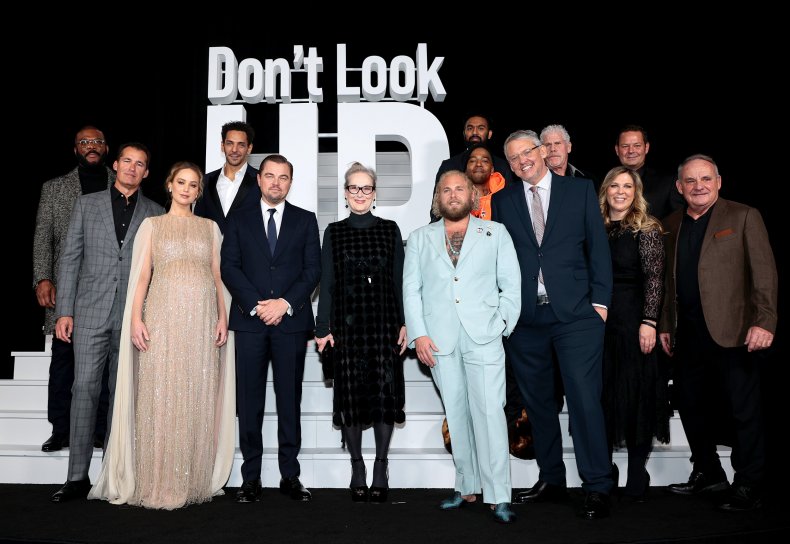 Who stars in Don't Look Up
The movie is filled with A-listers in both major and minor roles. DiCaprio and Lawrence star as Dr. Randall Mindy and PhD candidate Kate Dibiasky, respectively.
On their massive worldwide tour to warn people about an incoming comet which will destroy the earth, they encounter the other characters of the movie.
Streep plays President Janie Orlean while Hill plays her son and Chief of Staff Jason Orlean. Blanchett and Tyler Perry are a pair of overly cheery morning TV hosts who also don't take the oncoming threat seriously.
Ariana Grande pokes fun at herself portraying a fictional pop star while Scott Mescudi (Kid Cudi) plays her boyfriend. Oscar-winner Mark Rylance plays a brilliant but flawed billionaire, while Timothée Chalamet appears as a character called Yule.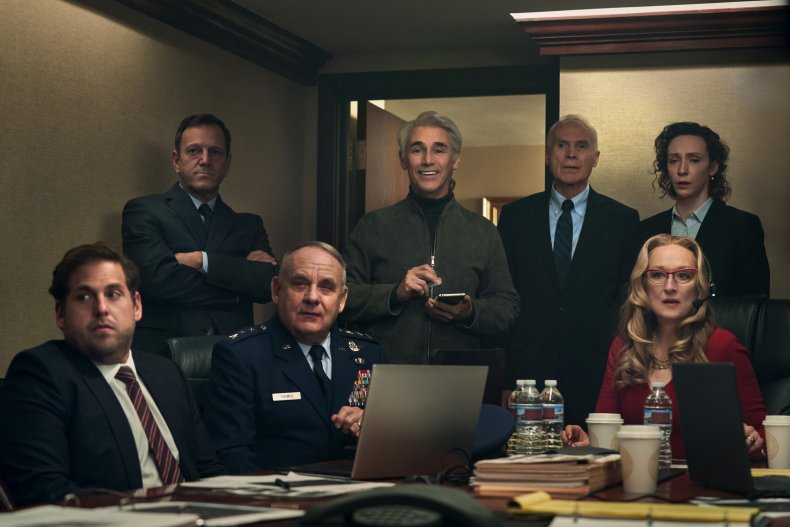 Rob Morgan, Ron Perlman, Himesh Patel, Chris Evans, Tomer Sisley, Melanie Lynskey and Michael Chiklis also all appear.
Adam McKay (The Big Short) directs and also co-wrote the movie with journalist David Sirota.
Grande and Kid Cudi have released an accompanying song which is featured in the movie called "Just Look Up." Grande released the lyrics video to the song on her YouTube channel.
Don't Look Up gets a limited theatrical release on Friday December 10, 2021. Check your local movie theaters to see where the nearest showing to you is.
Don't Look Up will receive a worldwide release on Netflix on Friday December 24, 2021.