'Don't Make It Mad': Viral Video Shows Clips of Cat's Grumpy Expression
A cat wears a furious expression on his face in several video clips that were pieced together for a TikTok video viewed more than 3 million times.
"Merlin is absolutely done with 2022 and is prepared to take matters into his own paws," read the caption of the video, which was posted to the TikTok account @merlinragdoll.
A remix of Carl Orff's dramatic song O Fortuna plays in the background as different videos show Merlin the cat with a disdainful look.
When the video first started, the frame contained a smiling and seemingly happy dog. But in the background with a look of contempt was Merlin.
The camera then zoomed in to focus on the cat.
Other video clips showed Merlin in various locations, including perched on a stairwell as he delivers his scowl, peering into the camera while sitting on the floor and on a dresser.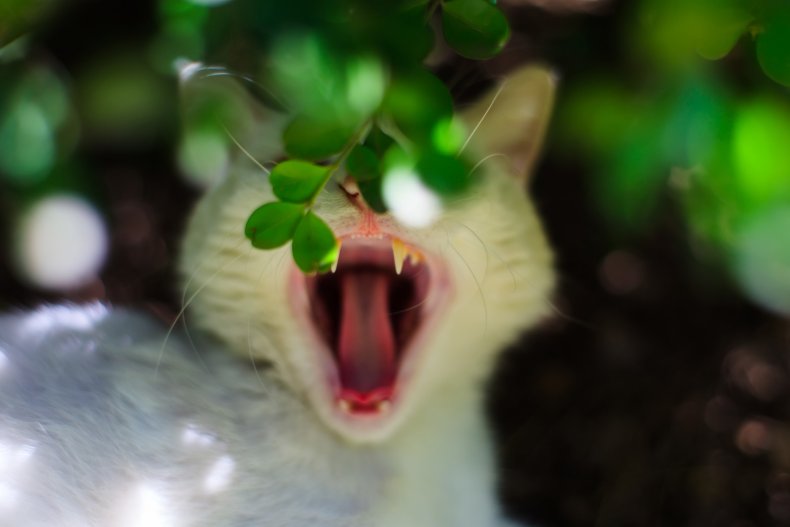 Commenters jumped on the opportunity to discuss the cat's scornful expression, and some drew comparisons to Grumpy Cat, a feline known for her own permanent angry look.
According to the BBC, Tardar Sauce—most commonly known as Grumpy Cat—gained fame on the internet in 2012 because of her permanently grumpy expression.
Her owner Tabitha Bundesen explained the expression was due to feline dwarfism and an underbite. In addition to having memes created because of how she looked, Grumpy Cat also made television and film appearances.
"New grumpy cat acquired," @royaltwinkatron commented on @merlinragdoll's video.
"The 2010s brought us grumpy cat," @rainbowdork wrote. "In the 2020s, we have absolutely furious cat."
Other commenters wrote Merlin emulated the same attitude as their own.
"This cat is a whole mood," @tammtoot2 wrote.
"Dude I feel like this too," @krystalgorden2021 commented.
Wrote @lorig972, "He looks like how I feel every day."
Viewers also shared their general appreciation for the disgruntled-looking cat.
"Merlin is beautiful," @juliacordy1 wrote.
"I love how he never lets the fire of aggression inside him die for even a second," @spocksbeard commented.
"What ever you do, don't make it mad," wrote @michellecole73.
This is not the first video of Merlin that the TikTok account shared.
With more than 1 million followers, the account has posted other videos of Merlin.
One video, for example, was an edited clip of a scene from the 2018 film A Star Is Born.
The scene in question features Bradley Cooper's character, Jack Maine, calling out to Lady Gaga's character, Ally, requesting to "take another look" at her.
Merlin took the place of Lady Gaga's character and he is seen giving a look of contempt to the request.
"That's EXACTLY how I look when strange men talk to me," @bella_is_bae347 declared.
Newsweek reached out to @merlinragdoll for comment.