'Don't Make Us Write Obituaries': Student Run Newspaper Pleads With Administrators Amid Reopening
The fallout from the return to campuses has already begun for some colleges like the University of Notre Dame in Indiana. They announced plans on Tuesday to move classes online for the next two weeks after seeing a spike in coronavirus cases. Now, the student newspaper has redirected the blame from viral spread at a packed party to an ill-prepared administration.
"Please," they wrote. "Don't make us write obituaries."
Undergraduate and graduate students returned to campus on August 3 under the condition that they must be tested before beginning classes on August 10. The few students whose test results came back positive were requested to remain at home, but after one-week of classes, cases of COVID-19 on campus skyrocketed to 147. As of Friday, Notre Dame's coronavirus dashboard has reported more than 330 confirmed cases.
The uptick in cases is being blamed on two off-campus parties attended by several Notre Dame seniors who weren't practicing social distancing or wearing masks. Paul J. Brown, a spokesman for the university, told the New York Times on Tuesday that the majority of those who did test positive for coronavirus didn't live on campus. However, they managed to pass the virus on to others living on campus simply by attending the party.
According to the editorial board of the student newspaper The Observer, which services South Bend universities and campuses of Notre Dame, Saint Mary's and Holy Cross, a chunk of that blame is largely misplaced.
In an open letter published on the newspaper's website on Friday, student journalists pleaded for administrators to take responsibility for decisions to resume classes as normal in the midst of a pandemic. They called upon the leaders of the tri-campus to do a more thorough job of providing everyone with more pertinent information—which, The Observer claimed, the schools hadn't done in the two weeks of returning to classes so far—to prevent an onslaught of potential illness and death ravaging their community.
"Don't make us write a tri-campus employee's obituary. Don't make us write an administrator's obituary. Don't make us write a custodian's obituary. Don't make us write a dining hall worker's obituary. Don't make us write a professor's obituary. Don't make us write a classmate's obituary. Don't make us write a friend's obituary. Don't make us write a roommate's obituary. Don't make us write yours," the letter read.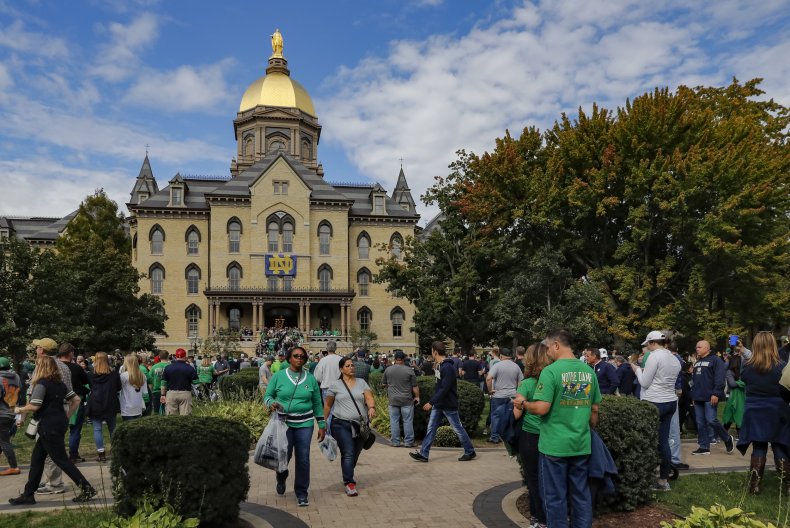 According to The Observer, the three campuses weren't prepared for the influx of students to return amid a national pandemic in the first place, noting "flaws in testing, contact tracing and isolation and quarantine accommodations have since proven inefficient."
"At Notre Dame, the almost two-week gap between the return to campus and the implementation of surveillance testing, scheduled to begin today, represents a gross oversight on the part of the administration and has put the health and safety of the tri-campus and South Bend communities in serious danger," the letter read. "Experts warned this was likely, but University President Fr. John Jenkins insisted it was worth the risk. Presidents Katie Conboy and Fr. David Tyson seemed to agree."
Notre Dame's COVID-19 dashboard only gives a general glimpse of total cases and tests conducted that's updated regularly. Meanwhile, colleges like the University of North Carolina at Chapel Hill —which has already moved all of its undergraduate courses online—provide a complete breakdown of campus testing including charts and figures of information for testing between on-campus students and those who live off-site, the availability of PPE materials, updates on CDC-provided figures and documents pertaining to the virus in the state and nationally among other important factors.
Editorial board members of The Observer hoped the letter would spark action from administrators to provide more information regarding its efforts to keep the campus safe beyond the next two weeks of online classes—not just for the sake of students but for all the people who reside in the college town.
"We implore members of the tri-campus community to do everything within their power to approach this virus in an appropriate and serious manner. Otherwise, we fear the worst is yet to come," the letter read. "
Newsweek has reached out to The Observer's editorial board for further comment.
As universities continue to weigh their options, one college has already announced it would pivot to online courses for the fall. Michigan State University abandoned its plans to re-open campus and return to face-to-face teaching in light of the ongoing pandemic.
"Given the current status of the virus in our country — particularly what we are seeing at other institutions as they repopulate their campus communities — it has become evident to me that, despite our best efforts and strong planning, it is unlikely we can prevent widespread transmission of COVID-19 between students if our undergraduates return to campus," university President Samuel Stanley said in a letter issued to students on Tuesday.
With the exception of MSU athletes who are "engaged in practices and workouts," all undergraduate students who were originally planning to live in the university's residence halls will now have to remain at their homes and take their classes remotely, Stanley said.
"While a vast majority of our classes already were offered in remote formats, we will work the next two weeks to transition those that were in-person or hybrid to remote formats," he added.