Don't Question the Generals, White House Press Secretary Says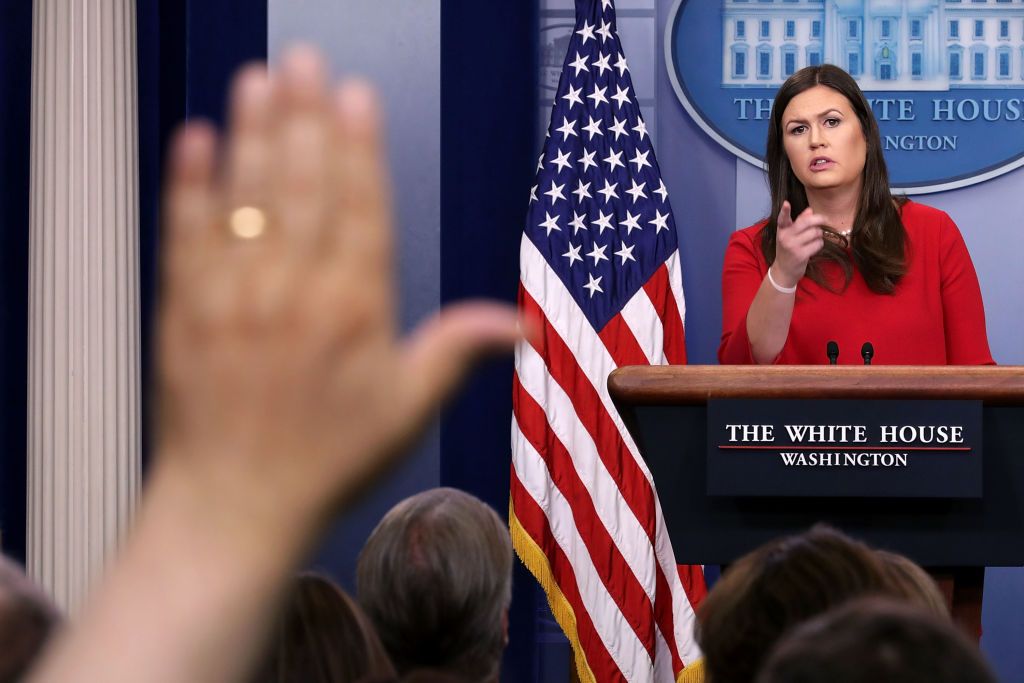 Did Sarah Huckabee Sanders, the White House press secretary, really tell a reporter that it was wrong to question a general? That seems to be what happened at the White House press briefing Friday afternoon as she took questions about dramatic and controversial remarks by White House Chief of Staff John Kelly on Thursday, when he lashed out at a Democratic congresswoman over the president's call to an Army widow.
"If you want to go after General Kelly, that's up to you. But I think that if you want to get into a debate with a four-star Marine general, then I think that's something highly inappropriate," Huckabee Sanders said when asked about inaccuracies in Kelly's statement. Kelly is in fact retired from the military and serves in a civilian capacity.
Kelly had taken to the podium in the White House briefing room to support President Donald Trump and his account of his call to Myeisha Johnson, the widow of Army Sergeant La David T. Johnson, who was killed in Niger, earlier this month. Representative Frederica Wilson, a Democrat from Florida who is a longtime family friend of the Johnsons, was in the car when the president called to offer his condolences. She criticized the president's call and claimed he did not know the slain soldier's name.
Kelly offered a robust defense of the president's intentions while not directly contradicting Wilson's account of the call. But he went on to deride Wilson as a showboater who had hogged the limelight at the 2009 dedication of an FBI building in Miami. Video of the ceremony undercut Kelly's claims.
Huckabee Sanders said the video was not dispositive and didn't capture everything that happened at the ceremony. She also took shots at Wilson, who is known for her colorful, cowboy-style hats, dismissing the veteran lawmaker as "all hat, no cattle"—a term meant to denote a lack of substance.
"There was a lot of grandstanding," Huckabee Sanders said. "[Kelly] was stunned that she took that opportunity to make it about herself."
Ironically, then-candidate Trump took a shot in 2016 at General John Allen, then a four-star general, for comments he had said were supportive of Hillary Clinton. "His record=BAD," Trump tweeted at the time. Allen has since retired and been named the president of the Brookings Institution.