'Don't Say Gay' Bill Would Keep Florida Schools From Teaching Pulse Shooting
A new bill making its way through the Florida state legislature could block students from learning about some of the tragedies that have taken place in their own communities, lawmakers are warning.
Last week, the House Education & Employment Committee moved the Parental Rights in Education bill forward despite objections from LGBTQ advocates who warn it could send a chilling message to LGBTQ youth and communities.
"It sends the message that conversations about LGBTQ families or LGBTQ people are dangerous and that they must be prohibited," state Representative Carlos Guillermo Smith told Newsweek. "It sends a terrible message to our youth that if they are LGBTQ, it's not OK."
The bill, which Smith and other opponents have dubbed the "Don't Say Gay" bill, would prohibit school districts from "encouraging classroom discussion about sexual orientation or gender identity in primary grade levels or in a manner that is not age-appropriate or developmentally appropriate for students."
Smith said the bill is particularly troubling in a state where there have been tragic hate crimes committed against those in the LGBTQ community, including the 2016 mass shooting at Pulse, a gay nightclub in Orlando.
The mass shooting, in which 49 people were killed and another 53 wounded 53, was the deadliest incident in the history of violence against LGBTQ people in the U.S. and marked the deadliest attack in the country since 9/11.
"I represent a House District in Orlando," Smith said. "Forty-nine, mostly LGBTQ people of color, were murdered at Pulse nightclub and some of their descendants, nieces, nephews, family members, and neighbors are children in our schools."
"These kids still have questions about what happened," he said. "For those who are too young to remember, conversation about the history of our community, as it relates to Pulse nightclub, are inextricably linked to sexual orientation and gender identity. You can't have a conversation about the history of our community as it relates to the Pulse tragedy without having a conversation about the LGBTQ community."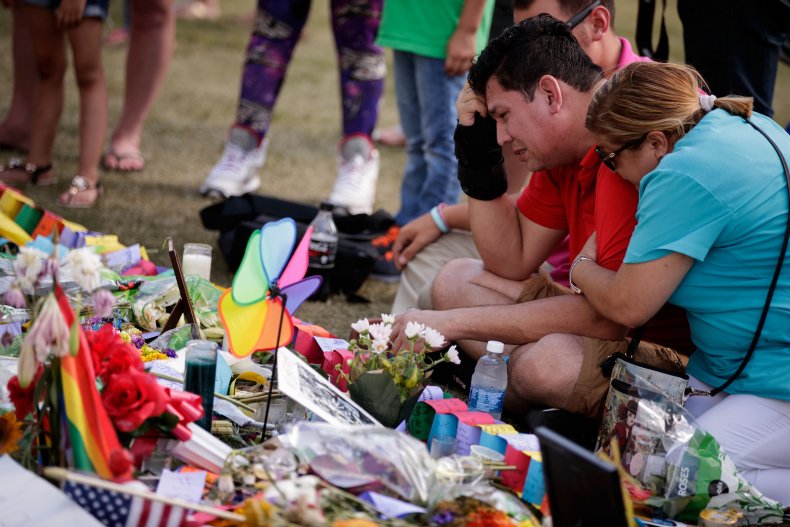 Smith said one of the biggest issues he has with the "Don't Say Gay" bill is that supporters of the proposal often assume that the bill is targeting sex education curriculums, rather than general classroom discussions that he believes would benefit children coming to terms with their sexual orientation or gender identity.
"They immediately assume that a conversation that acknowledges [LGBTQ] existence is a conversation about sex education, and it's not," Smith, who is the first openly gay Latin person to elected to state Legislature, said.
"We have statutes around sex education, and they talk about it being age appropriate. This is not a bill about sex education," he added. "We're talking about the existence of LGBTQ people and families."
The "Don't Say Gay" bill would allow for parents to sue schools if they believed such discussions were being "encouraged" in K-5 classrooms or at higher grade levels in a non-"age appropriate" way.
Lawmakers say they are especially concerned about the "vague" language of the bill.
"What does encouraging mean? What does that look like? Is 'encouraging' a student bringing in a picture of their parents who happen to be of the same gender? Is that encouraging? Or is it a student saying, 'I am gay' and then the teacher says, 'OK,'" state Representative Michele Rayner told Newsweek.
"You're simply allowing a child to be who they are—is that encouraging?" Rayner, who is the first openly queer Black woman elected to the state legislature, asked.
Smith said the broadness of the bill is particularly worrisome when looking at students older than fifth-grade, where a lawsuit could be brought if a parent doesn't believe an LGBTQ topic is being addressed in a manner appropriate for the child's age.
"'Age appropriate' is very subjective," he said. "There are homophobic and transphobic people out there who don't believe any conversation about LGBTQ people existence is age appropriate. So who's defining 'age appropriate'?"
"In [the] context [of K-5], all conversations about the existence of LGBTQ families are age appropriate because you're just acknowledging that this third-grade kid has two moms or two dads," he added.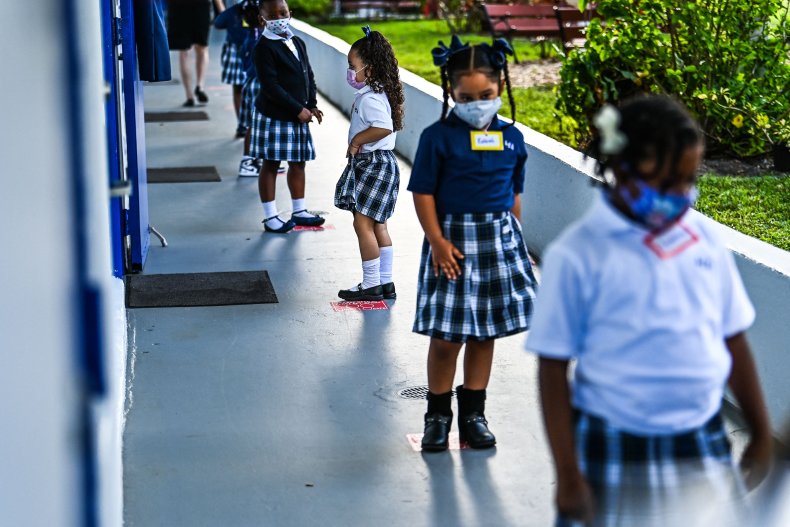 Smith said if the bill is passed into law, it could have a chilling effect on LGBTQ-inclusive policies in Florida's school districts.
He pointed out that for many kids, who spend more time at school than at home, schools and teachers can be a lifeline when they don't have other support systems in their lives.
"A lot of times, school is a safe place for [LGBTQ youth]," Rayner echoed. "A lot of times, a teacher or a trusted adult is a safe place for them, especially if they come from a home environment that is hostile."
"But also, I think that when we are kind of making a blatant difference between LGBTQ students and those who are not, that also increases the cause for bullying," she added.
According to a national survey from the Trevor Project, 42 percent of LGBTQ youth said they seriously considered attempting suicide just in the last year. Advocates have warned Governor Ron DeSantis that signing the bill into law could exacerbate these devastating figures.
Although DeSantis notably helped raised $1 million for a Pulse memorial and publicly stated his commitment to stand by the survivors in the wake of the shooting, he has since taken steps that contradict those promises like cutting funds to programs for Pulse survivors.
Last week, Transportation Secretary Pete Buttigieg's husband, Chasten Buttigieg, who is also a teacher, warned DeSantis that the bill "will kill kids."
"You are purposefully making your state a harder place for LGBTQ kids to survive in," Buttigieg tweeted at the governor.
Proponents of the bill argue that it champions the rights of parents and allows them to be more involved in their children's education, but Rayner said there are better ways for parents to monitor what their kids are learning.
"I 100 percent believe and agree that parents should know what their kids are being taught, but it should not be at the expense of someone else," she said. "How I grew up—I went to school, I was taught something and if my parents didn't agree with that, we would have a conversation at home."
On top of that, Rayner said parents advocating for these bills should take the same approach when it comes to their kids' media consumption.
"Parents absolutely need to be advocating. They need to know what the kids are learning. They need to be involved. But, they need to also be that involved at home, when [kids are] on the tablet, when they're on the internet, when they're on TikTok, when they're on Instagram—monitoring what they're taking in," she said.
"As you have that same energy about your school that about your child's education, have that same energy about their social media education," she added.