Don't See Me, Don't Feel Me: Exploring the World of an Autistic Child Through Musical Theater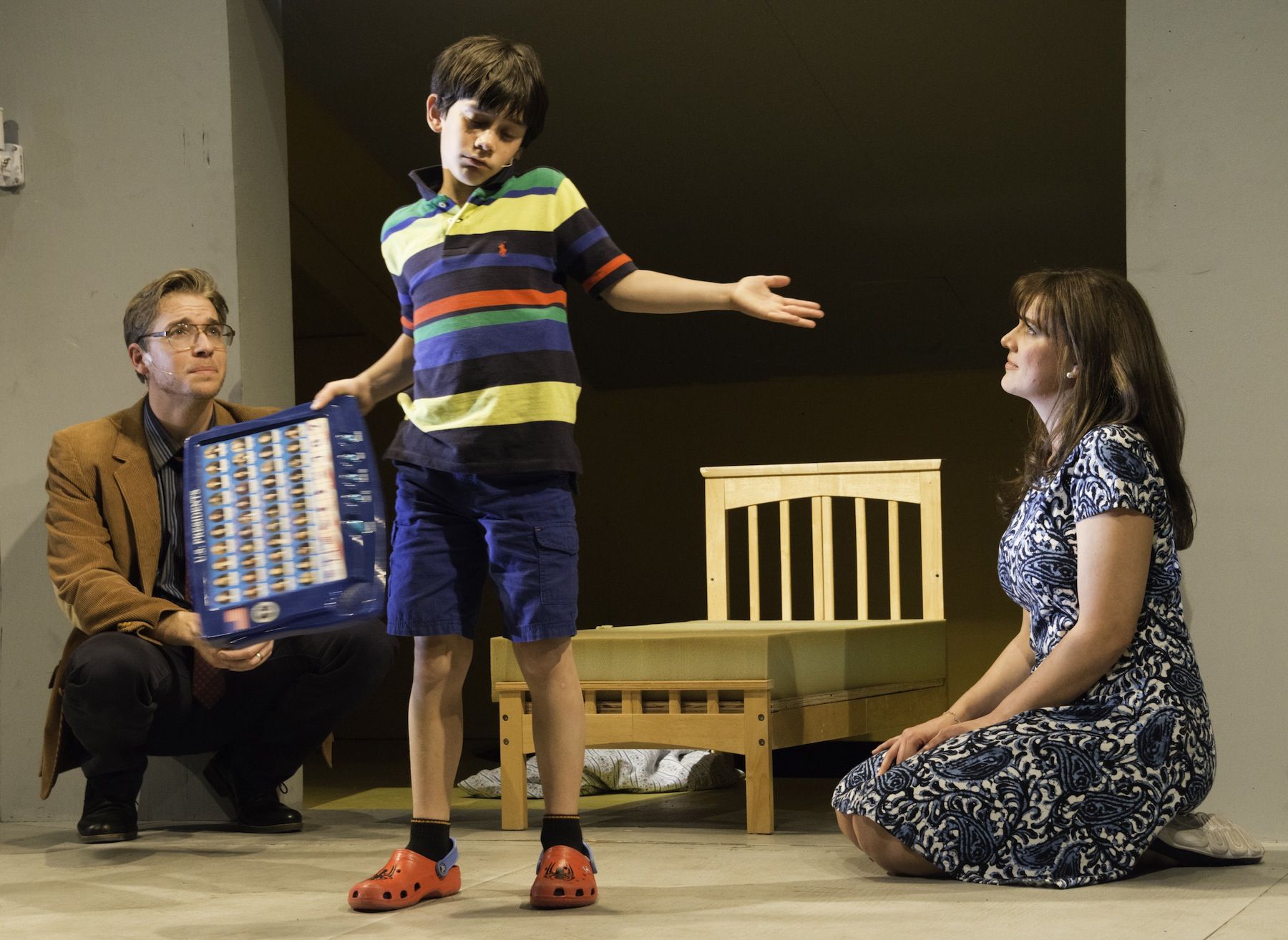 There have been notable attempts to convey what the experience of autism is like in the arts lately. The Broadway play The Curious Incident of the Dog in the Nighttime (based on the best-selling novel by Mark Haddon) uses grids and electronic drizzle to simulate the active, obsessive mind of the show's hero, a 15-year-old autistic boy trying to solve a mystery. And a chapter-story in Jennifer Egan's Pulitzer Prize–winning 2010 novel-in-stories, A Visit from the Goon Squad uses PowerPoint to convey the compartmentalized (albeit witty) mind of a girl's autistic brother, who obsesses about pauses in pop songs the way some people worry about lyrics.
The problem is we don't know much about how autistics perceive the world. In a 2005 study NBC News did in conjunction with Newsweek, science and health correspondent Robert Bazell visited Dr. Fred Volkmar at the Yale Child Study Center to observe a study that monitored the eye movements of autistic and non-autistic subjects as they watched the 1966 film version of Edward Albee's Who's Afraid of Virginia Woolf? ("It has a small cast of characters," Volkmar told Bazell, "and it's intensely social"—something people on the autism spectrum are decidedly not.) When Martha (Elizabeth Taylor) kissed George (Richard Burton) for instance, non-autistic viewers tended to focus on their lips; the autistics looked at a light switch on the wall. "The world of objects is much more central to them than the world of people," explained Volkmar.
In the play Max Understood (at San Francisco's Cowell Theater at Fort Mason Center until April 26) the 7-year-old autistic boy of the title has constructed a world of objects and found sounds that the play's authors, Nancy Carlin and Michael Rasbury represent with noises, music, filmed projections (blowing leaves, rushing water) and a literally moving landscape (a sort of giant wooden turntable that rotates during the performance). How much any of this actually mirrors the experience of an autistic boy like the story's inspiration—Rasbury's son, also named Max—is anybody's guess. But the guesswork of the parents in the play, their increasingly desperate attempts to understand what the hell is going on in there, is at the heart of the story.
"He didn't play with blocks the way most kids do," says Rasbury, who composed the play's music and lyrics. "He was building maps of power lines that he had seen. And even to this day he uses Google Earth extensively and seems to have memorized locations. He'll look at the satellite view and see where the power lines go in relation to streets."
Projections of power lines crisscross an image of one of the things the play's Max has been watching (repeatedly): the Yellow Brick Road from The Wizard of Oz. (While others come away from repeated viewings thinking of Dorothy and her friends, Max fixates on the square yellow bricks that are the path to the Wizard.) But it's the sound that wraps the play's simple story and makes it something different. At the beginning we see the boy (played by a precocious fifth-grade actor Joshua Broscow) flapping his hands and screaming at the onslaught of suburban sounds outside his window, particularly the omnipresent leaf blowers. And when he finally has some quiet he creates his own noise, driving his parents (played by Teddy Spencer and Elise Youssef) to distraction in turn.
"Max is 15 now and though this is fictional, a lot of the things our Max character says are quotes from things my son would say when he was seven," says Rasbury, a professor of sound design at the University of Virginia's Department of Drama. "He seems to sample media the way rap artists sample music. Our character here is always quoting Harry Potter lines, commercials that he's seen, even taking electronic toys and doing his own sort of repetitive playback of sounds."
A press-and-play interactive board about the U.S. presidents is used to particularly good effect. "That was something my Max did when he as 7," says Rasbury. "Instead of learning electronically recorded facts about presidents he'd be repeating: 'President, president, president.…' I sat down and recorded all the contents of this toy, imported it into software that would allow me to trigger it on my keyboard so I could make my own music out of it. It was healing for me to command the thing that was also driving me crazy."
The play's Max has also memorized facts about all 43 American presidents, which he recites in list fashion at inappropriate times. The inappropriate (if perfect) recall of certain data is common to a lot of autistic kids. I tell Rasbury that when my own son, a high-functioning autistic, was a preteen he tried to make friends with a pair of younger kids he met on Block Island by quoting lines from The French Connection. ("Popeye's here! Get your hands on your heads!") One little girl looked like she was going to cry.
"Max does that kind of thing too, and he thinks he's being conversant," says Rasbury. "He'll say something at the right time but it's not the right thing to say. He has sampled everyone else's dialogue and almost constructed a language out of it."
He and Carlin, a prominent Bay Area theater actor who wrote the book for the play, have been working on Max Understood since 2007 (the play has been workshopped at the Eugene O'Neill Theater Center in Waterford, Connecticut, and the New York Musical Theatre Festival). "The whole piece is trying to create in a theatrical way [how autistics perceive the world]," says Carlin. "It changes perspectives maybe; a lot of it is coming from Max's mind but we go into the heads of the parents a little bit too, who are trying to deal with him." This leads them to some screaming of their own when Max goes missing as they repeat his catchphrases ("Don't just clean it, Oxiclean it!") and repeat inane bits of received wisdom ("They only give special children to special people!").
At its best the short play captures the sense of isolation both autistic kids and their parents feel. "The parents are afraid to leave the apartment, they've sort of imprisoned themselves," says Rasbury. And has his Max seen Max Understood?
"He's seen videos of staged readings; he has a love/hate relationship with it. In the beginning I used his image when I was younger and dumber.… I think he found that online over the years and it raised questions. There have been times when he wants to watch the video, as if he's studying it himself. And there are times when it has taken me away from him and he resents it."
One update to the text came in reference to Brian Williams. Max tries to make his father's hair look like the former NBC anchor. "Max used to do that to me," says Rasbury.
"We did have to change a line in the play," says Carlin, due to Williams's recent hiatus. "Max says, 'I want to watch Brian Williams!' and Mom says, 'He's not on now, but he'll be back.'"