Don't Send Jeff Flake as Envoy to South Africa | Opinion
It would be alarming if Jeff Flake, once an apartheid South Africa praise singer, is appointed the next U.S. ambassador to South Africa.
Recent reports suggest that Jeff Flake, the former Arizona Republican senator, may soon get a diplomatic appointment. Flake himself revealed he has been in touch with the Biden administration over the possibility of being appointed an ambassador.
"I have an interest in making sure that President Biden's foreign policy is bipartisan," he told CNN. The political newswire Axios went further and specifically said Biden is reportedly considering Flake as ambassador to South Africa.
If this happens, appointing the GOP "civility hero" would be viewed in South Africa as insensitive on the part of the Biden administration.
Jeff Flake would probably be a good non-partisan ambassador for the United States wherever he may go—but not in South Africa.
The United States has lost a lot of luster with a Trump foreign policy that culled experienced career diplomats and appointed in their place dubious characters (his friends, aides, wealthy donors) to key posts as far as England and Ukraine.
Trump's former ambassador to England, Robert Johnson, who apart from facing accusations of race and sexist tropes, disgraced his office when he allegedly tried to arm-twist British authorities to host the glamorous British Open tennis tournament at a Trump-linked property in Scotland.
Jeff Flake is correct to state that Biden's efforts to de-politicize U.S. diplomatic corps are progressive. But to South Africa, Jeff Flake would likely become an unwelcome guest.
The simple but agonizing reason is this: Jeff Flake was allegedly an eager lobbyist for the racist South Africa apartheid businesses and regime in the 80s to 90s at a time when the likes of Nelson Mandela were rotting in jail on Robben Island.
In a 2013 piece by The Nation, Jeff Flake, Grover Norquist (Americans For Tax Reform president) and Jack Abramoff (convicted fraudster and former chair of College Republicans), were out as among the bunch of conservatives that allegedly campaigned for apartheid South Africa.
On his part, Flake started his political career testifying against an anti-apartheid resolution in Utah's Senate.
In his most flowery testimony in 1987, before the Utah Senate, Flake was recorded saying: "South Africa is a major source for the free world of vital minerals such as manganese, cobalt, platinum, gold, etc. South Africa has over 70 percent of some of these minerals. ... Without a dependable and economic source of these minerals many industries in the United States and the free world would be severely impacted. ... If the government of South Africa falls ... to radical elements from the left ... we would be deprived of the shared economic source of these vital minerals."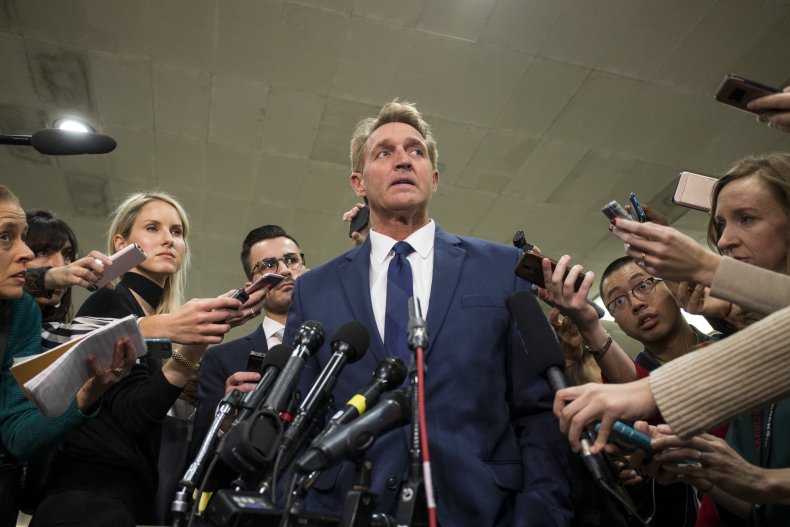 The late 80s were the zenith of apartheid murders, torture and enforced disappearances in South Africa. Between 1961 and 1989, the apartheid South Africa government carried out 134 political executions at Pretoria Central Prison. As racial unrest deepened in South Africa's townships, and the Global Disinvest in South Africa campaign got widespread, 2300 lives were lost. Three-quarters of the slain were Black South Africans.
The 80s were Flake's era of infamy. Flake denied in 2012 that he was an apartheid court dancer when running for the Arizona Senate.
Biden could still go ahead and appoint Flake to South Africa. After all, Biden appears desperate to locate his presidency at the center and hold at bay the Democratic Party's left section. Co-opting so-called moderate Republicans like Flake or Cindy McCain must be viewed as part of Biden's struggle to "unify America."
But thousands of South Africa's families who are still living the trauma of loved ones forcibly disappeared by the former apartheid regimes would find it unbearable that Jeff Flake, a former apartheid defender, is on their doorsteps as America's ambassador.
Yasin Kakande, TED speaker and author of Why We are Coming (who has extensively toured South Africa) cautioned: "Flake's possible ambassadorship to South Africa is unconscionable. It would be a spit into the face of South Africa's Black families who struggle with the mysteries of what happened to their loved ones taken by the former apartheid secret police."
South Africa has come a long way to heal itself as a society since halting racist apartheid in 1994. However, the ghosts of apartheid still haunt traumatized families of apartheid victims who are laboring in courts, seeking financial restitution and a basic apology from the perpetrators of apartheid atrocities.
South African is arguably America's most important African country economically and diplomatically. There are dozens of capable U.S. diplomats at home and in the region without blemished pasts who can represent the United States in South Africa.
Jeff Flake's moral failure on lobbying for the commercial survival of a racist white South African regime that committed U.N. convention crimes will cause a melee and distract the vital business of effectively representing U.S. interests in South Africa.
Audrey Simango is a feminist, human rights advocate and independent writer in Zimbabwe. Audrey's writing appears in New Internationalist and The South Africa magazine.
The views expressed in this article are the writer's own.