Don't Shame Protesters Over Coronavirus. Racism Is a Public Health Crisis Too | Opinion
Tuesday marks another day of nationwide protests against racism and police brutality sparked by a video showing Derek Chauvin, a white police officer, pressing his knee into the neck of George Floyd, a black man, for nearly nine minutes—denying his humanity. Floyd's killing followed nearly two months of lockdown to mitigate the spread of COVID-19, which also pressed its knee to the neck of black Americans, killing them at 2.4 times the rate of white people.
That's why it's maddening to watch as commentators, well-meaning and otherwise, use the pandemic to shame protesters. "Their rules appear ideologically driven, as people can only gather for purposes deemed important by the elite central planners," Brian Blase, a Trump administration health policy adviser, told a reporter at Politico.
Make no mistake: Systemic racism and police brutality are public health crises. And just like we socially distanced to save lives—we are now protesting to save lives. But the problem, the reason we have to protest in the first place, is that the same white supremacy that allowed one government employee to devalue the life of the black man under his knee is allowing another to devalue the lives of black people across the country with his words.
COVID-19 has been devastating. In the United States, more than 110,000 people have died—a staggering, frustrating, preventable toll. Trying to prevent it is why public health leaders advised against disinvestments in America's public health infrastructure built specifically to ascertain and respond to emerging infectious diseases abroad. And yes, it's why public health leaders advised a broad "lockdown" to mitigate the spread of the disease when it was on the cusp of overwhelming our health care system. And it's why we are advising to maintain social distancing where possible, even as we come out of lockdown.
But in public health, we weigh actions against one another by considering how many lives could be saved. And in that light, these protests are a necessary public health intervention.
To understand why, let's take a closer look at deaths from COVID-19. Researchers at the APM Research Lab found that nearly 15 percent of the first 99,000 deaths were attributable to excess death among people of color. They would not have occurred if black Americans, Latinx Americans and Asian Americans had died at the same rate as white Americans—meaning they were deaths caused by racism. That leaves about 86,000 of those lives lost to COVID-19 that aren't also attributable to racism.
That's eerily similar to the number (83,000) of excess black lives we lose every year in America, according to a study led by former Surgeon General David Satcher. And these are the lives protesters are demonstrating to save.
But beyond the math, there's something else. These protests are necessary—but they shouldn't be. If we believed black lives matter in our society, we would have fundamentally reformed our systems to value black lives a long time ago without the need for massive, nationwide protests.
And yes, it's about systems—not just a few "bad apples." Every murder of black men and women at the hands of police reminds us that we exclude black people from the "public" to be kept safe and, worse, categorize them among the things from which that public is to be kept safe. But COVID-19 showed us that black people are excluded from public health. And Flint, Michigan, showed us that black people are excluded from public utilities. Our failing urban school districts showed us that black people are excluded from public education. And the fact that there is only one black female senator shows us that black people are excluded from public service.
So if commentators and pundits really cared about public health, they wouldn't complain about the potential for protests to increase the transmission of COVID-19. Instead, they would speak to the systemic failures to value black life that lead to mass illness and death.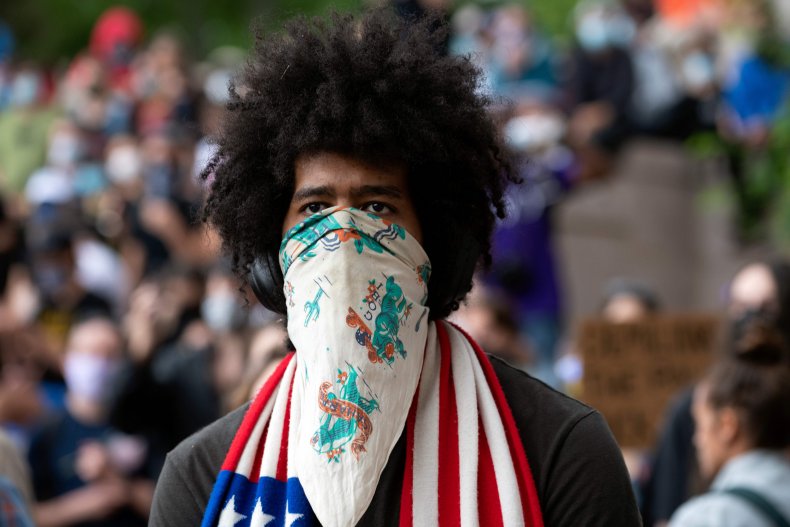 However, protesting is not without risk of coronavirus transmission. So in the spirit of public health, we should encourage Americans to demonstrate against racism and police violence and take precautions to protect themselves and others from COVID-19 in the process. Protesters should wear a mask at all times, generate noise with something other than their voice to avoid releasing droplets into the air, distance at 6 feet where possible, wear gloves or use hand sanitizer, and stay home if they feel ill.
Authorities who care about preventing COVID-19 transmission should avoid interfering with peaceful protest. They should also ban tear gas and other chemicals that cause coughing or tearing, and avoid arresting and confining protesters in tight spaces like police vans, jails or holding rooms. They should also offer masks and hand sanitizer to protesters.
COVID-19 is not gone. And there is likely to be a resurgence—epidemiologists were predicting it before we stood up for black lives. So if it happens, don't blame the people who protested. Blame those who failed to stand up for public health, whether to contain this pandemic in the first place or to root out systematic injustice in our society.
Abdul El-Sayed, M.D., D.Phil., is an epidemiologist and former health director for the City of Detroit. He is the author of Healing Politics: A Doctor's Journey into the Heart of our Political Epidemic and host of the podcast America Dissected.
The views expressed in this article are the author's own.