'Don't Shoot It's Just Cardio' Reads Black Runner's Shirt
A Black runner wore a homemade t-shirt in an apparent attempt to protect his life while simply going for a jog. The unnamed runner's bright orange shirt read "Don't Shoot It's Just Cardio," a morbid reference to the police shootings of unarmed Black men and women.
The photo was uploaded to Reddit's r/pics community by meme account u/memezzer, though it was later removed by the thread's moderators. There's no telling why it was removed, but arguments surrounding Black Lives Matter are nothing new.
The man's running shirt was shared just days after 29-year-old Jacob Blake was shot seven times during a routine arrest. Blake is still alive, unlike many other Black victims of alleged police brutality and unnecessary force.
One Black man's story echoes the orange t-shirt. Ahmaud Arbery was shot and killed while running in Georgia back in May. Two white men, who were not officers, called 911 on the "Black man running," according to Fox News. They confronted Arbery with a gun and shot him multiple times. A bystander captured the murder on video.
The Reddit photo was captioned "Welcome To America," though some commenters didn't agree. While the post did attract some thoughtful comments, others were only underline the problem of racism, like one that claimed "Black man running anywhere in the United States is guilty of SOMETHING," shared by u/puknut. The comment was downvoted by the community.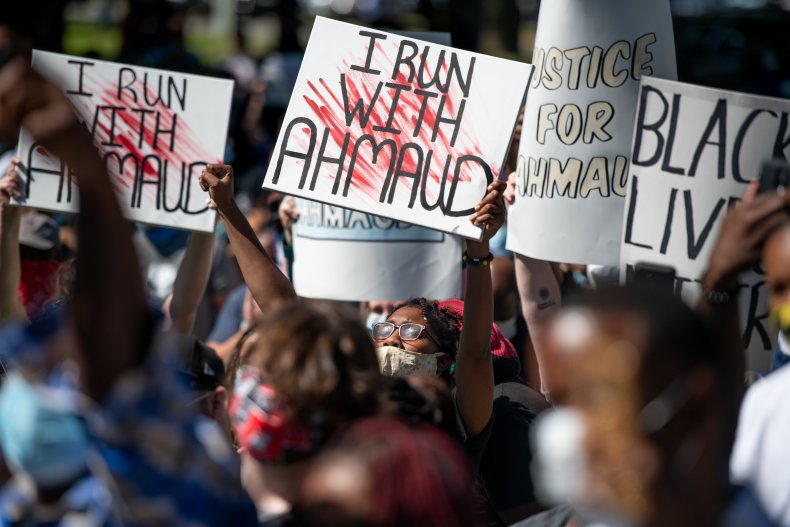 An expected rally of "All Lives Matter" comments also surfaced, which were slammed by a small handful of Reddit users. "Would you scream 'all legs matter' if you found somebody with a broken leg? Cos you sure behave like you would..." wrote u/kudosbudo.
Others were more blunt. "You're perfectly aware the issue is we don't value black lives like we do white lives," exclaimed u/echoAwoooo. "Stop making pedantic arguments trying to justify murder after the fact. It's a despicable f****** thing to do and it makes you a lousy person."
The comments became so extreme that an Auto Moderator, a robotic commenter run by Reddit, stepped in with the real statistics. "Obviously all lives matter. No one said they didn't," it's lengthy post began. "However, data shows that relative to the percentage of the population they represent, the rate of black American deaths from police shootings is ~2.5-3x that of white Americans deaths."
The Black Lives Matter movement has received an upswing in support since the death of Floyd in May. Marches ensued around America at the start of June.