Don't Take A Selfie — Here's What You Should Do If A Bear Approaches You
If you find yourself face-to-face with a black bear while hiking, as tempting as it may be, don't take a selfie.
In a viral video shared to Twitter on July 19, a few girls were approached by a black bear while hiking. According to TMZ, the encounter took place on Saturday, July 18 in Mexico at the Chipinque Ecological Park.
When the bear stood up on its hind legs and started to sniff one girl's hair, she took out her phone and captured the scary moment with a selfie. Two men in the background of the clip spoke loudly and tried to shoo the bear away from the girls.
Another angle of the video showed the bear take a gentle swipe at the girl as she stood still.
Fortunately for the hikers, the bear seemed most interested in sniffing the girl's hair before moving on. The Twitterverse was shocked by the clip, and although the girls calmly handled the situation, taking a picture with the bear when it is right next to you isn't the smartest move.
The Humane Society of the United States told Newsweek exactly what to do when encountering a black bear.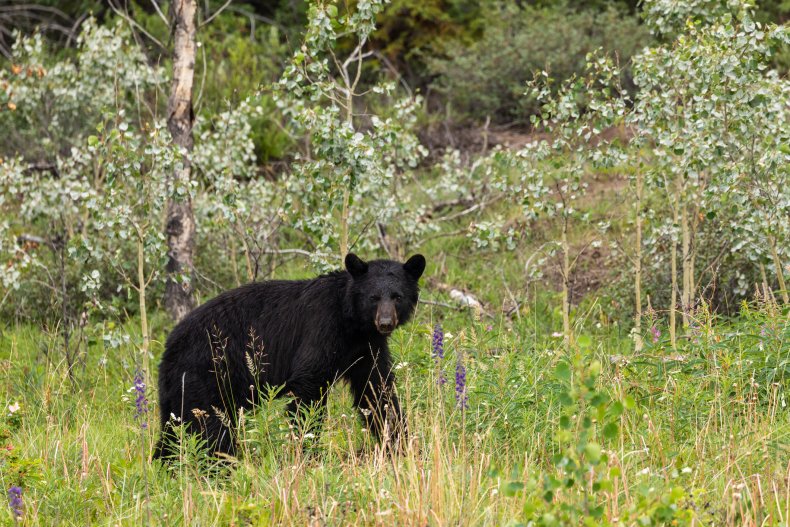 John Griffin, Senior Director of Wildlife Protection at the Humane Society of the United States, was shocked to see the hikers encounter leave them unscathed. "These hikers are truly lucky to have escaped this encounter without serious injury," he told Newsweek. "Allowing yourself to be close to a bear or stopping to take a selfie with a wild animal is taking your life in your own hands, and goes against everything you should do to protect yourself and the animal. It is imperative that the public equip themselves with basic knowledge."
Black bear attacks are rare, the Humane Society of the United States noted. They are typically more scared of us than we are of them, and will run off if they see a human.
"Most critical is to avoid bears altogether by being alert to your surroundings and if you see one, give them as wide a berth as possible," Griffin continued. "If an encounter is unavoidable, raise your arms, stand tall — and close together if you are with a group — and yell loudly, which should get the bear to move on."
In the extreme rare case that a black bear does attack you, you should fight back and not play dead. After the bear leaves the area, it's important to remove whatever attracted him to the area (food, garbage, barbecue grills, bird feeders, etc).
The Humane Society of the United States offers more tips here.