Don't Tell Us the Trump Administration Cares About Ordinary Iranians. It's Starving Them of Food and Medicine | Opinion
The Trump administration likes to say it "stands with the Iranian people," a claim that was reiterated this week by the State Department's lead diplomat on Iran—Brian Hook—in testimony before the Senate Foreign Relations Committee. Yet a deluge of reports have shown how increasingly oppressive U.S. sanctions are harming ordinary Iranians and leading to drug and food shortages.
In late September, just two months after Hook appeared in a video outlining a series of "facts" on how U.S. sanctions don't target humanitarian goods, the Trump administration squeezed the Iranian people even harder. The administration took a deliberate step to eviscerate remaining humanitarian exemptions to Iran sanctions by designating the Central Bank of Iran (CBI) under U.S. counterterrorism authorities.
Even before the designation, Hook's claims to care for Iranian civilians were already in doubt. After all, while the exemptions were in place, they provided little assurance to international banks, which were too fearful of big fines for unwittingly violating the sanctions to bother with humanitarian transactions. The risk simply outweighed the profit.
However, the designation of the CBI appears to be deliberately designed to strangle off humanitarian transactions with Iran that have already been curtailed by the U.S. withdrawal from the Iran nuclear deal, or Joint Comprehensive Plan of Action. The CBI is vital for existing humanitarian trade with Iran, as it allocates limited foreign reserves to Iranian banks so that they can make payments in exchange for humanitarian goods like food and medicine.
Newsweek subscription offers >
Moving forward, transactions involving the CBI will be sanctionable—even for humanitarian trade—thanks to the new terrorism designation, which does not include a humanitarian exemption.
This decision could have disastrous results for the Iranian people. And the Trump administration appears to have known that the designation would impact humanitarian trade. The Treasury Department's release announcing the designation notes that the administration "will continue to consider requests related to humanitarian trade with Iran as appropriate." Such humanitarian transactions were previously exempted by a general license and did not require additional authorization.
The deliberate targeting of aid has been avoided since the U.N. sanctions on Iraq in the 1990s, which created a near blockade of the country and devastated the Iraqi people in the wake of the first Gulf War. A United Nations study found that as many as "576,000 Iraqi children may have died since the end of the Persian Gulf war because of economic sanctions imposed by the Security Council." An oil-for-food program was then designed to soften the humanitarian impact, providing an outlet for the Iraqi government to pay for medicine and food. In actuality, the initiative failed to solve the humanitarian crisis and was exploited by the Iraqi government to enrich and entrench Saddam Hussein and his cronies until the U.S. ultimately invaded Iraq in 2003.
To avoid similar situations in the future, Congress enshrined into law carve-outs to protect humanitarian trade within every sanctions regime. The Trade Sanctions Reform and Export Enhancements Act of 2000 specifically states that sanctions cannot be used to target humanitarian goods unless they involve entities subject to counterterrorism efforts.
Newsweek subscription offers >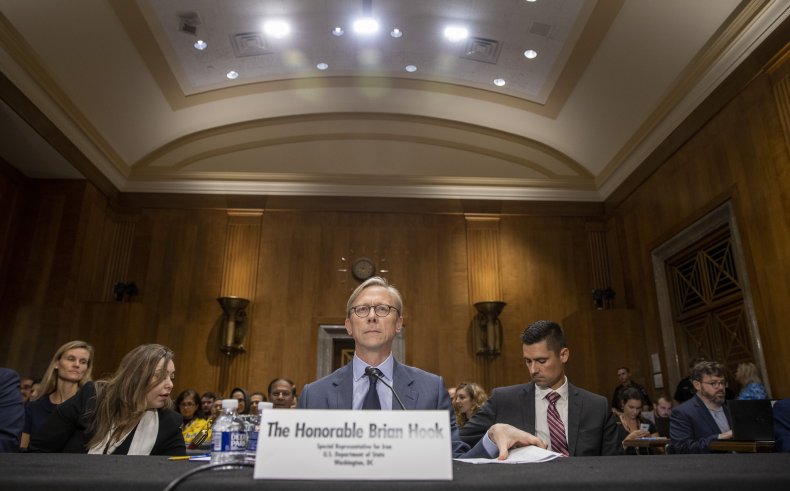 Why does all this matter? Because the Trump administration has now eviscerated these carve-outs and is imposing a sanctions regime that is now almost identical to the '90s Iraq-style sanctions. By implementing terrorism sanctions on a massive economic institution like the Central Bank of Iran, the Trump administration has exploited a loophole in the 2000 law to deliberately target humanitarian aid. Prior to this move, the Iranian people at least had an avenue, however small, to procure vital basic necessities. That avenue has now been shut.
So, despite claims by the administration that it is fighting for the Iranian people, its increasingly sinister sanctions regime will do nothing but harm the most vulnerable Iranians. Dr. Ghader Daemi Aghdam, an Iranian pharmacist in Tehran, said in June that "out of every 20 people, we have to tell at least 10 that we have run out of medications they need." In other words, sick men, women and children are going without vital medicine. If President Donald Trump's goal is to help the Iranian people, he should focus less on sanctioning them into destitution and, instead, remove an oppressive sanctions regime that has done nothing to moderate the Iranian government's behavior and has only harmed ordinary Iranians.
Jamal Abdi is president of the National Iranian American Council (NIAC) and the executive director of NIAC Action. He formerly served as policy adviser on foreign affairs, immigration and defense issues in the U.S. Congress. Abdi has written for The New York Times, CNN, Foreign Policy and blogs at The Huffington Post. He is a frequent guest contributor in print, radio and television, including appearances on Al Jazeera, NPR and BBC News.
Ryan Costello is policy director at the National Iranian American Council (NIAC). He tweets @RN_Costello.
The views expressed in this article are the writers' own.
Don't Tell Us the Trump Administration Cares About Ordinary Iranians. It's Starving Them of Food and Medicine | Opinion | Opinion