'Don't Think There's an Answer': Biden Labor Secretary Perplexed by Worker Shortage
U.S. Labor Secretary Marty Walsh is perplexed and struggling to explain the worker shortage following the release of an anemic September employment report.
Only 194,000 jobs were added in September, far short of an expected 500,000 gain, according to data released by the Bureau of Labor Statistics Friday. The report also showed the extent of America's labor shortage, particularly among women struggling with school and childcare issues who are hesitant to return to work.
Asked about the record number of job openings on Axios on HBO, which aired Sunday, Walsh said: "I don't think there is an answer ... I think we dig down a little bit more here."
"I think that one of the biggest reasons, and again no one's tested this or checked it, is work-life balance," he said. "We're living in a pandemic, obviously the 194,000 this month is not the best number but we saw 317,000 in the private sector. So we're seeing good growth in the private sector."
The private sector added 317,000 jobs in September, a slight drop from 332,000 in January. The unemployment rate slid to 4.8 percent, the lowest rate since the start of the pandemic.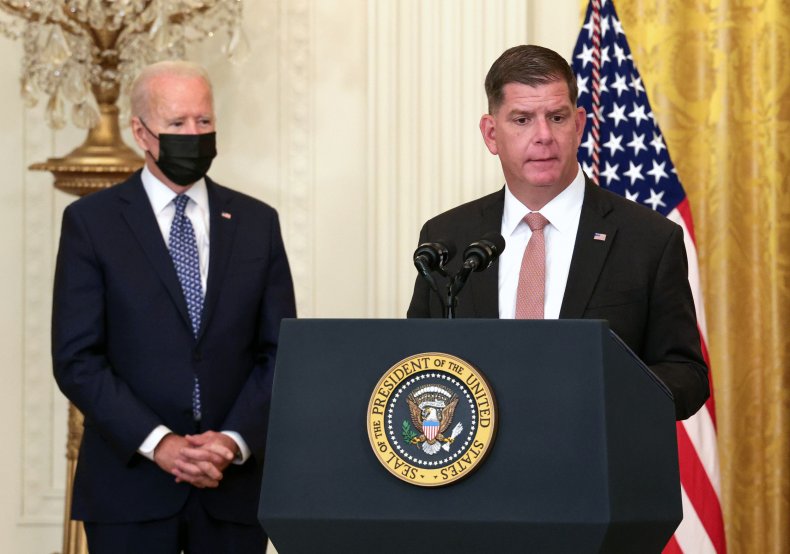 However, a factor that contributed to the drop in unemployment was that 183,000 people weren't counted as jobless because they did not look for work in September. The workforce participation rate dropped to 61.6 percent, below the 63 percent experienced pre-pandemic.
Experts can't explain why so many Americans have dropped out of the labor force despite a surge in job creation. Some have suggested that the latest wave of the Delta variant and increase in COVID-19-related deaths heightened fears about becoming infected with the virus in customer-facing jobs.
"People are concerned about the Delta variant, people concerned about their personal health. We have folks that are vaccinated, folks that aren't vaccinated, people who are vaccinated worried about the people that aren't vaccinated," Walsh said.
With millions losing all or a significant portion of their pandemic-related unemployment benefits in early September, the evidence contradicted Republican assertions that federal aid had been deterring Americans from reentering the workforce.
President Joe Biden on Friday defended his economic policies and described the September jobs report as "consistent, steady progress."
"The monthly total has bounced around, but if you look at the trend, it's solid," he said. "We're actually making real progress. Maybe it doesn't seem fast enough. I'd like to see it faster, and we're going to make it faster."
Newsweek reached out to the White House for comment.