Don't Turn Away: The Crisis Facing Afghan Women and Minorities | Opinion
While the world's attention has shifted to the conflict unfolding in Ukraine, Afghanistan has descended further into its own horrific humanitarian crisis. Social media has recently been flooded with videos and photos of Afghan girls weeping outside of schools after the Taliban abruptly and without explanation decided to renege on their promise to reopen schools to girls.
The news came just days after the United Nations Assistance Mission in Afghanistan (UNAMA) renewed its mandate for the twentieth time signaling the U.N.'s continued commitment to supporting Afghan human rights and well-being. But Afghans and those who want to help face a world that has largely moved on from Afghanistan, just as the country grapples with more hunger, poverty and persecution than it has at any other time since 2002.
In addition to setting in motion events that have brought millions of Afghans to the brink of starvation, the fall of Kabul in August 2021 was effectively the death knell of democracy, human rights and prosperity in Afghanistan, most acutely for Afghan women and minority groups. As an activist working on women's issues, while I am grateful that many vulnerable Afghans were evacuated, I grieve for those who remain.
Since August, women's rights in Afghanistan have all but been eliminated, and targeted killings, torture, forced expulsions and other forms of violence against women and minorities continue to rise, though they go largely unreported as the Taliban controls the national media, and the international media has shifted its focus. Brave Afghan women leaders and activists and members of the Hazara community—Afghanistan's Shiite ethnic minority—and other minorities have been silenced. They are focused on sharing information and analysis with Afghan women leaders and activists outside the country, like me, via WhatsApp groups, in the hope that these stories will reach the international community and compel leaders to act.
Reported cases of suicide among Afghan women have increased dramatically. While some women have undoubtedly died by suicide out of despair and hopelessness, the activists in Afghanistan that I am in touch with believe that many of these women are being murdered by their families. Domestic violence has increased under the horrendous economic conditions and food shortage Afghans have faced since August. Women who have been arrested by the Taliban for being outspoken are sometimes subjected to sexual abuse while detained, and the perceived shame from these events can lead families to commit honor killings. While the world has heard the heartbreaking stories of young girls being sold into marriage, Hazara girls are also regularly being disappeared and murdered. In the past couple of weeks alone, two young Hazara girls in Balkh province were murdered, and the dead body of an 11-year-old Hazara girl was found on a street in western Kabul.
Even the 5,000 women who worked in the security sector under the previous government cannot protect themselves and are now in hiding. The murder of a woman named Banu Negar, who was eight months pregnant, and the disappearance of Alia Azizi, who both previously served as police officers, was widely reported last year. Beyond former security sector employees, the Taliban are systematically harassing, intimidating and murdering women in an attempt drive them out of all professions outside the household.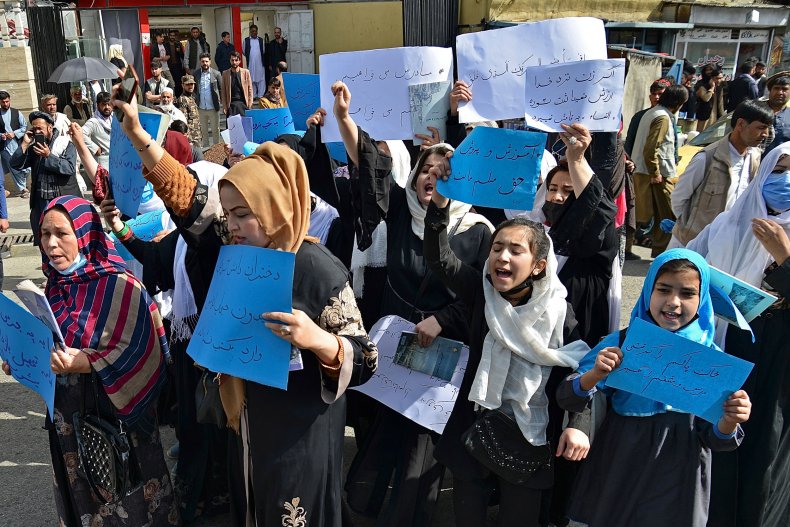 In addition to Hazaras, the Taliban are targeting other minority groups in Afghanistan, particularly Sikhs, Uzbeks and Tajiks. A video showing Talibs murdering a young Tajik man recently went viral on social media. But daily, non-lethal forms of persecution have become even more commonplace. Fifty Hazara men were fired from the Central Statistics Office in a single day. Although these men lost their livelihood, the Taliban has continued to demand that they give oshr, a traditional Islamic tithe, which families now must pay the Taliban or face punishment. This is in part how the Taliban is raising the increased revenue that UNAMA commended them for in a recent briefing. The Taliban is also raising revenue by conducting raids on Tajik and Hazara homes in Kabul, claiming they are searching for illegal arms and then requiring pay offs to not report families for alleged contraband.
The Taliban is also manipulating humanitarian aid distribution to cut out women and ethnic minorities, while prioritizing themselves and their supporters. Local Afghan media estimated that historic Hazara communities in Bamyan and Daykundi provinces receive just 2 percent of aid available in the country, despite representing a larger share of the population. Aid distribution to Hazaras has ceased completely in the heavily Hazara neighborhood of Dasht-e-Barchi in western Kabul. While these communities have spoken out, the international community has failed to do anything about it.
Over the past 20 years, the United Nations and the broader aid community played an important role in strengthening Afghanistan's institutions, monitoring human rights and coordinating humanitarian assistance. Although the collapse of the former Afghan government has made the job of UNAMA and other aid groups much harder than ever before, it also made their work even more critical. Since August, many countries around the world have spoken about how much they support Afghan women and Afghan women's rights, but we haven't seen that translate into action.
What is clear is the status quo is not working, and Afghan women and minorities feel effectively abandoned by the aid community. The women's rights movement in Afghanistan is being silenced, and if it continues unabated, the trend will quickly become the norm. Under its new mandate, UNAMA must maintain neutrality and avoid taking actions that are seen as aligned with the Taliban. That means investigating and reporting on human rights abuses. It means coordinating with the new special rapporteur to work with women leaders, women's organizations and members of the Hazara community and other marginalized groups as partners who can help inform, shape and monitor the U.N.'s policy, programs and reports. It also means implementing a mechanism for monitoring equitable humanitarian aid distribution to ensure the most at-risk groups in Afghanistan don't also face the biggest barriers to accessing aid.
Although the history of the U.S.-led war in Afghanistan may already be written, the fate of millions of Afghan women and ethnic and religious minorities is not. Now more than ever, we need the international community to not turn away.
Yalda Royan is an Afghan women's rights activist who leads the Afghanistan country practice for VOICE Amplified, a nonprofit focused on combating violence against women and girls around the world.
The views expressed in this article are the writer's own.