Don't Want to Give That Guy Your Number? Send Him to The Mary Sue's Rejection Hotline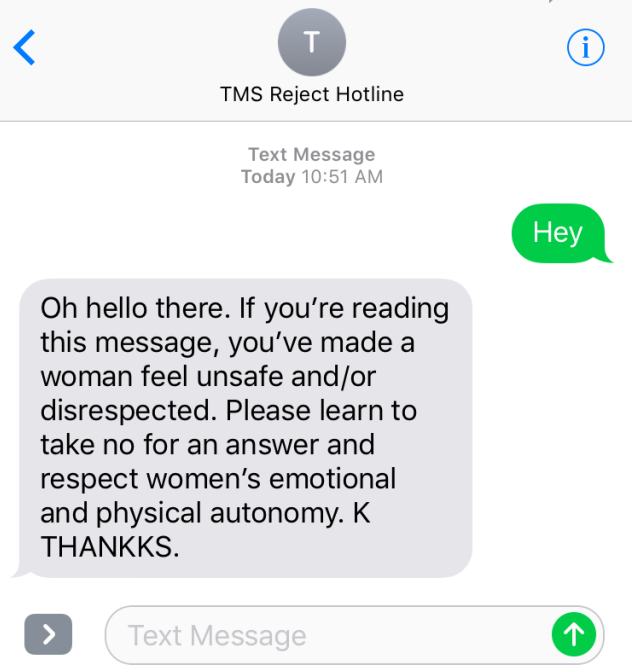 A man walks into a bar and decides he must have a woman's number. He'll ask for it repeatedly, verbally poking and prodding, refusing to give up even if his advances are unwelcome. Now, the woman in this hypothetical but common scenario can give him a number that's not hers that will inform him, in a voicemail or delayed text:
"Oh hello there. If you're hearing/reading this message, you've made a woman feel unsafe and/or disrespected. Please learn to take no for an answer and respect women's emotional and physical autonomy. K THANKKS."
The Harvey Weinstein sexual harassment allegations and the flood of coverage that followed spurred private and public conversations across the country. It gave rise to the "Me too" campaign, two words women and others used on social media to demonstrate the magnitude of the problem and to share their stories. It also prompted a Slack conversation among the staff of The Mary Sue, a website devoted to pop and geek culture with an emphasis on diversity and feminism.
"Every single woman that we know, bar none, has had some sort of street harassment or pressure to give out her number," Kaila Hale-Stern, an editor at The Mary Sue, told Newsweek in a phone call on Monday. "One thing we returned to again and again is the fear of the unknown. When you try to push back in life, you don't know if it's going to turn violent," she explained. "This came out of the desire to push back, even just electronically, and end the continued silence and feeling of shame that so many of us have experienced."
The hotline that began as a Slack conversation became a group effort of about six staffers, who set up a Google Voice number (646-926-6614) and deliberated about the message it should send. "We thought it was more important that men actually hear they're doing something wrong," Hale-Stern said, pausing to add that "it's not just men, but mostly men."
The text version is delayed for an hour to ensure the phone number giver isn't standing in front of the harasser when the message comes through. "It might make them think about behavior and maybe not do it next time," she said. "If the response is to fly into a fury and say, 'Damn all women,' it's just proving the point that the woman was right to be afraid."
The feedback thus far has been overwhelmingly positive, although some critics, who Hale-Stern said are primarily male, have commented that it's unnecessary and mean or asked why women or others who don't want to give someone their number can't just be straightforward and say no.
"'No' should be sufficient. 'Leave me alone' should be sufficient," said Debjani Roy, deputy director of the anti-harassment movement Hollaback!, told Newsweek. But "in a real-life situation it doesn't always work," she said. "We know that a verbal comment or persistence in asking for a phone number doesn't always end there."
The Mary Sue's Rejection Hotline is certainly not the first fake number created for use in such situations. In 2014, the Feminist Phone Intervention sent anyone who called or texted a certain number a quote from the feminist writer, theorist and professor bell hooks. As far back as 2001, there was the New York Rejection Line, a phone number that told callers: "Unfortunately, the person who gave you this number does not want to talk to you or speak to you again. We would like to take this opportunity to officially reject you. If you want to hear from our comfort specialist, press 1. If you want to hear a sad poem written by a kindred spirit, press 2." It spawned dozens of similar services in other cities.
But The Mary Sue's version seems to be one of, if not the most, direct and serious about harassment and its impact on women who experience it. In its first week, the number has gotten about 2,300 texts and more than 1,000 calls to voicemail. It has also inspired a French version that uses very similar wording. "It demonstrates that this is not just America, it's not just New York or Hollywood. It's necessary for women worldwide," said Hale-Stern. "We're hoping that it will make women or anyone else who wants to give the number out feel safer. And it might wake up a few people."