Three of the hottest people in the world of entertainment right now have teamed up to bring audiences the psychological thriller, Don't Worry Darling. Yes, Harry Styles and Florence Pugh really are starring in a movie together as husband and wife, directed by Booksmart's Olivia Wilde.
So, when is Don't Worry Darling hitting the big screen and HBO Max? Newsweek has everything you need to know about Don't Worry Darling including release date, cast, trailer, plot, and more.
When Is 'Don't Worry Darling' Out?
There is good news for those eagerly awaiting the arrival of Don't Worry Darling.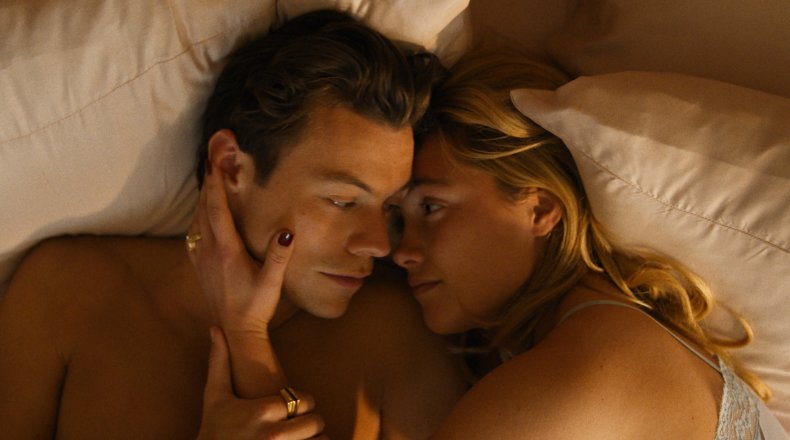 The psychological thriller is coming to U.S. theaters on Friday, September 23.
If you do not make it to the theaters to see Don't Worry Darling on the big screen there is no need to worry as Don't Worry Darling will be made available via HBO Max at a later date.
Usually, cinematic releases land on the streaming platform 45 days after their initial release, so HBO max customers can expect Don't Worry Darling to drop in November 2022.
You can subscribe to HBO Max for $9.99 to watch Don't Worry Darling at a later date.
Who Stars in 'Don't Worry Darling'?
Harry Styles makes his debut in a supporting role as Jack in Don't Worry Darling.
The Grammy-winning singer is no stranger to acting having previously appeared in Christopher Nolan's Dunkirk and Marvel's Eternals but fans of the former One Direction heartthrob are set to see him shine in Don't Worry Darling.
Speaking at CinemaCon in April 2022, director Olivia Wilde described Styles' performance as "truly a revelation."
Florence Pugh, who recently starred as Yelena Belova/Black Widow in Marvel's Hawkeye takes on the role of Jack's wife Alice in Don't Worry Darling.
Pugh's other well-known credits include Lady Macbeth, King Lear, Outlaw King, The Little Drummer Girl, Midsommar, and Little Women.
Don't Worry Darling director Olivia Wilde appears in the film as Mary alongside Douglas Smith as John, Sydney Chandler as Bunny, Gemma Chan as Shelley, Nick Kroll as Bill, and Chris Pine as Frank.
What Is 'Don't Worry Darling' About?
Don't Worry Darling is a psychological thriller set in a 1950s utopia community.
The gripping movie follows the story of housewife Alice (played by Florence Pugh) who suspects her husband Jack (Harry Styles) is hiding a disturbing secret.
Speaking at CinemaCon, director Olivia Wilde teased that Don't Worry Darling was reminiscent of films such as Inception, The Matrix and The Truman Show.
She added: "It's my love letter to the movies that pushed boundaries of ambition.
"Imagine a life where you could have anything you ever, not just the tangible things....But also the things that really matter: True love with the perfect partner, real trusted friendships. What would it take for you to give up that perfect life? What are you willing to sacrifice to do what's right? Are you willing to dismantle the system that is designed to serve you?"
In a separate interview with Vogue, Wilde described Don't Worry Darling as "The Feminine Mystique on acid," referring to Betty Friedan's groundbreaking book, published in 1963, that challenged the belief that a woman's destiny was to be a housewife and mother.
Don't Worry Darling is directed by Olivia Wilde and the screenplay was written by Katie Silberman, based on a story by Carey and Shane Van Dyke and Silberman.
Is There a Trailer for 'Don't Worry Darling'?
Yes, there is a short teaser trailer for Don't Worry Darling which dropped in September 2021, one year ahead of the release date.
In the clip, Styles and Pugh are seen locked in a passionate embrace as the trailer races through scenes of Pugh drinking wine, Pugh wrapping herself in cellophane, and Pine's character screaming in a white tuxedo.
A full-length trailer is expected to drop any moment now after it was released at CinemaCon in Las Vegas on Tuesday, April 26.
In the meantime, official images from the film have started to be released to coincide with the trailer's exclusive premiere.
Warner Bros. Pictures have tweeted out a still image from Don't Worry Darling, showing Styles as Jack and Pugh as Alice, cuddling in bed. Hopefully, there are more photos to come.
Don't Worry Darling is due to come to theaters on Friday, September 23.