'Don't Worry Darling' Stars Tangle over Harry Styles in Film's Latest Drama
Critics have largely panned Don't Worry Darling, but the film has captivated the world thanks to its endless stream of behind-the-scenes drama. And on Friday—the day of its long-awaited release—news broke of a supposed on-set "screaming match."
Vulture reported on Friday that the verbal brawl in question occurred between director Olivia Wilde and actress Florence Pugh in January 2021. It's believed to have stemmed from Wilde's relationship with her film's lead, Harry Styles.
The way Vulture tells it, Pugh was sick of Wilde's "frequent unexplained absences" on set.
"Olivia and Harry would just disappear," an unnamed source told Vulture. Eventually, the tension between Wilde and Pugh culminated into a full-blown "screaming match."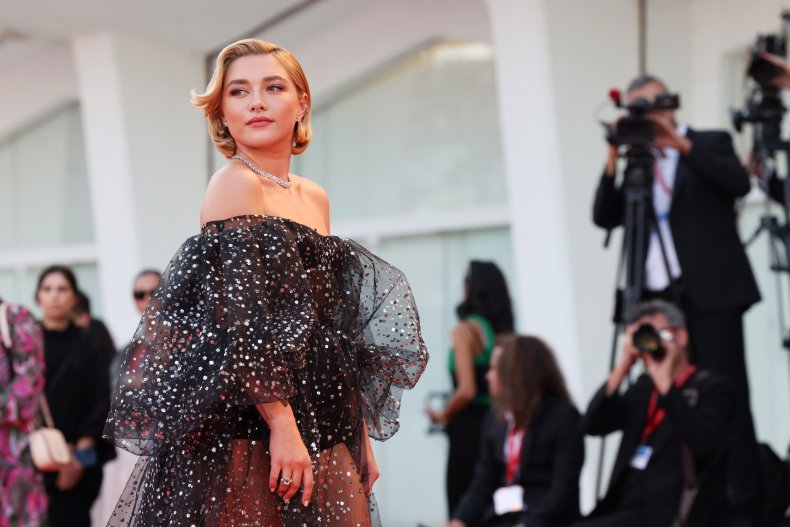 In July, Page Six reported that Wilde and Styles' purported illicit affair had upset Pugh.
But the beef allegedly goes deeper than that.
Wilde had previously claimed that she'd booted actor Shia LaBeouf from the film to ensure that her lead actress felt "supported" and "safe." But LaBeouf then pushed back, telling Variety that he'd instead quit the movie.
LaBeouf also sent the outlet a video message that showed Wilde asking him to remain in the role. In it, she says: "I think this might be a bit of a wake-up call for Miss Flo," which some observers have read as an insult against Pugh.
The Don't Worry Darling actress has also reportedly opted out of attending multiple events related to the film.
Some social media users responded with lighthearted quips to the Vulture reporter's tweet about the pair's "screaming match."
"I still know nothing about this movie except that everyone involved is mad at everyone else," author Mikki Kendall wrote in a quote-tweet.
Replying to Vulture's tweet about the article, user @cswood wrote: "and then what happened?" along with a gif of a wide-eyed woman eating popcorn.
Still, other users argued that the fact the alleged fight made news at all is rooted in sexism.
"You act like a *screaming match* on set is unusual, new or unique...they're not. Especially from MEN," Twitter user @kdDesertRed replied to the outlet in part.
Don't Worry Darling's executives were apparently not pleased with how Wilde handled promotional duties, Vulture reported.
"Olivia is either a mad genius who figured out a way to make people more aware of the movie in a way that just drives up the box office," one source said, per Vulture, "or she doesn't have any self-awareness that she is f**king up her movie."
Warner Bros. Discovery, the film's distributor, has denied claims that the studio has soured on Wilde.
"We are so proud of the work that Olivia Wilde has done making this incredibly beautiful and entertaining film and look forward to collaborating with her again," Warner Bros. Pictures Group co-chairs and CEOs Pam Abdy and Mike De Luca told Newsweek. "The studio is very grateful and appreciative of the tireless support by Olivia in bringing her vision to life from production through release. Any suggestion of conflict between the studio and Olivia is simply not true."
Newsweek reached out to representatives for Wilde and Pugh for comment.
Update 09/23/22, 7:29 p.m. ET: This article was updated with additional information and background.