Donut Fries: Where to Buy Dunkin' Donuts' Newest Snack
Dunkin' Donuts has combined fast food classics French fries and donuts to create, you guessed it, donut fries. But the snack hybrid is only currently available in one U.S. city.
The latest addition to the chain's menu is made using dough shaped to resemble a chunky fry. Overly fastidious spud fans might argue that the snack actually looks more like a potato wedge than a fry, but "donut wedges" arguably doesn't quite have the same ring to it.
Priced at $2 for five fries, they are currently being tested out in a small number of restaurants in Boston, Massachusetts, as part of a new snacking menu. Stores include 265 Franklin Street, the restaurant at Logan Airport and 588 Washington Street in Quincy, according to a statement.
Other items include Munchkins dippers, pretzel bites with honey mustard sauce, waffle-breaded chicken tenders, gluten-free brownies and ham-and-cheese roll-ups.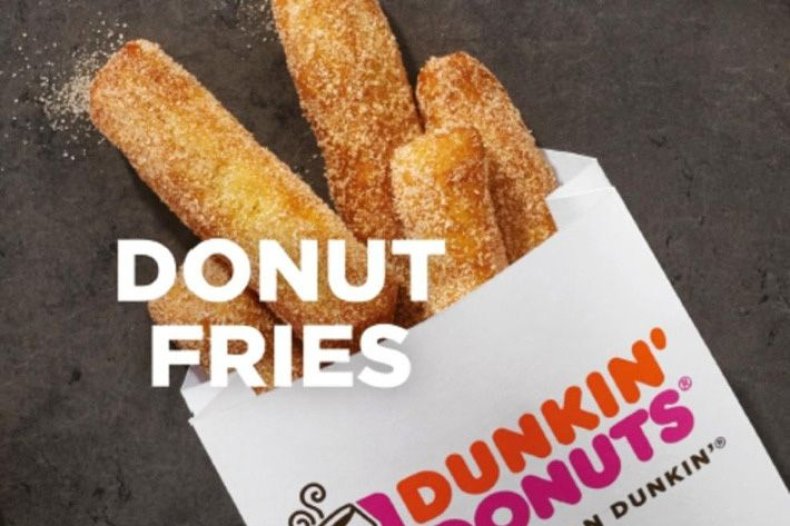 But the jury is out on whether the items are as tasty as they sound.
"I tried the pretzel bites and they were great but they use Kens honey Dijion sauce and should use kens honey mustard instead [sic]," wrote a Reddit user. "I also tried the Donut fries and those need a dipping sauce but they were good. Lastly I tried the waffle breaded chicken and that was gross because they were way too greasy. The batter is the same batter used in the pancake bites that they used to have."
"Honestly I'd be happier if they went back to making donuts and bagels fresh on-site every day and then straight up only sold those and coffee," wrote another.
The isn't the first time that the chain has rolled out a donut hybrid in Massachusetts. In 2015, it unveiled bacon donuts for a limited time, which featured a glazed rectangular cake topped with bacon strips.
The new offerings come as part of plans by Dunkin' Brands, which owns Dunkin' Donuts and Baskin-Robbins, to boost afternoon sales. In February, executives told the Associated Press that the firm was hoping to attract customers outside of the morning rush, similarly to Starbucks.
Dunkin' Donuts said in a statement: "The snacking menu features several new sweet and savory items that pair perfectly with Dunkin' Donuts' signature beverages and are ideal for an energizing afternoon break. The test is designed to gather valuable feedback from consumers, franchisees and their employees to help inform future decisions about a possible national rollout."
In the third quarter last year, Dunkin' Brands Group sales spiked by 8 percent, thanks to sales of breakfast sandwiches and ice coffees, according to Reuters. For the fourth quarter, Dunkin' Brands reported a revenue of $227.1 million, which was better than the $223 million analysts expected.