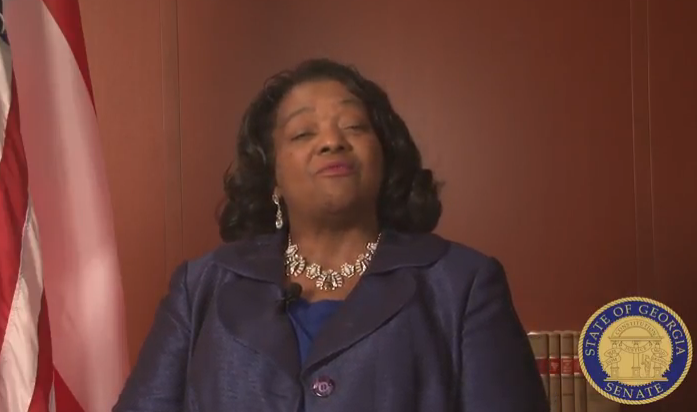 Georgia State Senator Donzella James apologized after she shared a Facebook post on the anniversary of D-Day comparing the symbolism of the United States flag to cross-burning, a historical practice widely associated with the Ku Klux Klan.
The Atlanta Democrat and nine year state senator for Georgia's 35th District posted the meme on Wednesday, the 74th anniversary of the D-Day landings in Normandy during World War II. The Facebook post showed simple white writing on a black background asking, "How Can A Flag Be Such A Big Deal To People Who Burn Crosses?" The post immediately received dozens of angry comments and James deleted the post Wednesday afternoon before apologizing to veterans and claiming she'd accidentally shared the meme from another website.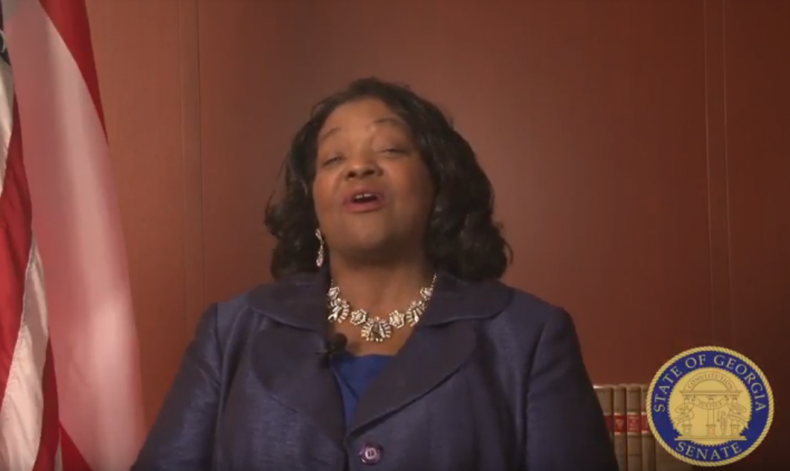 "Please accept my apology from the bottom of my heart," James told the Douglas County Sentinel. "Although it was not intentional, I am responsible for what was posted. It is not what I stand for. It didn't originate from me. I really didn't mean to offend anyone because it offended me. I didn't mean to share it. I received it from so many different sources and I thought I 'liked' it so I could see what comments other people were making."
James called herself a "number one patriot" and also addressed the "burning crosses" comparison, saying that she doesn't agree with either flag-burning or cross-burning, an activity commonly associated with the KKK.
"I don't burn crosses and I don't burn flags and I don't agree with either one of them," she said. "It's nothing I'm involved in and I am appalled that anyone would think I would disrespect the flag or our people like that. I am anything but someone who would disrespect the flag."
James explained to WAGA-TV that several members of her family are veterans and she meant no disrespect by sharing the inflammatory post on the June 6 anniversary. James, who is on the Georgia state senate Veterans Affairs Committee, said she continues to volunteer for the Veterans Administration (VA) and supporting students who want to join branches of the U.S. armed forces.
"Please know that as a daughter, granddaughter and wife of veterans who put their lives on the line to protect and preserve our country, that I would never do anything to tarnish their efforts," said James. "My father was in the Korean War, and when I was a little kid, we went from base to base. My late husband was a Vietnam veteran and my uncle died in World War II."
Republican State Senator Mike Dugan told the Douglas County Sentinel that he hadn't seen the post and doesn't "know where her heart was when she posted" the meme. But he added that James "has worked hard for veterans and their families" in the past. Dugan, himself a veteran, said "everything she has done for veterans has been positive. I've not ever seen her at a point where she was ever disrespectful of the flag or veterans and their families."
James' office did not immediately respond to requests from Newsweek for comment.
SaveSave