The Doodle for Google 2020 winner has been announced as Sharon Sara, a fifth-grader from Frisco, Texas.
Tens of thousands of students across the U.S. entered the 2020 Doodle for Google contest, answering this year's prompt: "I show kindness by..."
Sharon's winning entry was titled "Together As One" and shows a group of six friends holding hands. The winner's artist statement explained the drawing and said: "I show kindness by sticking together with my friends in tough times. I drew people coming together and not thinking about the outside but being together because of their personality."
When asked how the inspiration behind her Doodle, Sharon said: "People have not wanted to be my friend because of how I look, so I decided to draw what I do! No matter what people look like, you look on the inside and then decide if you want to be their friend."
She then said: "Kindness means to not look at someone from the outside, but look at their personality, and being open to their friendship."
As the winner of the Doodle for Google contest, Sharon has won a $30,000 college scholarship and a $50,000 technology package for her elementary school, as well as Google hardware and "fun Googley swag."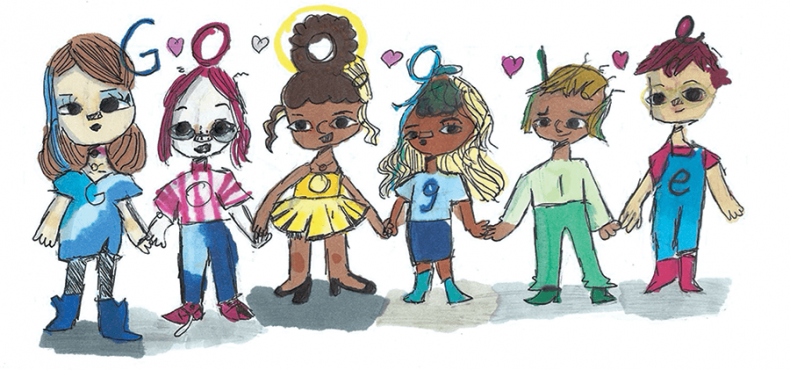 Texas Governor Greg Abbott congratulated Sharon and said: "Congratulations to Sharon Sara on winning this year's national Doodle for Google competition and scholarship. Sharon's artwork reminds us of the importance of unity and kindness towards others, especially during these challenging times.
"We look forward to joining the hundreds of millions of people across the country who will see this inspiring artwork displayed on the Google homepage. On behalf of the State of Texas, I want to say how proud we are of Sharon's achievement, and we look forward to seeing what the future holds for this bright young Texan."
Google says: "Congratulations again to Sharon and a huge thank you to all of the students who shared their kind words and inspiring Doodles with us this year!"
Four national finalists, from Hawaii, Louisiana, New Jersey, and Oklahoma, have also won a $5,000 college scholarship each, plus Google hardware and swag. Their artwork can be seen in the Doodle for Google gallery. The winner and finalists each took a different approach to demonstrate how they show kindness, dealing with issues ranging from the environment to social media.
Finalist MacKenna Hughes from Hawaii says that she shows kindness by picking up trash and microplastics on the beach, and in her artwork, she used repurposed trash from her favorite beach.
Morrah Burton-Edwards, a finalist from Louisiana, says that she shows kindness by showing her family that she loves them, and showing others that she cares about them even if they are unkind.
Yewon Lee from New Jersey says she shows kindness by treating all different kinds of people like her neighbor, while Gwenith Madhan from Oklahoma says she shows kindness by not engaging in negativity on social media, and instead, "focusing on using positive, kind words to lift people up and add a smile to their face every day."