Doodle for Google 2019 Competition, Homepage: Entry Rules and Submission Dates
The annual Doodle for Google contest kicks off Tuesday and kids who want to participate have until March 18 to submit their designs for consideration. The theme for 2019 was announced on The Tonight Show by Jimmy Fallon and Kermit the Frog Monday night and will be "When I grow up, I hope…"
Students K through grade 12 who want to take part in the 11th annual Doodle for Google competition have to either live in one of the 50 states, Washington D.C., Puerto Rico or Guam to be eligible to participate. They can use any medium they want to create their doodle as long as it represents the Google logo and fits with the theme and submit it within the 10-week window of entry.
The rules and the entry forms for the competition are available on the Doodle for Google website. There are a number of prizes available to the winner and the runners-up. "The National Winner's artwork will be featured on the Google homepage, and will win a $30,000 scholarship and a $50,000 tech grant for their school," according to Google. Homeschooled students have been able to choose a non-profit of their choice to have the grant go to due to the fact that they don't have a school like other students participating might have.
In addition to the announcement of the new contest, the previous winner's doodle went up on the homepage of Google at 9 p.m. PST Monday or 12 a.m. EST Tuesday. That doodle was submitted during the 2018 competition with the theme "What inspires me.." and the winner was Sarah Gomez-Lane a 1st Grader from Falls Church, Virginia.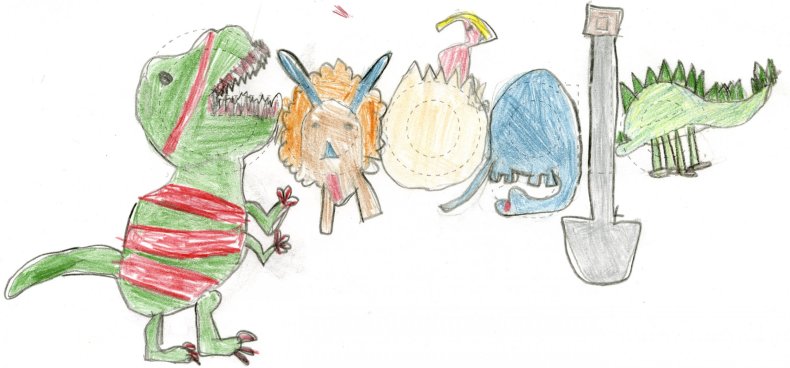 Sarah's doodle shows dinosaurs of all shapes, sizes and species and represents the word "Google" for the homepage. The winning drawing was chosen from submissions from all over the country and was later animated by those doodlers at Google to help make it a moving image for the homepage. It looks like the dinosaurs are dancing in the homepage image.
Traditionally the best submissions from each age group are chosen and then the top contestant submissions are judged in several rounds until the top submission from each age group can be put into a pool of finalists. There are a number of judges, including guests judges that change each year. This year Kermit the Frog, Jimmy Fallon and Mandy Manning, the 2018 National teacher of the year, will be participating as guest judges, according to Google.