Where Was 'Doogie Kamealoha M.D.' Shot? Filming Locations Revealed
Doogie Howser M.D. launched back in 1989, showing a kid doctor making waves while dealing with the trials of life. The story is back, this time with Lahela "Doogie" Kamealoha, in the central role as a teenage doctor.
The story has moved to a far sunnier climate, with Doogie and her family surfing, relaxing and enjoying some spam musubi on the beach in Hawaii.
The filming locations for the new Disney+ series Doogie Kamealoha M.D. are a lot more idyllic than those in the original series. Newsweek spoke to the showrunner Kourtney Kang, who talked through the reason behind filming in these places.
Waimānalo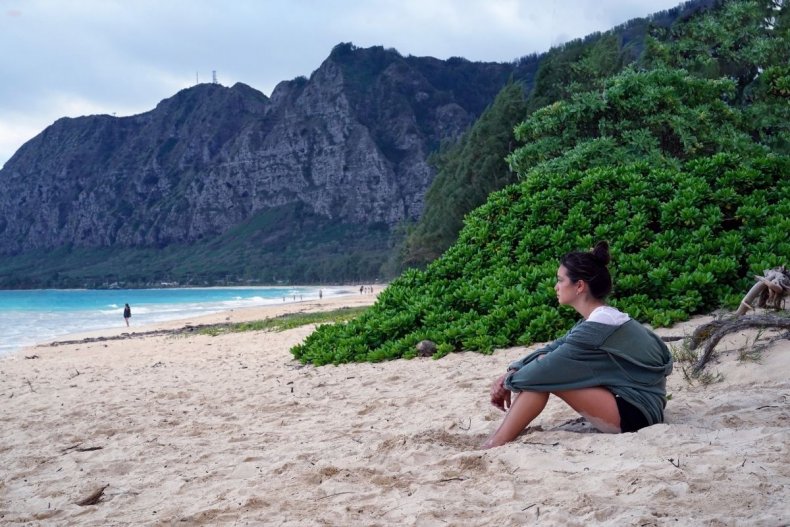 Waimānalo is an area within Hawaii which is known for its incredible beach. In the show, the Kamealoha family live just seconds away from the gorgeous shore.
Kang said of this location: "The family lives at the beach in Waimanalo. And Waimanalo is a beach that my family would go to all the time, we love it there, and so to have the family's house there was really special."
'Iolani Palace
The 'Iolani Palace was where the royalty of the Kingdom of Hawaii, ending with Queen Lili'uokalani. When the monarchy was no longer in place, it was used as part of the government before it was restored and opened to the public as a museum.
According to Kang, this palace had electricity before Buckingham Palace and even the White House.
Queen Lili'uokalani Statue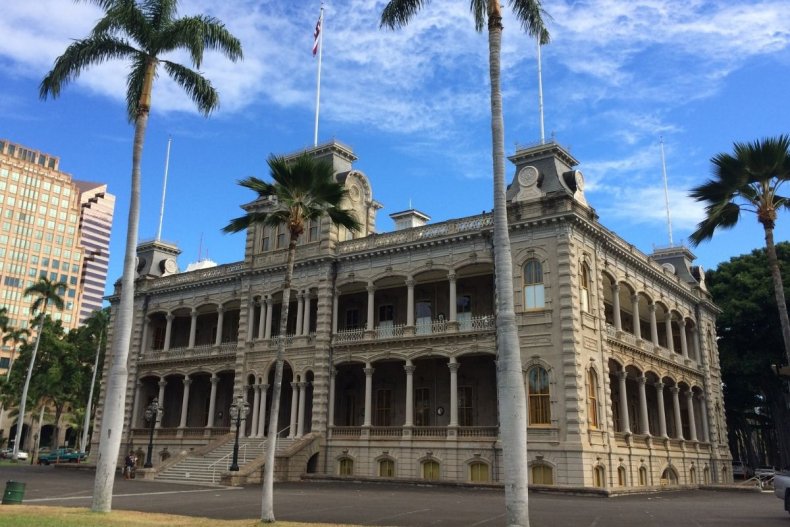 Outside the 'Iolani Palace is the statue of the last monarch to live in the palace. She was queen when the monarchy was overthrown, meaning she was forced to live under house arrest and ultimately as a private citizen before her death.
Sadly for Kang, she was only able to shoot near the image of her "idol" for just a short while.
She said: "Another place that I was really excited about - we only were able to do a little exterior pass through it: 'Iolani Palace.
"Were right in Honolulu, which is it's it has an amazing in history... and it has this Queen Lili'uokalani, who has been an idol of mine forever. We were only able to shoot outside for a minute."
Waikiki
Also in Honolulu, filming was also able to take place in Waikiki, which is a famous neighbourhood along the coast.
While Waikiki is an important place to shoot, there was one particular part of it that excited Kang and the crew.
Duke Kahanamoku Statue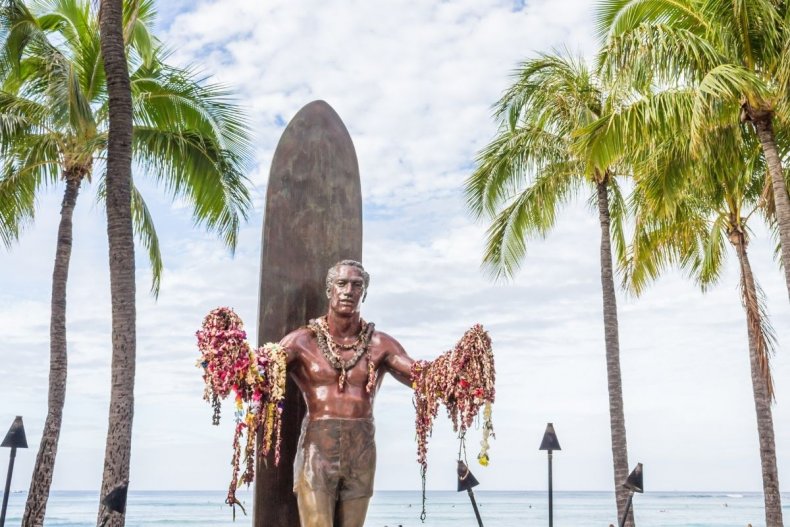 The Duke Kahanamoku Statue resides on Kuhio Beach in Waikiki, and is a nine-foot bronze sculpture.
Kahanamoku was a famous surfer who competed in the Olympics in this field. He was famous for bringing surfing as a sport to the fore all over the world.
Kang said: "We got to shoot in Waikiki past the statue of Duke Kahanamoku, who is another, you know, famous Hawaiian and that statue in Waikiki is, you know, so iconic.
"So there's these little pieces that we were able to sort of send little love letters out to folks."
One of those other love letters is spam musubi, referenced in the first episode by Benny Kamealoha (Jason Scott Lee.)
The famed snack is effectively a mixture of sushi and spam, made with the meat product sandwiched on white rice with seaweed.
Kang added: "You know, one of the things in the pilot is Benny talks about spam musubi. And it sort of came up that nobody's going to know what spam musubi is.
"In Hawaii, we were saying there's a population of people who've never seen this spoken on TV in the world. And so it will be so special to them, that we tried to find these little things that, you know, sometimes when you're not in the dominant culture, it becomes on you to make sure everyone knows what you're talking about."
Doogie Kamealoha M.D. is now available to stream on Disney +, with new episodes dropping weekly every Wednesday.