'Doom Eternal' Release Date Delayed to 2020 With 'Doom 64' Pre-Order Bonus
Doom Eternal developer id Software announced Tuesday the game's release date will be delayed to March 20, 2020.
"Throughout the development of Doom Eternal, our goal has been to deliver a game that exceeds your greatest expectations across the board," the developer wrote in a social media post announcing the revised release date. "We know many fans will be disappointed by this delay, but we are confident that Doom Eternal will deliver a gaming experience that is worth the wait."
Doom Eternal was originally expected to release November 22.
Paired with the announced delay, id Software offered up some new details about the game and other planned releases of classic Doom-series titles. The previously announced "Invasion Mode," through which players can "invade" another player's game as a demon, will not be included when Doom Eternal releases, but will instead be added as a free update "shortly after launch."
A sequel to the 2016 first-person shooter reboot of the Doom series, Doom Eternal shifts the action from Earth to Mars, just like Doom II: Hell on Earth. The sequel includes new weapons like the ballista, heavy cannon and a new arm blade to make the game's "Glory Kills" mechanic even gorier.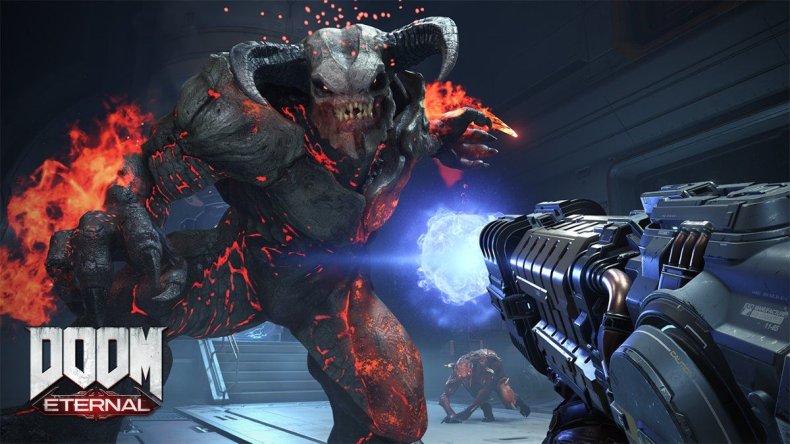 As with its predecessor, Doom Eternal focuses on fast-paced action that encourages players to fight enemies up close and personal, further enabled in the upcoming entry by a "Meat Hook" grappling device that can pull the player closer to demon threats. Doom Eternal also adds lots of enemies, featuring twice as many demons as 2016's Doom.
The ambitious plans for the sequel could partially explain the delay, since id Software is significantly expanding on the previous game using an updated version of the id Tech development engine.
The announcement also provided an update on the Nintendo Switch edition of the game, which will be released after Doom Eternal arrives on Xbox One, PlayStation 4, Google Stadia and PC. The Nintendo Swich version does not yet have a release date.
The re-release of Doom 64 — a 1997 Nintendo 64 console followup to Doom II — will also be pushed back to March 20, 2020, id announced, but will have an expanded release beyond its initial planned release for Nintendo Switch. Now, Doom 64 will not only be coming to PS4, Xbox and PC, but it will also be offered as a pre-order bonus for Doom Eternal.
Doom Eternal will now be released for PlayStation 4, Xbox One, PC and Google Stadia on March 20, 2020.