'Doom Patrol' Season 2 Release Date: When Is It on HBO Max, How to Watch
DC Universe may have aired the first season of Doom Patrol solo, but another streamer will also be hosting Season 2 on the Timothy Dalton, Matt Bomer, and Brendan Fraser series. HBO Max will release Doom Patrol Season 2 this June, with the first three episodes expected to be released all at once.
When is Doom Patrol Season 2 out on HBO Max and DC Universe?
The release date for the first three episodes of Doom Patrol Season 2 is June 25 on DC Universe and HBO Max. These episodes will be available from the early hours of Thursday morning. According to IMDB, the remaining six episodes will then air weekly on Thursdays until August 6, when the ninth and final episode of the season airs.
How to watch Doom Patrol Season 2 online
U.S. viewers have two options: They can subscribe to DC Universe for $7.99 a month (or $74.99 a year), or to HBO Max, which is $14.99 a month. Both services offer a seven-day free trial that allows users to watch episodes of Doom Patrol Season 2 for free.
That is not the only way, however, that DC Comics fans can watch free episodes of the superhero show. In the U.S., the first three episodes of the first season are streaming for free on the DC YouTube channel and on RooserTeeth.com.
As DC Universe and HBO Max are currently only available in the U.S., international fans have a while longer to wait before they can watch Season 2. In the U.K., for example, the show aired on the Starz Amazon Prime Video add-on. The first season came to StarzPlay in July 2019, five months after it first aired on DC Universe. If Season 2 follows suit, fans should expect the show to be released internationally in November 2020.
What will happen in Doom Patrol Season 2?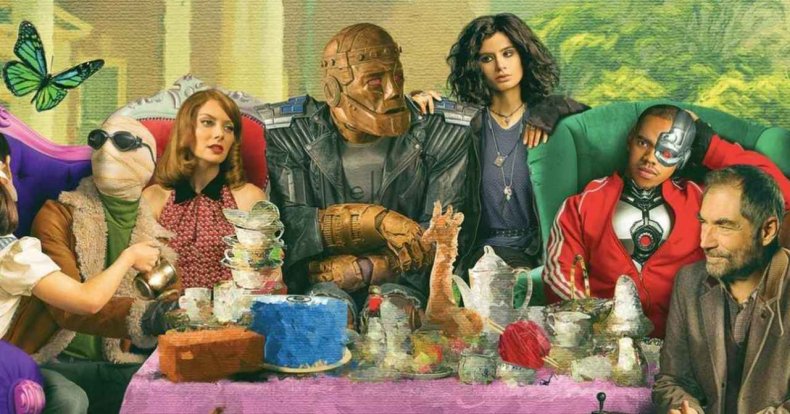 The official synopsis for Doom Patrol reads: "DC's strangest group of heroes — Cliff Steele aka Robotman (Brendan Fraser), Larry Trainor aka Negative Man (Matt Bomer), Rita Farr aka Elasti-Woman (April Bowlby), Jane aka Crazy Jane (Diane Guerrero), and Victor Stone aka Cyborg (Joivan Wade) — are back again to save the world. That is, if they can find a way to grow up...both figuratively and literally.
"Following the defeat of Mr. Nobody, the members of the Doom Patrol now find themselves mini-sized and stranded on Cliff's toy race car track. Here they begin to deal with their feelings of betrayal by Niles Caulder aka The Chief (Timothy Dalton), while confronting their own personal baggage.
"And as each member faces the challenge of growing beyond their own past traumatic experiences, they must come together to embrace and protect the newest member of the family: Dorothy Spinner (Abigail Shapiro), Niles' daughter, whose powers remain a mysterious but real threat to bringing on the end of the world."
Doom Patrol Season 2 is released on June 25 on DC Universe and HBO Max.