Doomsday Clock 2019: World Remains on Verge of Catastrophe With Simultaneous Threats of Nuclear Weapons and Climate Change
The Doomsday Clock, created in 1947 to track how close the world is coming to nuclear annihilation, says we are just two minutes away from Armageddon.
The calculation is the same as last year's, which means it's still the closest we've ever gotten to the end of the world since 1953, when Soviet dictator Josef Stalin died and the U.S. and the Soviet Union had their nuclear arsenals pointed at each other.
"There is nothing normal about the complex and frightening reality we are describing today," said Rachel Bronson, president and CEO of the Bulletin of the Atomic Scientists, which oversees the clock, in a press release on Thursday. "Though unchanged from 2018, this setting should be taken not as a sign of stability but as a stark warning to leaders and citizens around the world."
The organization makes its decision about how to set the doomsday clock after close consultation with a board of experts, including Nobel laureates focusing on nuclear risk and climate change. The closer the clock is to midnight, the closer the group thinks the world is to a disaster that could end civilization.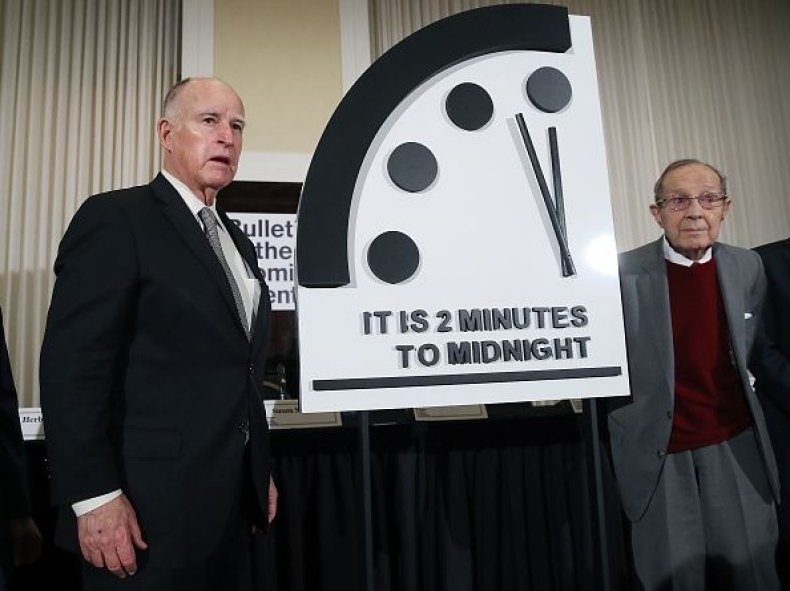 On Thursday, the organization said humanity is living in a "new abnormal," which includes the threat of chemical weapons and cyberattacks. The statement also notes that current world leaders are actively exacerbating the problems or doing little to solve them.
"In 2017, the Bulletin moved the time of the Doomsday Clock a half-minute closer to midnight, in part because of reckless approaches toward nuclear weapons and a growing disregard for the expertise needed to address today's biggest challenges, most importantly climate change," the organization said in a statement.
It went on: "We argued that world leaders not only failed to deal adequately with nuclear and climate threats, they increased them 'through a variety of provocative statements and actions, including careless rhetoric about the use of nuclear weapons and the wanton defiance of scientific truths.' Two years later, it has become even clearer that 'the intentional corruption of the information ecosystem' threatens to undermine the rational discourse needed to address such challenges."
At least one expert on the board pointed to a lack of progress in her field of expertise as one of the main reasons the clock wasn't moved farther from midnight.
"It is now two minutes to midnight. One of the reasons that 2018 has been so concerning to me, and from my perspective, is not so much that the work that has been done to alleviate bio-threats has taken a turn for the worse. It's that the core of the threat is that not enough has been done to address bio-threats," said Suzet McKinney, CEO and executive director of the Illinois Medical District, in a video statement.