Door Ramming Led to Richard Sherman Being Pepper Sprayed: Father-in-Law
A police statement made available on Thursday revealed Richard Sherman's father-in-law said he shot pepper spray into the face of the free agent cornerback's face during the Wednesday altercation that led to Sherman's arrest.
The Associated Press obtained the police statement, which also indicated Sherman's father-in-law armed himself with a handgun during the melee.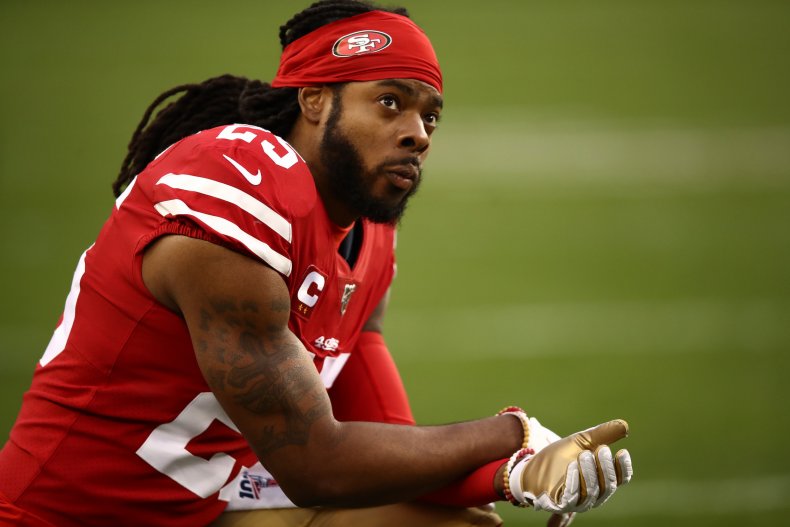 Sherman was arrested early Wednesday after police said he crashed his car in a construction zone and then tried to force his way in the Seattle-area home of his wife's family. He remains in custody in a King County jail and is scheduled to make his first court appearance on Thursday at 2:30 p.m. PDT.
The report, which had not been available publicly before Thursday, said Raymond Moss—father of Sherman's wife Ashley—told investigators the NFL star damaged his home's door while ramming it with his shoulder.
"The family began to yell in fear," Raymond Moss said, according to the report. "I used pepper spray on Sherman's face through the partially opened door as he was still banging and attempting to gain entry. I told him to stop. I armed myself with my handgun at this time fearing for the safety of myself and my family."
During a 911 call placed during the incident, Ashley Sherman told the dispatcher her husband was at her in-laws' home and "being aggressive. He's wrestling with my uncle. He's threatening to kill himself."
After police arrived on the scene, Sherman got into a physical alteration with the officers when they tried to arrest him. A police dog was released to subdue him, and Sherman suffered minor scrapes to his leg. He was treated at a hospital before being booked at the jail.
"At this time, we're going to make no statements, except he didn't harm anybody," Ashley Sherman told The Seattle Times on Wednesday. "My kids were not harmed in the incident. He's a good person, and this is not his character. We're doing all right, just trying to get him out. I want people to know no one was injured."
King County prosecutors and the sheriff had previously obtained an "extreme risk protection order" for Sherman in February, which barred him from possessing guns. That order was granted after a judge determined he posed a danger to himself or others. Further details of that sealed case have not been made public, and it is not known if any weapons had been taken from him.
Sherman remained in custody at the King County jail ahead of his scheduled court appearance on Thursday. During the hearing, a district court judge will make a probable cause determination and decide on charges. A bail decision may also be made.