Few homeowners can say that they've hosted an alligator, but Parrish, Florida resident Steve Farkas can.
On Saturday morning, Farkas and his partner were in Orlando when they decided to check out the footage that their doorbell camera had managed to capture overnight. It had a surprise in store for them—one of a distinctly reptilian nature.
"Hey, now there's a gator at the front door at 4:30 [a.m.]; that wasn't expected," Farkas said in an interview with local news station WFLA.
You read that right. In the dead of night, an adult alligator had walked right up to Farkas's front door. Something of a klutz, the animal bumped into the leg of a plastic lawn chair stationed on the stoop before placing its front feet on the welcome mat and peering inside the home. "He almost appears to knock at the door," Farkas told WFLA. While the alligator soon wandered off, it returned within a few minutes to resume its original post. Eventually, it departed for Farkas's neighbor's home.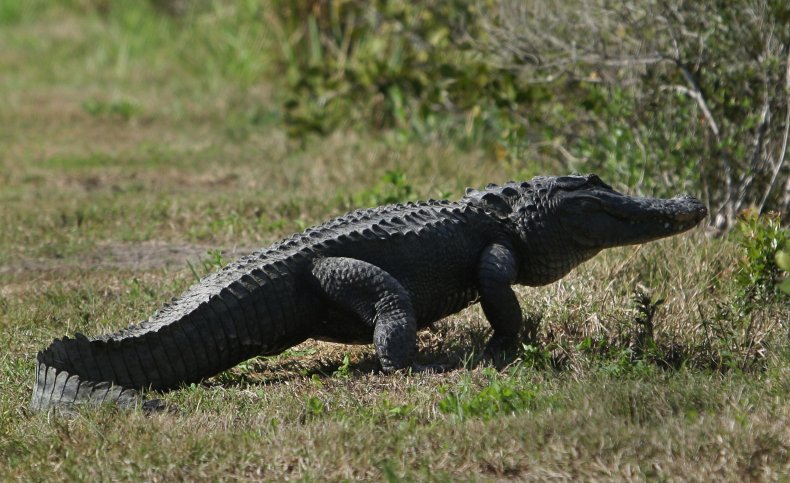 The apex predators, according to Farkas, are a common sight in Parrish. "A lot of the ponds here, the water levels are really low, and almost always you see them out there," Farkas said. Last year, he added, a baby alligator had done something similar.
"It's just odd that pretty much a year later, we have a full-grown one sitting at the front door," he said. He estimated that the trespasser was at least six feet long, according to WFLA.
Once Farkas and his partner watched the footage, they took to a community Facebook page to notify their neighbors that a potentially dangerous animal was making the rounds because, Farkas said, "everyone has a habit of opening up their front door...garage and letting their dogs out." While alligators seldom attack humans, the massive reptiles are known to prey on pets. In April, Ned McNeely of Ravenal, South Carolina shot and killed a 12-foot-long alligator in a canal. When a local butcher and taxidermist sliced open its stomach to inspect the contents, he discovered a spark plug, a bullet casing, bobcat claws, and five dog tags, including one that was nearly a quarter of a century old.
"I've always known alligators will take a dog if they get the chance," McNeely said at the time. "But how does the spark plug get in there?"
More alligator encounters may be in store for the residents of Parrish this season. The animals are particularly active in the spring and summer because the heat increases their metabolic activity and forces them to go in search of food, according to the Florida Fish and Wildlife Conservation Commission.