Tropical Storm Dorian Could Hit Florida As Category 2 Hurricane, Here's How to Prepare
After making its way through Puerto Rico, Tropical Storm Dorian could possibly hit Florida as a Category 2 hurricane and residents are being cautioned to prepare.
Dorian formed in the Atlantic Ocean as a tropical depression on Saturday, but since gathered strength and organized itself into a tropical storm. As of Wednesday morning, it was nearing the Virgin Islands and expected to pass over or near Puerto Rico with near hurricane strength.
While some weakening was possible after moving across Puerto Rico and the Virgin Islands, the National Hurricane Center (NHC) forecasted that the storm would strengthen later in the week and into the weekend. Following its arrival in Puerto Rico and the Virgin Islands, the storm was expected to pass near the Turks and Caicos and Bahamas.
On Friday morning, Dorian should turn into a hurricane before making landfall in Florida on Sunday or Monday. Current projections have the storm arriving on the east side of the state, near Daytona Beach and Palm Coast.
The NHC hasn't commented on the strength the storm could have when it hits Florida, however, meteorologists at several news stations claimed it could be a Category 2 hurricane.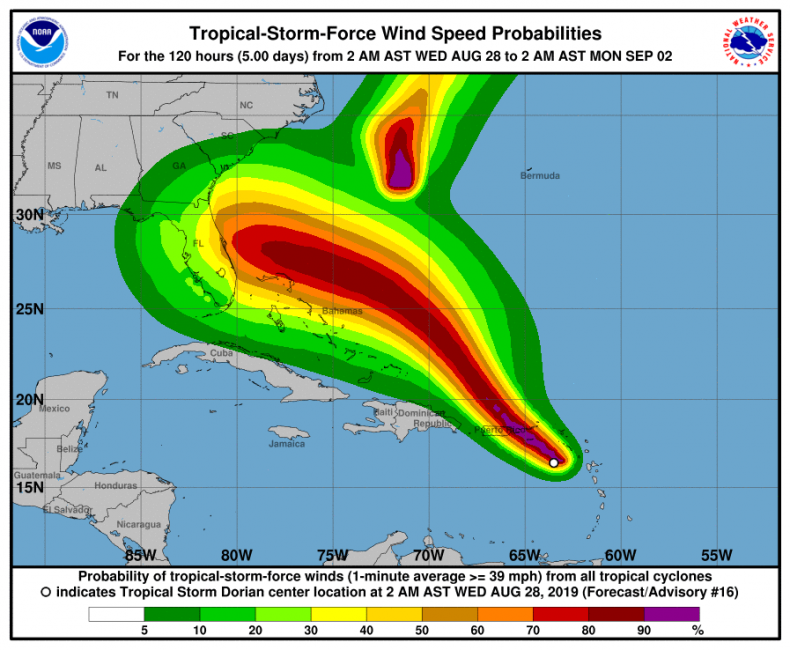 Throughout the tracking of Dorian, there's been an aura of the unknown in how the storm would behave, which remained as it approached Puerto Rico. The National Weather Service (NWS) in Miami explained that there is "plenty of uncertainty" with the storm and it was too early to know for certain the impacts it could have on Florida. On Wednesday, the NHC forecasted the Florida Peninsula would see four to eight inches of rain and up to 10 inches in isolated areas.
Regardless of whether the storm turned out to be a lion or a lamb, the NWS encouraged residents to prepare and remain informed with the latest, official forecast.
Florida Governor Ron DeSantis posted on Twitter that he was briefed on the storm and told his constituents to brace for strong winds, heavy rain and flooding. He also encouraged everyone to have supplies ready.
Building a Hurricane Supply Kit
Among the supplies that should be gathered in advance, according to the American Red Cross, were:
Water: one gallon per person, per day (three-day supply for evacuation, day-week supply for home)
Food: non-perishable, easy-to-prepare items (three-day supply for evacuation, two-week supply for home).
Flashlight
Battery-powered or hand-crank radio (NOAA Weather Radio, if possible)
Extra batteries
Deluxe family first aid kit
Medications (seven-day supply) and medical items
Multi-purpose tool
Sanitation and personal hygiene items
Copies of personal documents (medication list and pertinent medical information, proof of address, deed/lease to home, passports, birth certificates, insurance policies)
Cell phone with chargers (Similar item available in the Red Cross Store)
Family and emergency contact information
Extra cash
Emergency blanket
Map(s) of the area
If pets were also members of the family, the Red Cross encouraged people to include food and water for their pet in their emergency supply kit, as well as, collars and leashes. People should also take a photo of them with their pet in the event they're separated, as this can help with the identification process.
Planning Ahead
Before a storm hits, Readygov, FEMA's public service preparedness campaign, encouraged people to know their area's risk of hurricanes, including if they were at risk for flash flooding. Families should also create a shelter-in-place and evacuation plan and ensure everyone is knowledgeable about the plan.
The car should also have a full tank of gas and loose, lightweight objects, such as patio furniture and garbage cans, should be brought inside. Given that tree limbs can cause damage to both human life and property, Readygov encouraged trimming or removing trees that were close enough to fall on a home.
Since water can be deadly for electronics, before the storm, it's smart to back up a laptop or computer and if doing so with an external hard drive, to take the hard drive out of the home in the event of an evacuation. Another way to help protect electronics is to raise them up, possibly putting them on a counter or even on the top of a cabinet if possible, giving them the best chance possible to escape flooding.
The Right Insurance
Along with people protecting themselves and their possessions during the storm, SeminoleSAFE, a Florida State University education and outreach campaign, encouraged people to think about life after the storm.
Homeowners should check their homeowner's policy to ensure they have adequate coverage for tropical storms and hurricanes. Renters should have their own policy because their landlord's policy won't cover the tenant's personal belongings. However, neither homeowner nor renter insurance policies cover damage from a flood and a separate insurance policy is needed for floods.
In the event a claim needs to be made, it can be a smoother process if there's evidence of what was inside at the time. So, SeminoleSAFE recommended taking inventory and photographing the property and possessions ahead of time.
As Senator Marco Rubio put it, Dorian "could be something, could be nothing" but it's better to plan ahead and not need the precautionary measures, than wait and wish you'd prepared.