Hurricane Dorian Will Cause 'At Least' $25 Billion in Damages, Insurance Company Says
Hurricane Dorian began pummeling the Eastern Bahamas on Sunday afternoon, creeping westward over the islands through the night and into Monday morning, lashing 200 mile per hour winds and 20-foot waves that claimed at least one life and left massive destruction in its wake.
"I am lucky to have half a house," Bahamas resident Leigh Lamattina-Davis told NBC News via text message. "My neighbors are demolished." Lamattina-Davis and her neighbors live in Marsh Harbour, on the island of Great Abaco, 183 miles east of West Palm Beach, Florida.
On Sunday morning, Bloomberg reported that Hurricane Dorian would cause "at least $25 billion of losses for insurers," according to analysts at UBS Group AG, a figure that would make it the "most expensive natural disaster for the industry since 2017."
That number is set to rise as high as $40 billion, should the category 5 storm make landfall in Florida. For context, $40 billion is equivalent to the annual gross domestic product of Jordan, or a little more than MacKenzie Bezos' post-divorce stake in Amazon.
Already the strongest Atlantic storm to make landfall since the 1935 Labor Day hurricane, Dorian could become the second most economically damaging storm to hit the United States on record. At $40 billion, it would rank just behind Hurricane Katrina, the 2005 storm that devastated much of the Gulf Coast and New Orleans, according to data compiled by Statista for Newsweek.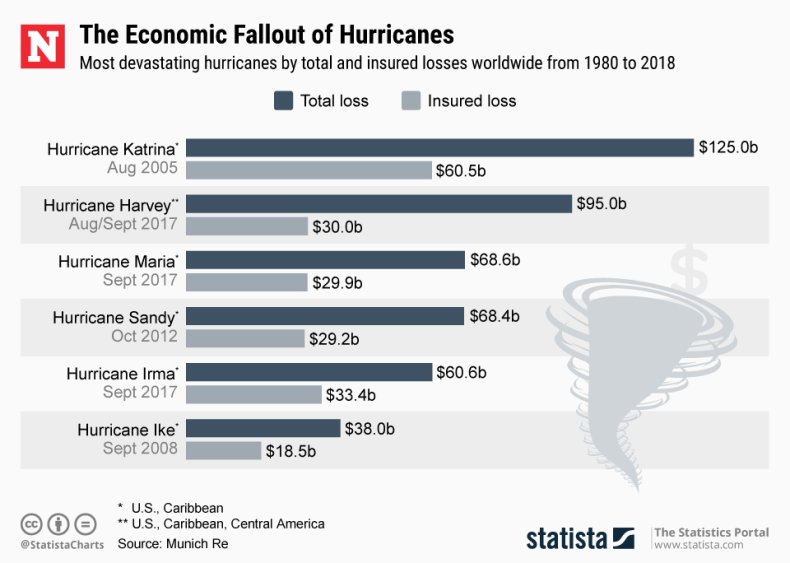 But as victims natural disasters are quick to point out, damages often cost more to repair than insurance companies are liable to offer, and not everyone can afford insurance to begin with, though it's a necessity few can afford to skip. As Federal Emergency Management Agency Deputy Administrator Bill Kaniewski told Newsweek on Sunday, flood insurance is a must for residents living "anywhere it rains."
Total damages from Hurricane Katrina topped $125 billion, more than double the amount covered by insurance. When Hurricane Harvey battered Texas in 2017, damages reached $95 billion, triple the $30 billion paid out by insurance companies.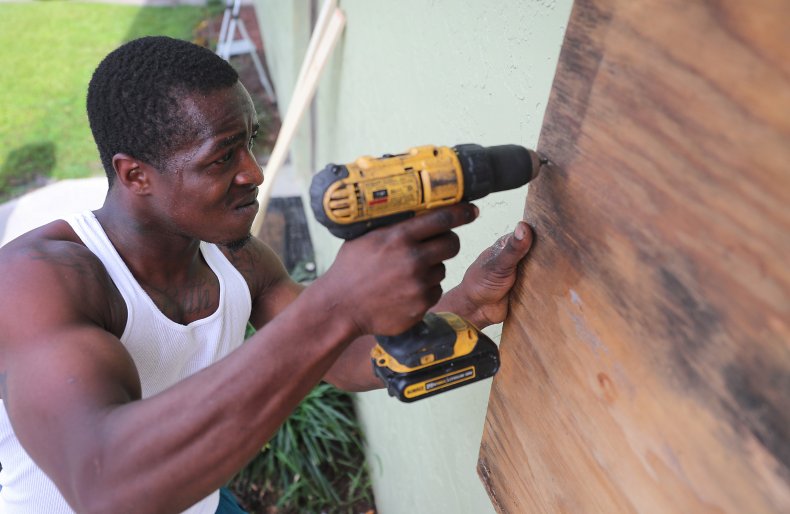 On Monday morning, mandatory evacuation orders went into effect for nine counties in Florida, and five others began voluntary or phased evacuations. To facilitate movement out of high-risk areas, Governor Ron DeSantis suspended tolls on major highways including Florida's Mainline Turnpike and the I-95 and I-75 express lanes.
Faced with the prospect of damage to homes and belongings, some coastal residents try to ride out dangerous storms at home. It's bad idea, a FEMA spokesperson told Newsweek on Monday, "We strongly encourage people to heed their local authorities" and seek shelter.