Dorm Room Party Without Masks, Social Distancing Leads UConn To Evict Some Students
The University of Connecticut rescinded on-campus housing privileges for several students involved in a party that took place inside one of its residential buildings earlier this week. They are still permitted to attend classes when the fall semester begins on August 31.
Students returned to the university's Storrs campus on Friday, the Hartford Courant reported. Administration officials went on to confirm four cases of the novel coronavirus, and identify a fifth possible infection, among members of its student body on Monday.
As the university issued quarantine orders and released details about its approach to reducing future transmission risks, a video of Monday night's crowded dormitory party began to circulate online. The video showed students enjoying what looked like a typical pre-pandemic social gathering. Against the university's COVID-19 protocols, none wore face masks despite their close proximity.
Like many colleges and universities reopening classrooms and on-campus residences after abrupt closures at the pandemic's onset last spring, UConn requires students and staff to comply with a set of public health measures established to protect against the coronavirus' spread.
"While cooperation is overwhelmingly positive, we also know there are cases of noncompliance," said Tom Katsouleas, the university's president, and Carl Lejuez, its provost and executive vice president for academic affairs, in a letter sent to students and staff on Wednesday. Newsweek obtained a copy of the letter from university spokesperson Stephanie Reitz on Thursday morning.
"It is important for us to share that we take [noncompliance] very seriously, and we will and have taken action to keep UConn and our surrounding communities safe," the letter continued. "This action can start with a conversation, but we have measures in place for necessary disciplinary action."
Katsouleas and Lejuez referenced the dorm party and confirmed "students involved have been removed from campus housing" for violating the university's health and safety rules. Seven additional students "were written up for minor infractions" unrelated to the party seen on video.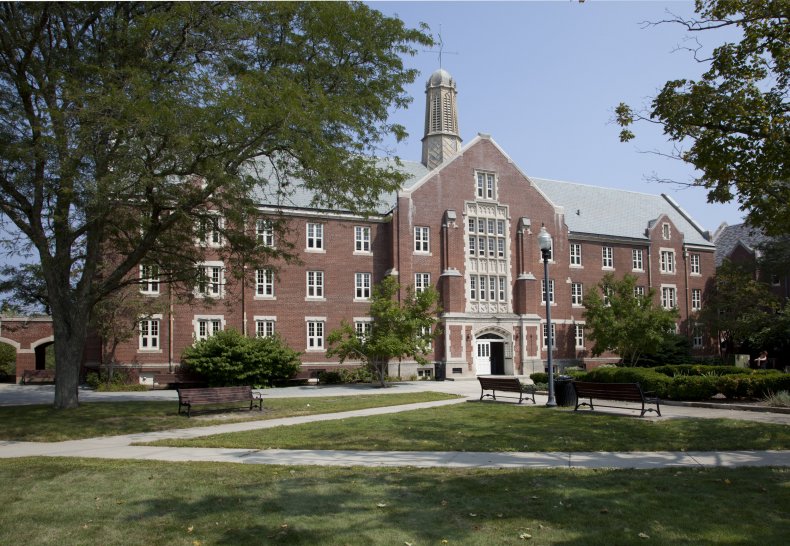 Reitz told Newsweek the university will not release additional details about the group of students whose housing it revoked nor those who received citations. She said violations of the university's housing contract, which binds students to the COVID-19 mitigation procedures when they move in, could constitute a minor infraction. All students facing repercussions from the administration have rights to appeal, Reitz added.
Wednesday's letter reiterated the university's health policies, which require UConn's students and staff to wear face coverings in all indoor and outdoor public spaces; maintain six feet of distance from others, outside of roommates and family members; and abide by state and local guidelines that limit social gathering sizes.