'Dota Dragon's Blood': What We Know About Netflix's 'Dota 2' Series
Dota 2 is getting the Netflix treatment, with an anime based on the online multiplayer game set to launch in March. Dota: Dragon's Blood will see the streamer begin to tell the story of renowned Dragon Knight Davion, as seen in the release date announcement trailer released by Netflix in February. The series will be the latest anime based on a video game for the streamer, following the success of Castlevania.
In the date announcement promo, Netflix revealed that the release date for Dota: Dragon's Blood will be Thursday, March 25, 2021, when the eight episodes of the show will be released all at once onto the streamer at 00:01 a.m. PT.
Per the official synopsis of the Dota 2 anime series, "the sweeping fantasy series tells the story of Davion, a renowned Dragon Knight devoted to wiping the scourge from the face of the world. Following encounters with a powerful, ancient eldwurm as well as the noble Princess Mirana on a secret mission of her own, Davion becomes embroiled in events much larger than he could have ever imagined."
Ashley Miller will act as showrunner on the series, after writing the screenplays for Thor and X-Men: First Class and working on TV shows like Terminator: The Sarah Connor Chronicles, Fringe and Black Sails.
He said in a statement: "Fans will love how we've imagined the DOTA 2 universe and woven together an epic, emotional, and adult-oriented story about some of their favorite characters. The cinematic animation, acting and music are simply next level and I'm grateful to Valve for supporting our creative ambitions."
Though the date announcement trailer does not give away much in terms of plot, it does give fans their first glimpse of the animated version of Davion, seen on horseback with his sword.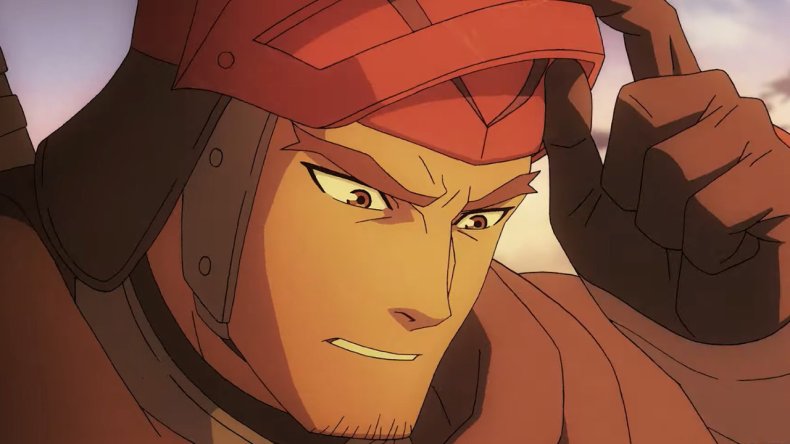 The show has been animated by Studio MIR, the South Korean company behind The Legend of Korra, Voltron: Legendary Defender, Kipo and the Age of Wonderbeasts, and Mortal Kombat Legends: Scorpion's Revenge.
Dota: Dragon's Blood is just the latest in a series of anime video game adaptations on Netflix. Following the success of Castelvania, recently renewed for Season 4, the streamer also announced a show based on Dragon's Dogma and Tomb Raider, as well an anime film tie-in to the Witcher series.
Dota 2 is one of the most-played games on the internet, with around 11 million monthly players. In 2019, the game was the second most-played game on Steam behind Battlegrounds. It is also a hugely popular game for e-sports players, with big money to be made—in 2019, for example, nearly $47 million was won in Dota 2 tournaments.