By Double Digits, a Majority of Americans Say Biden Has More Respect for the Military Than Trump
A significant majority of Americans believe Democratic presidential nominee Joe Biden has more respect for the military than President Donald Trump, with the former vice president leading the incumbent Republican by double digits.
While 61 percent of respondents believe Biden has more respect for the military, just 37 percent say Trump has more respect—a difference of 24 percentage points in the Democratic nominee's favor, according to new polling released Sunday by ABC News/The Washington Post/Ipsos. Even among Republicans, just 81 percent believe Trump has more respect for the military, as opposed to 93 percent of Democrats who believe Biden has more respect.
Independent voters overwhelmingly see the Democratic candidate as having more respect for those in the armed services. While just 35 percent view Trump as having more respect, 65 percent of independents see Biden as having more respect—a difference of 30 percentage points in favor of the Democratic nominee.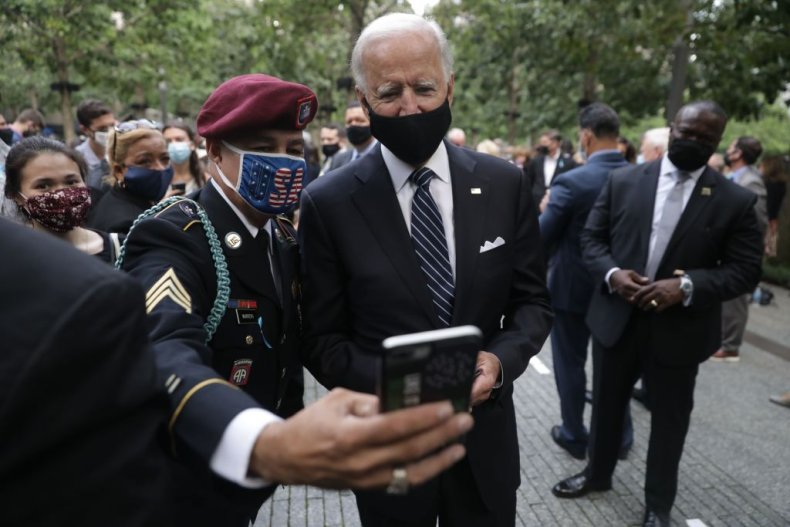 The polling results came after a controversial report published by The Atlantic on September 3 cited anonymous sources saying Trump referred to veterans and soldiers who died in battle as "losers" and "suckers." The president, the White House and current and former administration officials dismissed the report as "false." But the Associated Press and Fox News said they confirmed at least some of the reporting, as the president's critics pointed out that the sources' claims aligned with public comments Trump has made.
In 2015, shortly after Trump had announced his presidential campaign, he referred to the late Senator John McCain, a former prisoner of war in Vietnam, as "a loser." The president said the Republican senator from Arizona was not a hero and that he was only considered a hero because he got captured. "I like people that weren't captured," Trump said at the time.
The new polling also showed that the majority of Americans (67 percent or about two-thirds) believe Trump was too slow to respond to the novel coronavirus pandemic. Only 1 percent of Americans believe the president acted too quickly, whereas less than one-third (31 percent) believe he acted at about the right pace.
Furthermore, 68 percent of Americans do not trust what the president says about the pandemic and just 35 percent approve of the president's handling of the COVID-19 outbreak. Comparatively, a slight majority (51 percent) of survey respondents said they trust what Biden has to say about the pandemic "a great deal" or "a good amount."
Nearly every recent national poll shows Biden leading Trump as the candidate of choice among American voters. The current RealClearPolitics average of national polls shows Biden with an advantage of about 7.5 percentage points—with the backing of about 50.5 percent of voters compared to 43 percent who support Trump. The current FiveThirtyEight polling average shows the exact same percentages as well.