Gregory Finney, then 37, felt extremely unlucky but in good physical condition when he arrived at Louisiana State Penitentiary in 2001. He had been shipped to the notorious maximum-security prison in Angola to serve 15 years for drug possession and shoplifting. Up to that point in his life, Finney hadn't worried much about his health, in part because he was too busy scrambling to hold a job and avoid getting arrested.
It turned out his health should have been a main concern. Not long after he got there, the prison clinic informed Finney he was on a fast track to heart disease that could kill him—he was diabetic and had hypertension. Angola is the largest maximum-security prison in the U.S. and one of the most dangerous, so Finney suddenly realized he would now be fighting for his life in more ways than one. "I didn't want to die in Angola," he says.
In the years that followed, Finney struggled to get decent health care. The prison doctors prescribed insulin shots and gave him pills to manage his diabetes and high blood pressure, but two to three months might pass before he was able to see a physician for a follow-up exam. The clinic had too many patients and too many with far more serious illnesses. If Finney's blood pressure happened to be too high on a day when he finally got an exam, the doctor would simply give him more medications instead of conducting further evaluation to determine how best to adjust his treatment. By the time he was released 15 years later, he was taking 13 different medications, and the treatment plan hadn't done much to improve his condition.
The health care system at Angola was tragically slow and mostly useless, says Finney. "In prison, you won't be seen when you have the illness; you get seen when they have the time."
The Other Life Sentence
In the U.S., the only citizens constitutionally guaranteed to have access to health care are prisoners, but experts agree that the treatment of serious chronic illnesses in prisons is a disgrace.
The U.S. Centers for Disease Control and Prevention recently released its first-ever national study on the state of prison health systems throughout the U.S. It suggests that most state prisons are well aware that chronic medical conditions are a serious threat to this population, but the care after an inmate is diagnosed is inconsistent and sometimes does more harm than good.
Staffing is a problem. In addition to medical emergencies, health care services in prison tend to focus on conditions that could have an immediate and widespread impact, such as infectious diseases like HIV and tuberculosis that could affect the larger population—both in prison and upon release. Psychiatric illness and addiction are also top priorities, since these disorders can result in suicide or even homicide.
Halting the slow killers that afflict the general U.S. population in epic numbers is usually at the bottom of a prison clinic's to-do list. According to a study published in the American Journal of Public Health, 43 percent of inmates in federal prisons and 39 percent of those in state prisons suffer from chronic medical conditions, such as hypertension, high cholesterol, diabetes and obesity, all of which contribute to cardiovascular disease—the leading cause of death in the U.S. One study by Harvard Medical School and the Cambridge Health Alliance suggests prisoners are 55 percent more likely than the general population to have diabetes and 90 percent more likely to have suffered a heart attack.
Chronic health conditions like cardiovascular disease have become a more significant problem in correctional facilities in part because the prison population is rapidly aging. The number of inmates in state prisons aged 55 serving more than a year increased from 26,300 to 131,500 from 1993 and 2013, according the Bureau of Justice Statistics .
The incarcerated are thrown into an inherently stressful, blood pressure–raising environment. Oftentimes, psychiatric problems increase the risk for physical ailments. A huge body of research links depression and anxiety to poor physical health, particularly in the elderly.
Remember too that prison ages a person. Dr. Brie Williams, associate professor of medicine at the University of California at San Francisco and director of the UC Criminal Justice & Health Consortium, says chronological age rarely matches a prisoner's biological age. "In aging prison populations, you get more complexity at younger ages, and prisoners look like older adults 20 years their senior," says Williams . "Not only are there more 70-year-olds in prison, but some of the 50-year-olds are looking like 70-year-olds."
The challenges and cost of medical conditions poorly treated in prison don't go away when people are released from jail—they trickle into the community health system. A study published in The New England Journal of Medicine finds heart disease is the second leading cause of death among the formerly incarcerated, right after accidental drug overdose. In the general population, heart disease is the leading cause of death, followed by cancer.
Dr. Emily Thomas, a general practitioner based at the University of California at San Francisco, interviewed more than two dozen patients about managing cardiovascular disease while behind bars. One man said he repeatedly reported having chest pains but no one took his complaints seriously, even though he had a long history of heart disease. Two days after he was released, he went to a hospital and was scheduled for bypass surgery within two weeks.
Free at Last…to Get Help
There are plenty of factors that make prison a horrible place to manage and prevent cardiovascular disease and related conditions. At some prisons, inmates are charged copays for medical care. An investigation by the Brennan Center for Justice at the New York University School of Law found that about 35 states have some sort of medical fees for care. A patient told Thomas he was charged $3 for every visit with a doctor, while his prison job paid him only 75 cents a day.
Prisons also discourage some of the most simple and effective lifestyle habits. Poor sleep and diet, as well as sedentary behavior, are a standard existence for someone under incarceration. "If you are looking at fundamentally what will reduce your high blood pressure and improve your cardiovascular risk, in terms of a diet, you want something low-fat. You want something that's low in sodium. That's nothing that you're going to get in prison," says Thomas.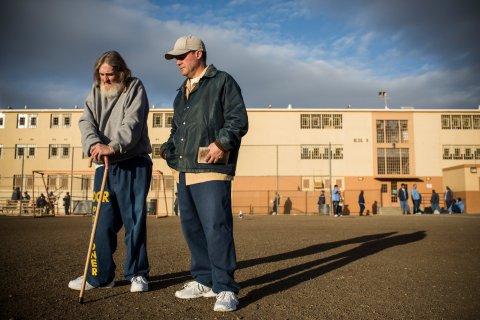 Disciplinary action is also an impediment. Williams recently received a grant to study the health impact of solitary confinement. Prisoners in solitary confinement—lockdown—are kept in their cells for up to 23 hours each day and permitted only three hours of exercise per week, often in a small cell, says Williams. To maintain good heart health, the American Heart Association recommends a person gets 30 minutes a day of exercise, five days a week.
Some patients told Dr. Emily Wang, associate professor at the Yale School of Medicine and co-founder of the Transitions Clinic Network for former prisoners, that refusing treatment or not taking prescribed drugs can land a prisoner in solitary confinement, which causes psychological trauma. A person who is punished for not taking medications may begin to develop negative associations with things that are necessary to maintain health, and that often translates to avoiding treatment once the person is released. "They see it as part of the system of punishment and control," says Wang. "They don't see the benefits in itself."
This is a challenge for Dr. Anjali Niyogi, who opened the Formerly Incarcerated Transition Clinic in New Orleans about a year ago. FIT is a federally qualified health center, which means it receives federal grant money and reimbursement from Medicare and Medicaid. Niyogi set up the clinic to serve the particular needs of the formerly incarcerated; everyone she sees has recently been released from prison. After talking with her patients, she has come to observe that most received a diagnosis for their chronic health condition while incarcerated.
She believes the care of prisoners with chronic health conditions could be improved with stricter public health policies. "There's set protocol for how to do follow-up with things like HIV and other infectious diseases, but I think chronic disease needs to have the same type of follow-up protocol," she says.
Niyogi says patients who visit her are often simply surviving without treatment because they don't know what else to do. Newly released prisoners face the overwhelming task of navigating and accessing social services, including health care. It's a challenge all poor people face, except former inmates must do so while burdened with a far greater stigma. Niyogi says when patients visit her clinic, they often tell her it's because they're out of medication or don't know what type of physician they should be seeing.
Finney, now 53, found FIT through the local hospital just a few days after being released from prison and has visited the clinic more than two dozen times. Doctors there managed to cut down his daily medications from 13 to five, and his blood pressure is no longer skyrocketing. "The doctor said, unless I have problem, I don't need to come back," he says. Free at last.