Doublelift Moves to TSM, "Bittersweet" for Team Liquid CEO
Yiliang "Doublelift" Peng has joined TSM's League of Legends squad, leaving behind Team Liquid after a difficult split.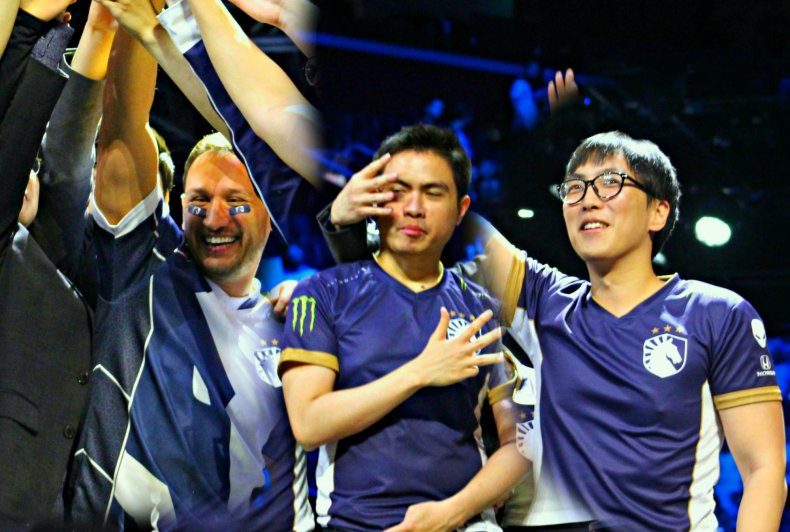 Peng is arguably one of the most famous North American League of Legends esports players, with a career spanning nearly a decade. Starting out as a skilled solo queue player who pursued his dream by sleeping on the couch of someone he met on reddit to having seven LCS titles, his legacy on the Rift is unmatched. Masterfully playing champions like Vayne, Tristana and Xayah has given him the support of an undying fan base, one hyped to see him thrive on a new roster.
In a vlog on Peng's YouTube channel, the pro player describes what happened during that last split and his future on TSM. According to Peng, he was very "unmotivated" at the start of the split due to roster changes on the team and visa issues affecting three of the team's members.
"The split started off on a pretty tumultuous start," Team Liquid CEO and co-owner Steve Arhancet told Newsweek. "And that didn't bode well with all the changes on the team and to the league. It was clear that his motivation was very low and that didn't settle well with his teammates and the coaching staff."
Motivation to "put it first and put it above other things," Arhancent said, is the key to being a successful athlete. Arhancet has known Peng for nine years. They were even teammates during the early years of League esports. The pair know each other well and "motivation can come and go but it's an essential ingredient in being one of the best in the world."
In late February 2020, Peng announced on Twitter that he had laryngitis and that Team Liquid's Academy player Edward "Tactical" Ra would be taking his place for that week. The next week, Peng tweeted that he had been "benched because I had no motivation until very recently." In his vlog Peng elaborates, sharing that his squad mates had gone to TL's coaches with feedback that never got to him.
"You give people feedback so that they can change their behavior, but you don't bench them to change their behavior," Peng said in the video. "I felt blind-sided by the whole situation."
Coach of Team Liquid, Jun "Dodo" Kang, denied that the coaching staff never forwarded feedback to him. In a Twitlonger, Kang writes that their staff had multiple 1-on-1 conversations with Peng and shared feedback on his "motivation issues," "bad attitude towards practice" and "lack of respect towards coach's feedback." Kang also claims that following Peng's sickness, the plan was for Ra to share practice time - an offer which Peng "declined."
After losing to last place team Counter Logic Gaming during week seven of the NA LCS, Peng was brought back on to the TL squad to try and turn their luck around. Kang adds that Peng "owned up to his past mistakes and apologized to everyone" so they decided to keep him on for the rest of the split. "Peter definitely came with some new energy, conviction to make up for lost time and lost dedication," Arhancet said."
Even with the change, the inconsistent roster and poor play led to a ninth place finish during that split; the lowest placement Peng has ever had in the NA LCS.
Days after the split ended TL is eliminated from the playoffs by top team Cloud 9. Arhancet, in turn, started to "diagnose the team" by talking to the players, coaches, sports psychologist, analysts and members of staff. He came to the conclusion that among the other issues, the coaching staff "had a lack of charisma and leadership" and needed a restructuring. A new head coach will be announced soon and Jang "Cain" Nu-ri will be moving from head coach to head strategy coach.
"The next piece was commitment from Peter and the future of Team Liquid," Arhancet said. "That's where Peter and I, over a number of calls, came to the conclusion that him being good to another team was a good thing for Peter and also a good thing for Team Liquid...We parted ways and started to look for options to play for another team that wasn't Team Liquid because the team dynamic was a bit broken. "
On April 21, ESPN broke that Peng would be moving over to TSM and rejoin the team he left in 2017. On April 26, the trade was officially confirmed by LCS Commissioner Chris Greeley on Twitter. Three days prior to the official announcement in an interview with Newsweek, Greeley said "from a league perspective, it's currently not a thing, I can't comment on that right now."
Some esports analysts have been critical of Peng's move to TSM. Peng is currently dating TSM president Leena Xu and some members of the esports community saw this as a potential conflict of interest. "My objection always was with the precedent this sets for the entire LoL competitive scene when it comes to tampering," caster Christopher "Montecristo" Mykles wrote on Twitter. "I think it looks really bad," former coach of Golden Guardians Choi "Locodoco" Yoon-seop said in a YouTube video. "A top player having a really bad split and then joining a team with his girlfriend on it, but I don't think any foul play happened, it just looks bad from the outside."
"If Leena was not on TSM, would I join TSM? Absolutely, yes," Peng said in his vlog. "I joined because the roster is really good, because the org is super hyped and my past relationships with Bjergsen and Biofrost...That's not a conflict of interest, it's an alignment of interest."
For Arhancet, seeing Peng go is "bittersweet" but is also "happy for him."
"He's able to play for a team and continue his career on the organization that he wants. We managed to put something together that I think is going to give us a real shot."