Doug Collins Attacks Raphael Warnock by Saying 'There's No Such Thing as a Pro-Choice Pastor'
Georgia Republican Congressman Doug Collins took a swipe at Democratic Senate candidate Rev. Raphael Warnock on Saturday by insisting that "there is no such thing as a pro-choice pastor."
During a campaign event for incumbent Senator Kelly Loeffler at a gun range, Collins told the crowd: "There is no such thing as a pro-choice pastor. What you have is a lie from the bed of Hell. It is time to send it back to Ebenezer Baptist Church."
Collins went on to invoke his history as a pastor to criticize Warnock, who serves as a minister at Atlanta's Ebenezer Baptist Church. "I pastored for over 11 years," he said. "I'm still a United States Air Force reserve chaplain who served in Iraq."
"Let me just touch on a few things. I'm not sure, Kelly, what a pro-choice pastor looks like. I know what it doesn't look like. It doesn't look like what my Bible tells me when it says 'I made you and I knitted you in your mother's womb,'" Collins added.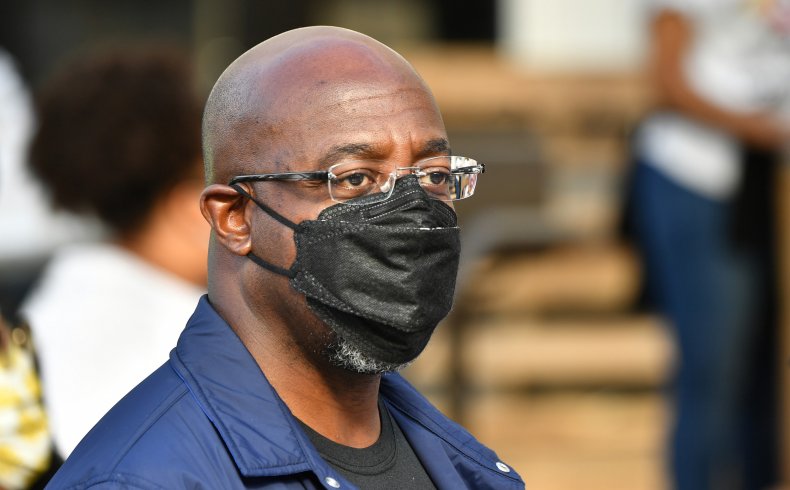 Abortion debates in American are often separated into two categories: religious and secular. However, some progressive religious figures do not fit into either categories. According to Pew Research, about 63 percent of members in domestic evangelical churches oppose legal abortion, nearly double the roughly 33 percent who support it.
In 2019, Bromleigh McCleneghan, an associate pastor at Union Church of Hinsdale, penned an op-ed for The Washington Post detailing his support for abortion rights and encouraging other pro-choice leaders to speak up.
"In my corner of the religious world—I'm a United Methodist pastor serving in the United Church of Christ outside Chicago—clergy who are advocates of abortion rights are the norm, and we have been for a long time," McCheneghan wrote, before noting that 58 percent of the American public supports legal abortion.
In recent months, Republicans have launched a series of aggressive attacks against Warnock, with some ads framing the Democrat as an anti-police Marxist.
Warnock and Loeffler's battle is one of the two Georgia runoff elections—set to take place on January 5 with early voting beginning on December 14—that will determine control of the Senate and President-elect Joe Biden's ability to push through his "very progressive" agenda.
Democrats control the House with a slim majority and will need to win both Georgia runoff seats for a 50-50 split in the upper chamber. If Biden is inaugurated, Vice President-elect Kamala Harris would cast the tie-breaking vote.
Either Loeffler or Republican Senator David Perdue will have to prevail against their respective Democratic challengers Warnock and Jon Ossoff in order for the GOP to retain their Senate majority.
Newsweek reached out to Warnock's campaign for comment.