GOP Rep. Doug Collins Faces Pressure From Conservative Group After Announcing Senate Bid
A conservative group is planning to put pressure on GOP Rep. Doug Collins in a $3 million TV ad campaign after he revealed he would be challenging the incumbent Republican senator, Politico reported.
Club for Growth, an advocacy group and political action committee which promotes lower taxes and limited government, told Politico it planned to run advertisements targeting Rep. Collins in a five week campaign beginning next week.
The campaign comes after Rep. Collins (R-GA) revealed on Wednesday that he would be launching a challenge against Georgia Sen. Kelly Loeffler (R-GA), who was appointed to the seat by Gov. Brian Kemp in December and sworn in this month after ex-Sen. Johnny Isakson retired at the end of last year due to "health challenges," according to NPR.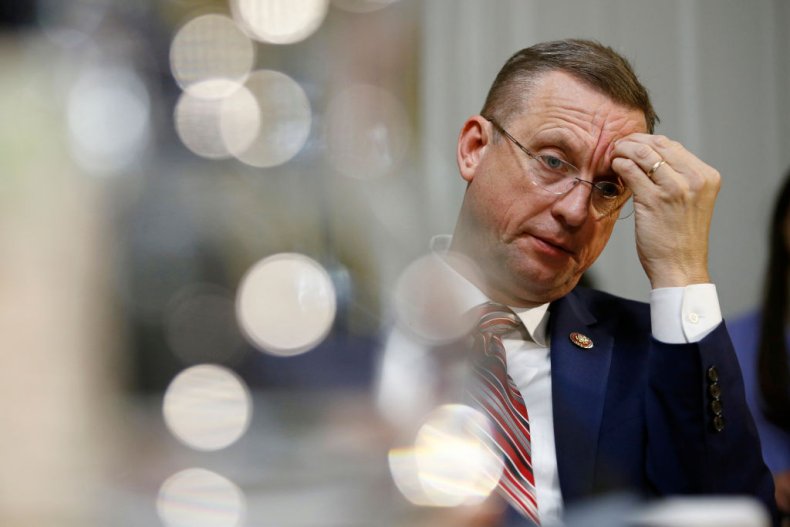 Revealing that he will challenge Sen. Loeffler for her Georgia senate seat in the November primaries, Collins told Fox and Friends on Wednesday, "I'm just going to confirm, we're in for the Georgia senate race down here. I've still got a lot of work left to do to help this president finish his impeachment out, and we're going to make a bigger announcement down here in Georgia."
Asked if he was concerned that he and his fellow Republican would "tear each other apart" and leave the seat open to Democratic opposition," Collins said, "No, we're not concerned about that at all. I look forward to a good exchange of ideas, and look forward to this election."
The announcement of his senate bid drew the ire of some Republicans, with the National Republican Senatorial Committee (NRSC) executive director Kevin McLaughlin accusing Collins of acting with a "selfishness" that could hurt President Donald Trump.
"All he has done is put two Senate seats, multiple House seats and Georgia's sixteen electoral votes in play," McLaughlin added.
The Senate Leadership Fund super PAC also weighed in, dubbing Sen. Loeffler an "outsider like Trump" and "not just another DC politician."
Responding to the NRSC statement on Twitter yesterday, Collins said: "Don't be ridiculous, this is FAKE NEWS coming from the head of a Washington-based group whose bylaws require him to support all incumbents, even unelected ones."
Politico reported that internal polling from November gave Rep. Collins a 21 point lead over Sen. Loeffler among GOP voters.
Newsweek contacted the Club for Growth and Rep. Collins office for comment and will update this story with any response.