Doug Ducey Blasts Biden After Feds Threaten Arizona COVID Funds Over School Masks
Arizona Governor Doug Ducey criticized President Joe Biden Friday, after the U.S. Department of Treasury threatened to revoke COVID relief funds it said are being used for programs that discourage masking in schools.
On Friday, the Treasury Department told Arizona state officials that they had 60 days to make changes to programs, or risk having federal funds rescinded, and future aid blocked.
According to the New York Times, one of the initiatives at issue is a $163 million program that boosts per-pupil spending in public and charter schools. However, under the program's rules, schools that require masks aren't eligible for the funding.
The other is a $10 million program that offers vouchers to families who want to leave districts that require masks, or impose COVID "constraints," the Times reported.
On Friday afternoon, Ducey, a Republican, tweeted out the Times' story about the letter Arizona had received from the Treasury department, and took aim at Biden.
"This letter is the latest example of a President that is completely out of touch with the American people," Ducey wrote.
"First, a failed attempt to mandate vaccines. Then, a complete disregard for the public safety and humanitarian crisis at the southern border. Now, attempting to rewrite rules around public dollars that will result in LESS funding to schools and kids—particularly in low-income communities," he added.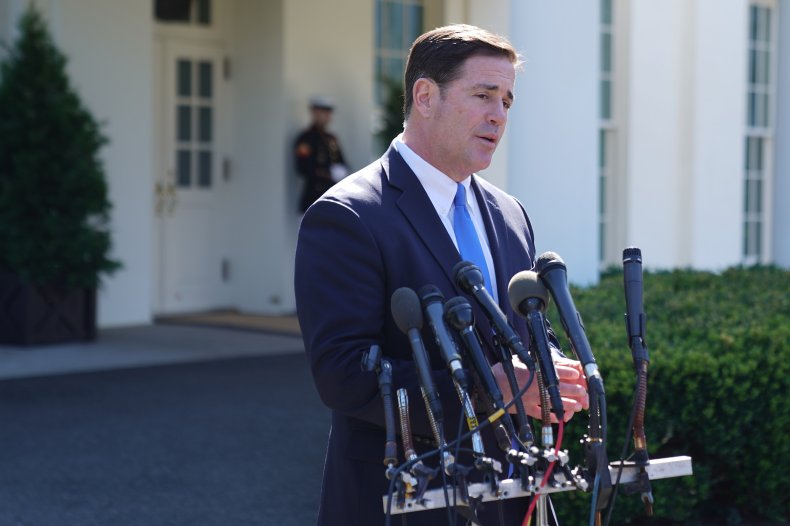 "When it comes to education, President Biden wants to continue focusing on masks. In Arizona, we're going to focus on math and getting kids caught up after a year of learning loss. We will respond to this letter, and we will continue to focus on things that matter to Arizonans. President Biden should do the same, and he can start by addressing the crisis at the border," Ducey said.
The letter from the Treasury department this week isn't first instance in which the Biden administration has taken issue with Ducey's education programs.
In October, it ordered Ducey to halt the same programs, arguing that they are "not a permissible use" of COVID relief funds. Ducey established them in August.
Speaking about the $163 million grant program that month, Ducey said: "Safety recommendations are welcomed and encouraged—mandates that place more stress on students and families aren't."
"These grants acknowledge efforts by schools and educators that are following state laws and keeping their classroom doors open for Arizona's students," he added.
Newsweek reached out to the White House for comment.