GOP Arizona Governor Doug Ducey Calls Impeachment Investigation 'Highly Partisan And One-Sided'
Arizona Governor Doug Ducey has branded the impeachment inquiry into President Donald Trump "highly partisan and one-sided."
Speaking to KTAR News 92.3FM Mac & Gaydos, the Republican governor said he doesn't believe Trump should be impeached.
Ducey added that he is "skeptical" of the impeachment inquiry and that it is "100 percent partisan"—especially considering that the presidential election is just over a year away.
"Knowing what we know right now, the answer is an easy no. Of course not," Ducey said, speaking about whether he thinks the president should be impeached. "But let me say, I am skeptical here of this process that is going on."
Ducey also says he doesn't agree with Speaker of the House Nancy Pelosi's call for the inquiry into Trump's dealings with Ukraine to be completed as quickly as possible.
"Five days after the story breaks, there is going to be a rush to impeachment. There is going to be a rush to overturn a national election, and Nancy Pelosi says we have to do it quickly. To me, that doesn't make a lot of sense," he said.
He added: "Let's get all the facts, and we shouldn't be in a rush to judgment. If they want to have a sense of urgency and immediacy about it, that's one thing, but this just strikes me as highly partisan and one-sided."
The House Intelligence, Oversight and Foreign Affairs committees are investigating Trump's efforts to pressure Ukraine to investigate former Vice President Joe Biden and his son Hunter—and to potentially interfere in the 2020 election.
The inquiry was triggered after an intelligence community whistleblower raised concerns about a July phone call the president had with new Ukrainian President Volodymyr Zelensky, during which Trump pressed for an investigation of Biden, his potential Democratic rival in 2020.
In an op-ed in The Washington Post, Biden accused Trump of "frantically pushing flat-out lies, debunked conspiracy theories and smears against me."
Biden added: "It all comes down to the abuse of power. That is the defining characteristic of the Trump presidency."
On Monday, Trump once again rebuked the inquiry as a "scam."
"What they did to this country is unthinkable. It's lucky that I'm the president. A lot of people said very few people could handle it. I sort of thrive on it," Trump said at the White House, according to the Associated Press.
"You can't impeach a president for doing a great job. This is a scam," he added.
Meanwhile, on Monday House Democrats issued a new round of subpoenas, to Defense Secretary Mark Esper and acting White House Budget Director Russell Vought.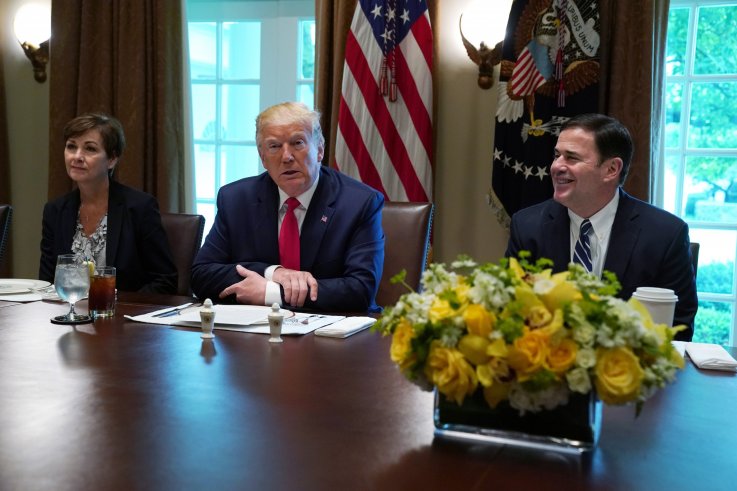 GOP Arizona Governor Doug Ducey Calls Impeachment Investigation 'Highly Partisan And One-Sided' | U.S.