What If Roy Moore Was Black? Asks Doug Jones's 'Racist' Ad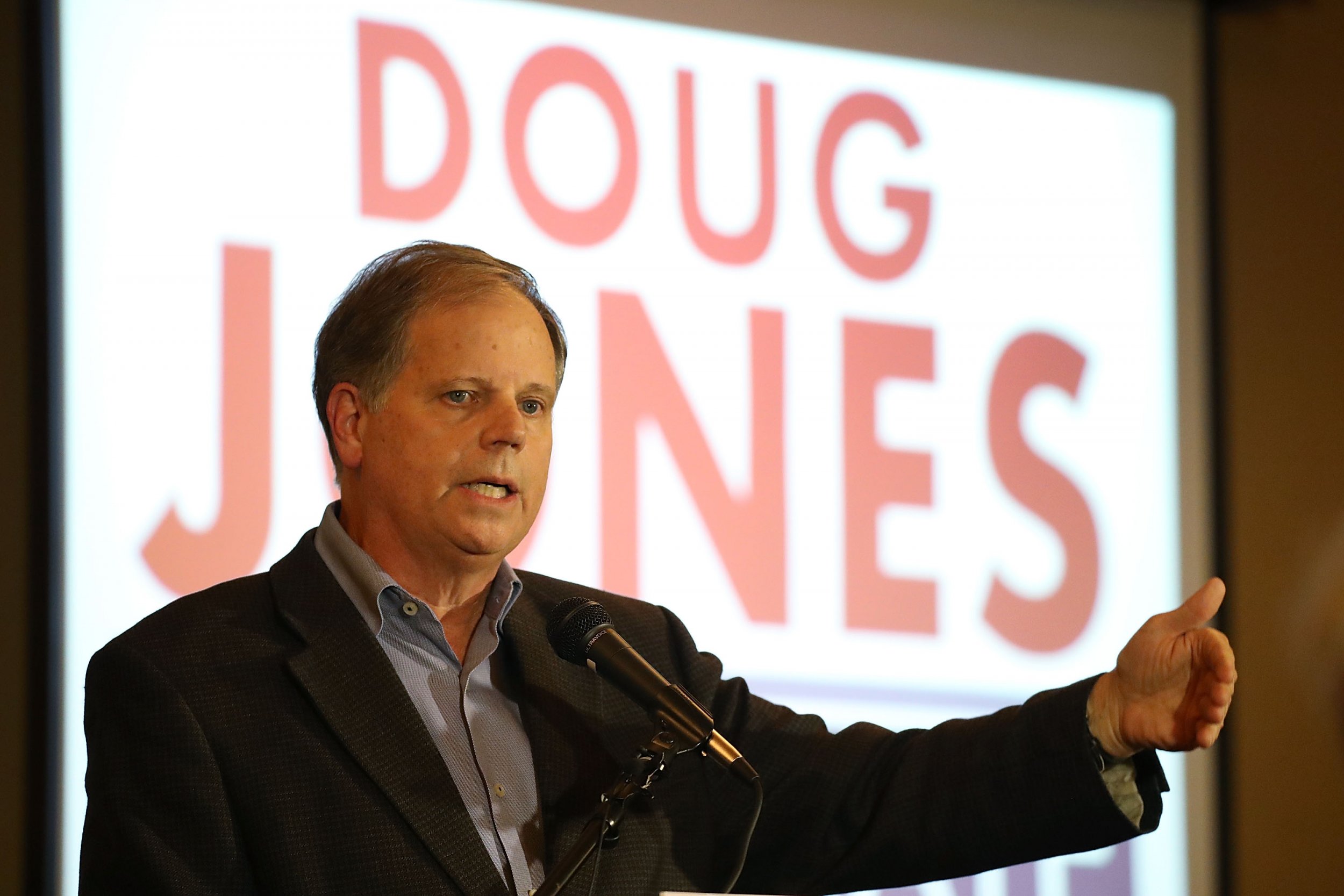 Democratic Senate hopeful Doug Jones's latest campaign strategy to target black voters in Alabama has come under fire for racism as the hotly contested race reaches a boiling point.
Jones's campaign released flyers to voters that questioned whether Republican rival Roy Moore, charged with sexual misconduct involving underage girls, would have ever gotten so far in the race to succeed Jeff Sessions if he was black.
"Think if a black man went after high school girls anyone would try to make him a senator?" the ad asked.
The ad comes as both candidates are pulling out all the stops for Tuesday's special election. Some say the ad goes too far.
"To be comparing any black person to the mind and history of a Roy Moore is insulting," the Reverend Kenneth Dukes, an Alabama pastor, told Newsweek.
Social media users are outraged over the ad, and some have called it "racist." One user said, "Sometimes when you try to target voters of a particular race and show how not racist you are, you end up being incredibly racist."
The ad further called out Moore by saying, "It's time to hold Roy Moore as accountable as anyone else."
Huntsville, Alabama, TV station WHNT News 19 confirmed that the flyers belonged to the Doug Jones for Senate Committee.
Jones's campaign responded to Newsweek's requests for comment by sending a statement on Moore's record on civil rights. It said the Republican candidate's "extreme views and divisive rhetoric" would be "incapable of representing all of the people of Alabama."
Moore had made a comment earlier in the campaign that Americans were better off during times of slavery. The comment came after Moore was asked by an audience member at an event for his opinion about a time when America was considered "great."
"I think it was great at the time when families were united—even though we had slavery—they cared for one another…. Our families were strong, our country had a direction," he said.
A recent Big League-Gravis poll showed that Jones is ahead of Moore by 4 points, with 48 percent. A Washington Post poll found that 90 percent of black voters in the state are supporting Jones.
Alabama voters like Dukes say they can overlook Jones's ad due to his history in the civil rights movement. As a U.S. attorney, Jones successfully charged two Ku Klux Klan members for their involvement in the Birmingham, Alabama, church bombing that killed four girls.
"I'm doing everything in my power as a pastor and a citizen...to make sure that Doug Jones is elected to lead this state in this crucial time," Dukes said.