Doug Jones's Gay Son Gives Mike Pence Serious Side-Eye, Becomes Viral Meme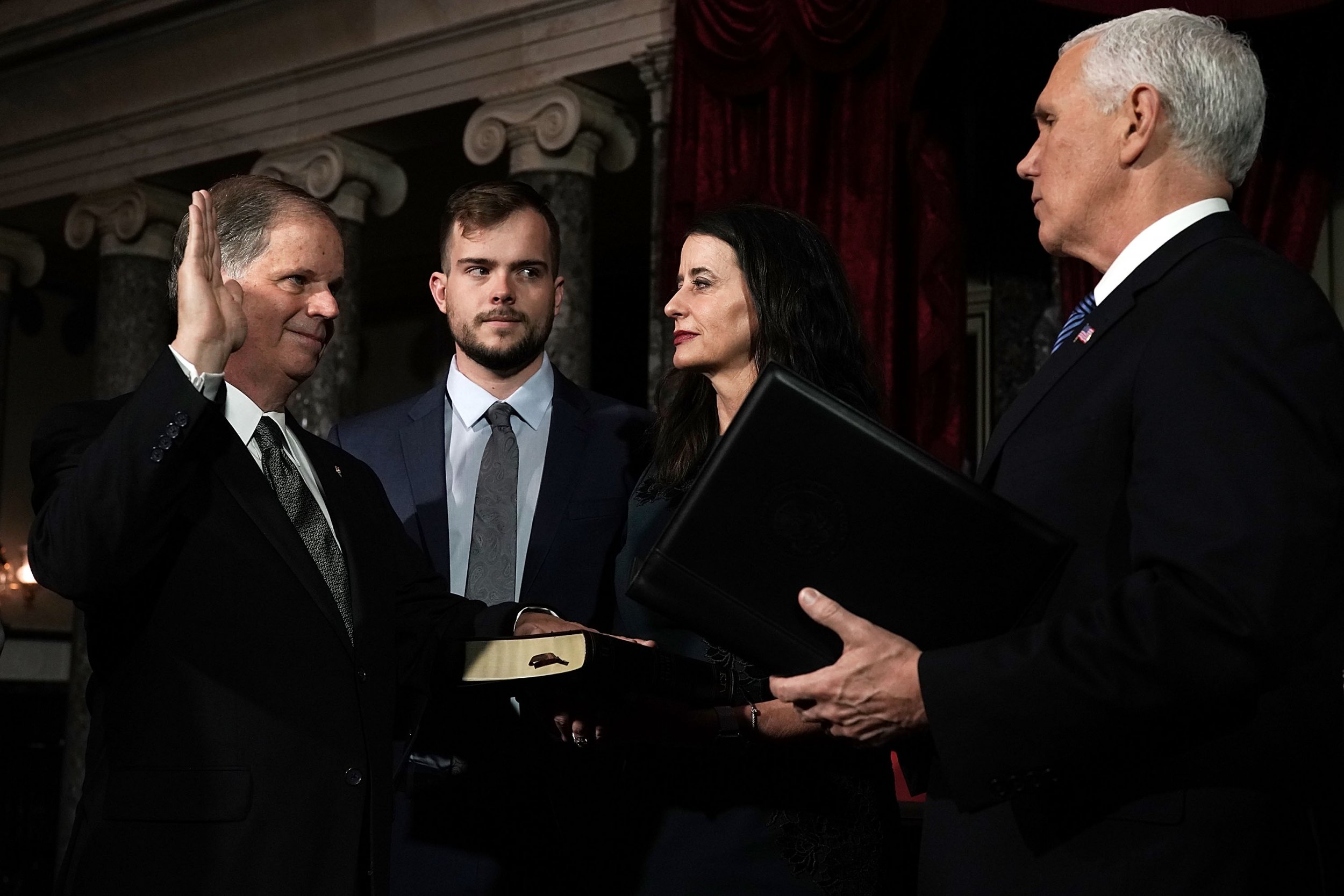 On Wednesday, Democrat Doug Jones was sworn in as Alabama's newest U.S. senator after beating Republican Roy Moore in a tight race—and all eyes were on Jones's son.
The center of the swearing-in ceremony could have been the fact that his election reduced the Republican advantage to 51 to 49, or that the other person being sworn in was Tina Smith, Al Franken's replacement in Minnesota. Instead, the U.S.—and Twitter—watched as Jones's openly gay son glared at Vice President Mike Pence during the entire ceremony.
Pence famously signed a religious freedom law that worsened discrimination against the LGBT community when he was Indiana governor. Since then, he said gay couples signaled "societal collapse," opposed the repeal of Don't Ask, Don't Tell, and rejected the Obama administration directive on transgender bathrooms, among other anti-LGBT laws. This could have contributed to the obvious tension in the room between Jones's gay son, Carson Jones, and Pence during the ceremony.
Carson, 22, gave the vice president major side-eye in a picture he posted to his Instagram account on Wednesday with the hashtags "#dougjones #swearingin #washingtondc #capitol #wemadeit #nocaptionneeded"
And people on Twitter quickly caught on.
"Homophobe Mike Pence swearing in Democratic Senator Doug Jones from Alabama with his gay son serving him looks like daggers. Doesn't get much better than this," one Twitter user said.
"Photo of the decade: Doug Jones being sworn in, while his openly gay son QUIETLY DISINTEGRATES THE SOUL OF MIKE PENCE," another user Tweeted.
"Wow. The look on the face of Doug Jones' proudly gay son Carson as bigot Pence swears him in: priceless."
"Doug Jones openly gay son Carson glaring at openly homophobic VP Mike Pence is ALLLLLLLLLL of us. #SHADE"
"Doug Jones was sworn in Wednesday as Alabama's newest U.S. senator. All eyes on social media, however, have been on his gay son, Carson, giving Mike Pence (who has a less-than-stellar record on #LGBTQ rights) the side-eye at a mock swearing-in ceremony. (Photo by @alexwongcw)"