Who Voted for Doug Jones? White Women Backed Roy Moore
Democrat Doug Jones won the special election for the Alabama Senate seat on Tuesday night, defeating Republican candidate Roy Moore after a bitter election that captivated national attention for weeks. Jones won the election with 49.9 percent of the vote, while Moore received 48.4 percent. Write-in candidates made up 1.7 percent of votes in the race, according to CNN exit poll data.
On average, women preferred Jones by 57 percent, according to CNN, but the breakdown differed greatly by race. Black women were a particularly important demographic for Jones's win, turning out in big numbers in a way that was reminiscent of Democratic turnout for former President Barack Obama.
Ninety-eight percent of black women voted for Jones, while 63 percent of white women voted for Moore. About 30 percent of white voters overall chose Jones, CNN reported.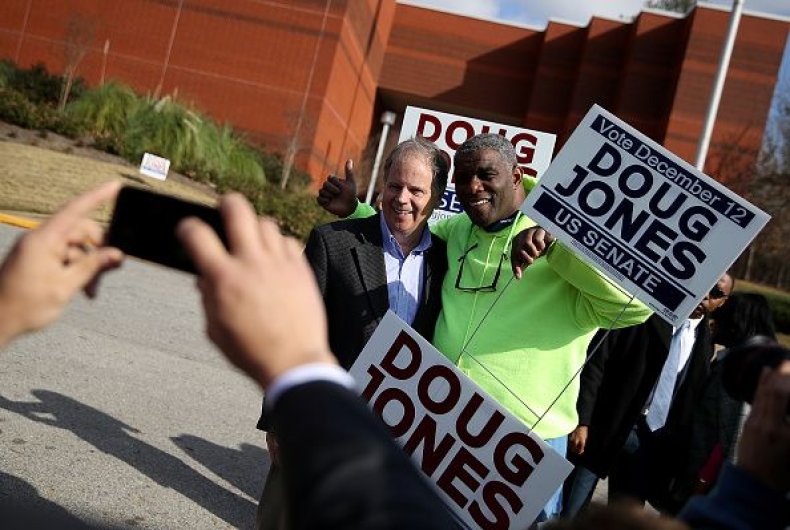 White men and women largely still chose the Republican candidate, with 68 percent voting for Moore, especially in rural counties. White, college-educated women preferred Moore, with 57 percent voting for him compared to 43 percent of college graduates overall. White voters without a college degree overwhelmingly chose the Republican candidate, according to an exit poll by The Washington Post.
About 72 percent of white men voted for Moore, while 2 percent wrote in candidates. The write-in candidates signaled a split among Republican voters, which President Donald Trump said was a "very big factor" in the defeat.
Many Moore voters are loyal Trump fans. About 97 percent of those who voted for Moore said that one of the reasons they chose the candidate was to express support for Trump, according to an exit poll by the Post.
Moore's sexual assault allegations weighed on the minds of Alabama voters, but the allegations turned out not to be as much of a factor as anticipated, according to the Post. In fact, 76 percent of voters said the allegations of sexual misconduct against Moore were "not a factor at all" in their decision. Only 7 percent said the allegations were the "single most important factor" in deciding their vote.
The voter breakdown paints a portrait of the political climate in Alabama heading into the 2018 midterm elections, when Democrats are hoping to fill more seats to oppose the Trump administration's agenda. The demographics and preliminary polls in Alabama, along with an endorsement from Trump, pointed toward a Republican win. Jones himself seemed surprised at the result in his victory speech on Tuesday night.
"I got to tell you, I think that I have been waiting all my life, and now I just don't know what the hell to say," Jones said. "I am truly, truly overwhelmed. But, you know, folks, and you have all heard me say this at one point or another in this campaign, I have always believed that the people of Alabama have more in common than to divide us."
Jones is the first Democrat elected to the Senate from Alabama since 1992.