Who Is Doug Jones? Meet the Civil Rights Activist Trying to Beat Roy Moore and Trump in Alabama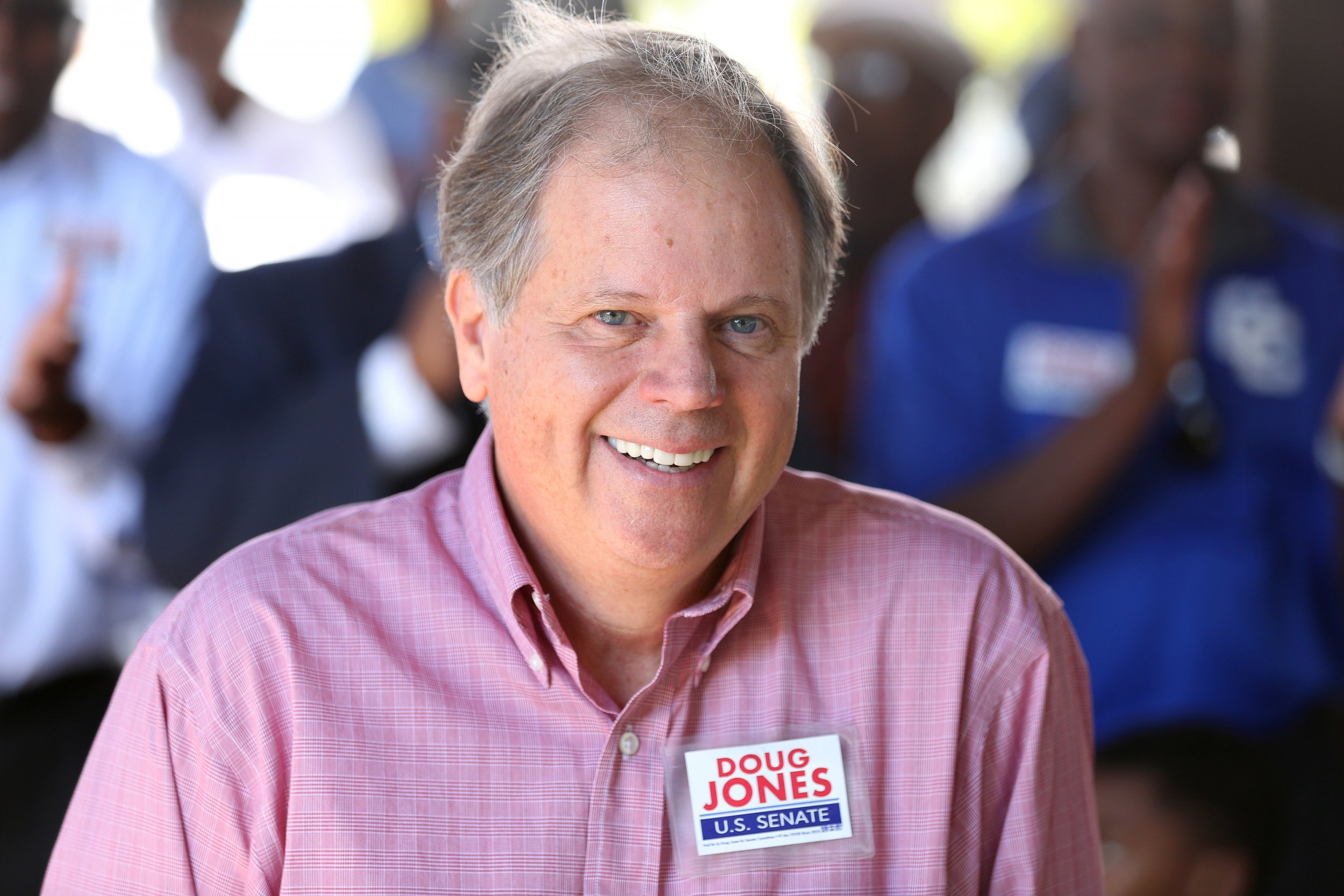 Like many Americans, Doug Jones couldn't look away from his television on Election Day 2016. As he watched Donald Trump win his homestate of Alabama with 62 percent of the vote, Jones felt a familiar tug, a call to service. By the time Ku Klux Klan leader David Duke called Trump's electoral victory "one of the most exciting nights of my life," Jones, who had been mulling over a political career for decades, was certain it was time for him to run for office.
Jones, a career prosecutor who grew up in the highly segregated deep South, has dedicated his life to fighting racial hatred. Now, just 13 months after Trump won the presidential election amid accusations of race baiting and sexual assault against women, Jones finds himself in the final throes of a long Senate race against an opponent who once declared that the last time America was great was when slavery was legal. Jones' opponent, Roy Moore, is also accused of preying on teenage girls when he was in his 30s, allegations that have turned the Alabama Senate race into a kind of Rorschach Test on loyalty to party politics and women's rights, overshadowing nearly all talk about policy or Jones' qualifications.
And yet as much as the Alabama Senate campaign has been about Roy Moore's sexual misconduct, it comes down to another pivotal factor for Jones: Race. ​Polling shows that Jones has 93 percent of the black vote and just 33 percent of the white vote statewide heading into Election Day this week. African Americans account for 27 percent of Alabama's population and if Jones wants to win, he needs them to turnout on Tuesday.
"So many of the divisions in our country started in the South," said Jones, who convicted two members of the KKK for the 1963 Birmingham Church bombing that killed four black girls. "The South needs to be the leader in the healing and we need to be sure everyone is treated with dignity and respect."
Jones is tapping his long-standing ties to Alabama's black community in hopes of winning in a state that hasn't elected a Democrat to Senate in 25 years. His campaign is spending much of its $11 million war chest, more than twice as large as Moore's, on advertisements targeted directly at African Americans. In the days leading up to the election, prominent black politicians like Senator Cory Booker, former Massachusetts Governor Deval Patrick, Representative Terri A. Sewell and Representative John Lewis are all slated to hold events on his behalf.
"We need someone who has the capacity to bring us together and not continue to divide people and Doug can do just that," Lewis, who who organized the 1963 March on Washington to champion civil rights and has made the trip to Alabama to rally for Jones several times, told Newsweek. "That's his life mission and calling."
Even as his rival's history with women has fueled a national debate on sexual assault, Jones' campaign is facing depressing odds. His victory depends on a level of black voter turnout that hasn't been seen in Alabama since President Barack Obama's 2008 election. He'll also need to attract a significant number of moderate Republicans to break with party lines and vote for a Democrat at a time when Trump and other GOP leaders have cast the Alabama race as crucial to advancing a conservative agenda in Congress.
In a race this tight, even a small misstep could be devastating. Jones has so far run a scandal-free campaign, but his team has at times been accused of being too heavy-handed in its attempts to reach the black community. One flyer in particular drew criticism recently for asking voters to imagine how Moore, a former Alabama state judge, would be treated if he was a black man accused of attacking young, white women and girls.
The Jones campaign has wrestled with the right approach to addressing opponent Moore's alleged sexual misconduct. When Moore's actions came to light in November, the relatively quiet Alabama special election was hurtled to the top of the news cycle and pushed into the national spotlight. Some Senate Republicans publicly distanced themselves from Moore. Jones, who was running a long-shot race, was suddenly leading in polls.
Jones, an even-keeled man with a Southern drawl, took his time to examine the evidence. "I told my team that we needed to let the dust settle," he said. "Don't take sides, let's see where these things go and see how credible these allegations are...We weren't quick to react."
But as Trump and the Republican National Committee repeatedly rallied behind Moore and dismissed the allegations against him, Jones' lead in the polls tightened. His campaign then decided to toughen its rhetoric against Moore and vouch for the nine women who came forward with accusations against him.
"Those brave women are entirely credible, they're telling the truth," said Jones. "Moore will be an embarrassment to the people and businesses of Alabama, and if he makes it to Senate he'll continue to divide our country."
Jones might also have waited too long to persaude Alabama Republicans that he is not a part of what he calls the "Washignton dysfunction," and that he will listen to and represent their views, even if they're different from his own. He also must convince disillusioned black voters that he can institute change in the Black Belt of Alabama where many residents live well below the poverty line and depend on government assistance.
Booker, a rising star in the Demoratic party who is often compared to Obama, urged black Alabamans Saturday to back Jones and vote against hate on Tuesday. "Some people don't understand: the opposite of justice is not injustice. It is inaction and indifference," he told a crowd of roughly 200 at Alabama State University in Montgomery. "Bad people get elected when good people don't vote."
Jones, the son of a manager at U.S. steel and a homemaker, was born in a divided Alabama in 1954. "Everything was segregated, our churches, our schools and our neighborhoods," he said. "We lived in our own bubble in Fairfield, Alabama. I remember discussions about the 16th Street Baptist Church Bombing but it didn't feel real to me."
At Fairfield High School in the late 1960s, Jones was inspired by Martin Luther King Jr. and politicians like John F. Kennedy and Robert Kennedy to take on the task of soothing tensions that came with integrating his school. At a time when the governor of Alabama, George Wallace, stood in a school's doorway to physically block black students from entering, Jones' role took conviction and courage.
Darnell Gardner, a black classmate of Jones' who went on to become president of the Fairfield City Council, credits Jones with easing him into a majority-white school. "We had some guys who didn't like integration, they called me names I'd rather not repeat," he said. "But Doug was always there, he'd take care of it and act as a mediator."
It wasn't until law school, when Jones skipped class to watch the trials of the first 16th Street Baptist Church Bomber, that he realized his interest in politics. "That was when I realized that I could make a real difference in the way our country operates," he said. Studying cases like Brown v. Board of Education, and understanding the legal intricacies behind the policy that shaped his own youth, gave him a clear picture of what he wanted to do with his life. When he graduated, he left his home state to move to Washington, D.C., and work for Alabama Senator Howell Heflin, a moderate Democrat.
During his time in Washington, Jones was inspired by another young senator from Delaware. "I admired Joe Biden for his views and his straightforward way of talking. It motivated me to watch him approach senators with opposing ideas to his and dialogue with him, not monologue," Jones said.
Jones' familial priorities kept him from pursuing his own career in politics at the time. He and his wife had three children to look after and he wanted to be around for their childhoods. He went to work as an assistant U.S. attorney, and as a private lawyer before being appointed U.S. Attorney for the Northern District of Alabama by President Bill Clinton in 1997.
Giles Perkins, Jones' Campaign chair and longtime friend, still teases Jones about his swearing-in ceremony. "The event lasted hours because he insisted on thanking so many people," he said. "I ribbed him hard about it, but it shows the kind of guy that Doug is, always thinking about others."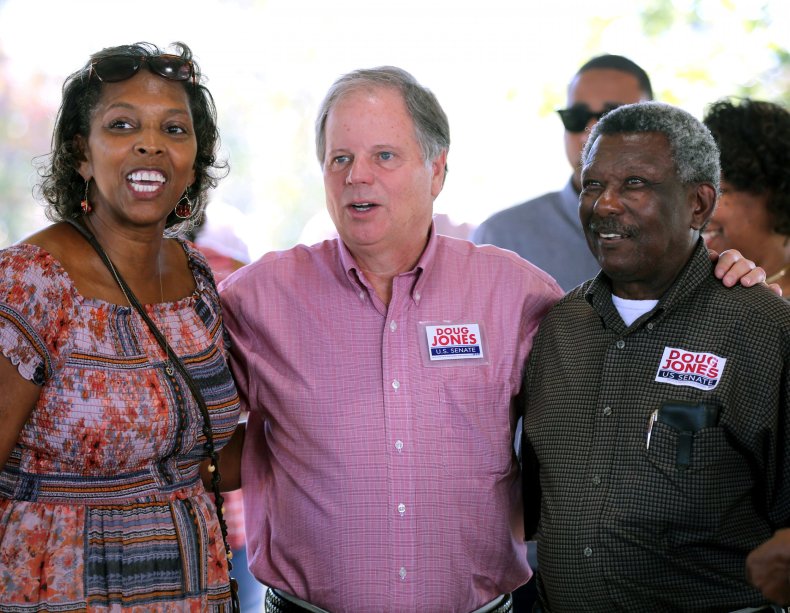 One of the greatest moments in Jones' career occurred in 2000, when he was given the chance to work on the case that first inspired him to become a prosecutor. Jones worked to successfully convict Thomas Edwin Blanton Jr. and Bobby Frank Cherry, two members of the KKK, for their role in the 16th Street Baptist Church bombing in 1963.
Chris Hamlin, a pastor at the church between 1990 and 2000, remembers his first meeting with Jones. "He was very persistent and passionate about pursuing the case," he said. "He understood what was at stake in the African-American community."
By 2017, Jones' children were grown and he was ready to make his next move. He was considering a run for Alabama governor when Jeff Sessions was nominated to Attorney General and a Senate seat opened up. "I was at Giles' [Perkins] house and he said to me 'look, we need to talk about the Senate race. This is where your heart has been, and this is how you help the state of Alabama,'" Jones recalled.
A few days later, at Jones' 63rd birthday dinner, Jones introduced the idea to his closest friends and confidants. "We just hashed it out, we laid out our beliefs about how we could win this race no matter who the nominee was, we talked about how my voice was important to this race," he said.
By the end of the night, he was committed to running for Senate as a Democrat in a state that does not elect Demorats.
"We did get in to win," Jones told Newsweek, but "we also joined the race to make a statement and give the people of Alabama a voice."
Jones doesn't want to think about what will happen if he loses the race Tuesday evening, but he insists he won't back down if things don't go his way. The governors race is in 2018, after all.