Trump Shouldn't Resign Over Sexual Misconduct Allegations and Congress Should Focus on 'Real Issues,' Doug Jones Says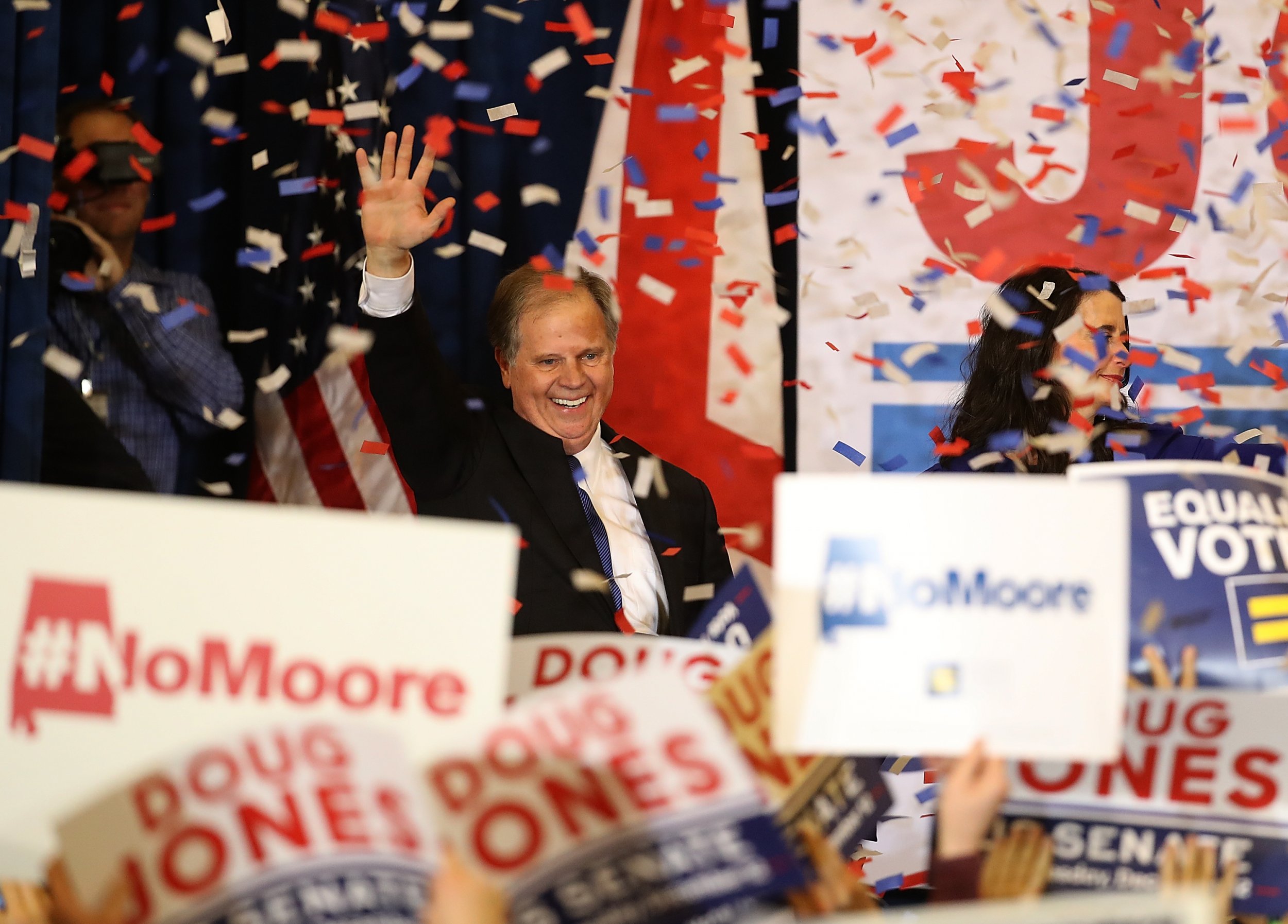 Alabama Senator-elect Doug Jones will enter Congress disagreeing with his Democratic colleagues on one vital issue: Whether President Donald Trump should resign over sexual misconduct allegations.
Jones on Sunday said he does not think Trump should leave office over the accusations against him, putting him at odds with several party leaders who pushing for the president to step down.
"Those allegations were made before the (2016 presidential) election, and so people had an opportunity to judge before that election," Jones said on CNN's "State of the Union."
"We need to move on and not get distracted by those issues. Let's get on with the real issues that are facing the people of this country right now," he added. Jones also signaled in the interview that once in Congress he would be willing to work with Trump, who called him a "puppet" during his Alabama campaign.
Jones did not say whether he believes the accusations against Trump from nearly 20 women, or whether he agrees with the more than 100 Democrats in Congress who have called for an investigation into the claims against the president. Prominent Democrats such as Senators Kirsten Gillibrand of New York and Cory Booker of New Jersey have been among the leading voices for a Trump exit.
The calls for Trump to resign over alleged misconduct have escalated as the #MeToo campaign has brought down several Washington luminaries accused of improper sexual behavior, including Senator Al Franken (D-Minn.) and Representative John Conyers (D-Mich.).
Such accusations also took over the Alabama Senate race in which Jones scored a narrow victory of Republican candidate Roy Moore, who had been endorsed by Trump in the final weeks of the race. Moore, a former judge, had been accused of misconduct and harassment by nine women, some of whom said Moore preyed upon them when he was in his 30s and they were teeangers. Moore denied all of the accusations and his campaign set up operations to discredit the accusers, but his candidacy ultimately failed in the reliable red state. Jones became the first Alabama Democrat to win a Congress spot in two decades.
Even as the #MeToo campaign has brought the fall of other Washington players, Trump has resisted all calls to resign and he continues to deny the accusations, many of which surfaced during his presidential campaign. One accuser, Summer Zervos, is suing Trump for defamation after he suggested she and other alleged victims were lying.