GOP Rep. Who Backed Texas Lawsuit Will Accept Biden Win When His Hand is 'On The Bible'
Representative Doug LaMalfa, who backed the rejected lawsuit seeking to overturn the election result, has suggested the legal fight by President Donald Trump and his allies, would continue until Inauguration Day.
LaMalfa, a Californian Republican, was one 126 GOP members of the house who supported an amicus brief filed by Texas Attorney General Ken Paxton to overturn the results in four states won by President-elect Joe Biden.
On Friday, the U.S. Supreme Court denied the Lone Star State's request to sue Georgia, Michigan, Pennsylvania and Wisconsin, saying the plaintiff had not demonstrated a legal interest "in the manner in which another state conducts its elections."
In a testy exchange with CNN anchor Chris Cuomo, Lamalfa was asked if he would accept the Supreme Court's decision.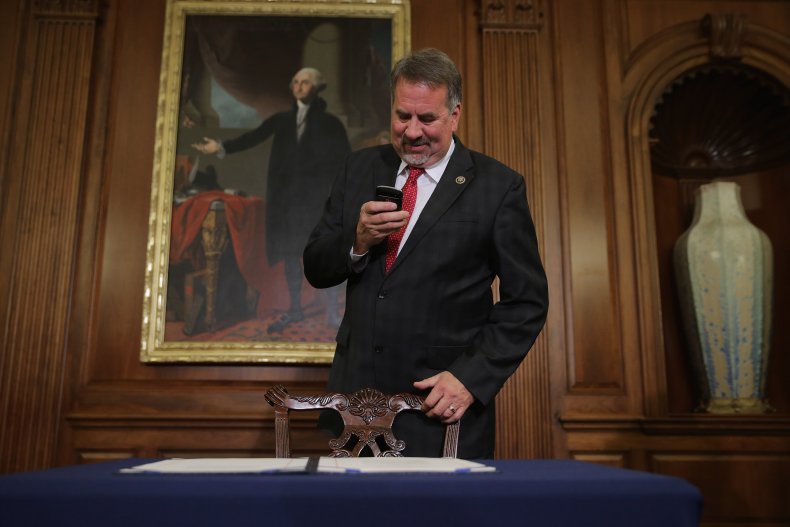 "Well, certainly, this is a setback for the case that was being made by Texas... there's a lot of things being said about it," LaMalfa told Cuomo Prime Time on Friday.
He said that the case came down to whether Trump voters "were being harmed in other states," by elections elsewhere that where voting procedures were "sloppy. " He then referred to a common Trump complaint disputing mail-in ballots.
Cuomo countered by saying, "litigation is about facts" and that "they have no proof anything was done wrong." He then asked the lawmaker: "Do you now accept that Biden is President-elect?"
LaMalfa replied: "Well, we still don't know what the intelligence folks have in there," spurring Cuomo to interrupt with, "they don't have anything."
LaMalfa continued: "Come January 20th, if he's got his hand on the Bible and doing that then I guess we'll accept it at that point," referring to the date that that Biden will take his oath of office. "There's still a lot of time between here and there."
Cuomo then asked: "You got any proof that anything was done that was fraudulent in any election?"
LaMalfa replied: "You know I don't have proof that men landed on the moon in 1969, because I was not there," prompting Cuomo to scoff. LaMalfa then complained about the short amount of time between Election Day and the Electoral College vote.
Cuomo asked whether the legal disputes would interfere with Congress striking a deal on the coronavirus vaccine and a relief package, "or are you going to hold on and try to take care of Trump even after he has lost?"
"Well, Chris, it is possible around here for us to walk and chew gum at the same time," LaMalfa responded.
The graphic below by Statista shows the amount of money spent in this century's election campaigns.